You Break It, You Bought It
Sometimes the only way to learn a valuable lesson is the hard way, like crashing that new Gary Fisher while on a bike shop test ride.
Heading out the door? Read this article on the new Outside+ app available now on iOS devices for members! Download the app.
By Neal Rogers

It was the spring of 1997, and after much prodding and planning, I had finally convinced my then-girlfriend Mellissa to buy a new mountain bike. She had been riding a fat-tired steel Murray that had a kickstand and bolted-on wheels and must have weighed 45 pounds, and judging from her ability to get around on that, I could sense that she would take to a "true" mountain bike immediately.
The bike I had in mind for Mellissa was a red Gary Fisher Hoo Koo E Koo, available at the same local shop where I'd bought my own mountain bike a few years earlier. This was a mid-range, entry-level bike complete with RockShox and V-brakes. We had persuaded the owner/manager to give Mellissa a fair price when she was ready to buy, and the day had finally come when she was, more or less, ready.
We pedaled over to the shop, confidently walked straight over to the red Gary Fisher in her size, and announced that Mellissa would like to take her new bike for a test ride around the parking lot behind the shop. One of the baggy-short-wearing, cool-guy shop employees helped her adjust the seat height, and soon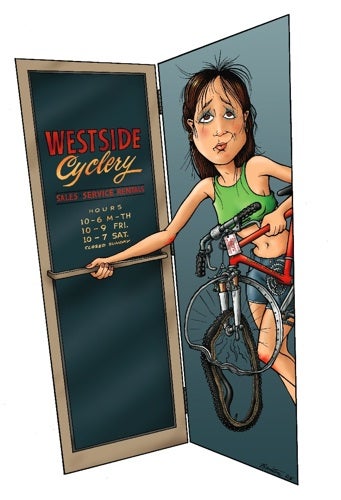 we were on our way.
Mellissa, who also surfed and rode a skateboard, was raring to go, but the parking lot didn't lend much opportunity to get the feel of the bike. In a moment of inspired machismo foolishness, I suggested we take a spin on the trails across the street, where she could really feel the suspension and precise shifting, and how the tires gripped the dirt. I was sure she was planning on buying the bike, so this was just going to be a final, reaffirming justification for the purchase. This would be the deal sealer. At least that was what was going on in my mind when I told her, "Oh, the guys at the shop won't mind."
I would soon learn a valuable lesson in bicycle shopping.
Once on the dirt trail, Mellissa opened up the throttle, all smiles and skids, following my wheel through banked turns and grip-shifting to her heart's content. Up ahead, I too was smiling, envisioning the summertime rides we would enjoy together, the bonds that sharing singletrack would create.
On one side of the trail was a spine jump, about four feet high, with a quick, steep transition. It was a jump I had ridden at least a hundred times before, so, riding ahead of Mellissa, I rolled over the hump with just enough speed to pop my rear wheel in the air so as to land both tires at once. It was six inches of air, maximum.
As I coasted away from the landing, I heard Mellissa's tires approach the jump, and then … silence.
Suddenly, everything happened in slow motion. I looked back just in time to see Mellissa and that red Gary Fisher in their first spot of trouble together. The rider and bike had gone into orbit, launched surely higher and further than anyone had ever attempted on this particular jump. And for a split-second, my ego was actually in jeopardy. If she were to land it, I would be forced to try and match this supernatural feat.
Unfortunately for Mellissa, the flat run-out wasn't kind to her, and she and the bike kissed the ground. Hard. Her nice new red mountain bike, which technically still belonged to the bike shop, was a new bike no more. I was speechless.
Upon returning to shop, jaws literally dropped as Mellissa walked the dusty, scratched bike back inside, her elbows and knees now matching the frame's red paint job.
"They did!" one shop dude yelled. "I knew it! They did take it off road!"
"Did you…? You crashed it?" the shop owner asked.
"Oh my God, you're totally buying that," another sneered. "I hope you know that."
With all eyes on her, all poor Mellissa could muster up was, "Um, can I please use the bathroom, to clean up?"
While she was in the bathroom, I explained to the shop guys that, yes, it had been my idea to go give the bike a quick feel off-road, and that by then she had all but decided to buy it anyway. And yes, we'd take it. But that jump? Well, I postulated, the bike was probably 15 pounds lighter than the bike she was used to riding, and well, I…. Okay, I didn't really have an answer for that one.
More than a dozen years later, Mellissa doesn't either.
"I was feeling pretty hot, feeling pretty confident," she explained, when reminded of the incident. "I had never taken a jump before, so I thought I'd try it out. I had no idea I'd get that much air."
Thankfully, she bought that red Gary Fisher, and I'm happy to report she still rides it nearly every day. And we both learned a valuable lesson in what not to do when buying a new bike.
Neal Rogers is the managing editor of VeloNews Magazine. He can be reached at nrogers@competitorgroup.com
.