The Outer Line: Lizzie Deignan balances new family, new goals
The British rider and 2015 road world champion talks about how her life is changing as she prepares to become a parent.
Heading out the door? Read this article on the new Outside+ app available now on iOS devices for members! Download the app.
The announcement by Lizzie Deignan (née Armitstead) that she would forego the 2018 cycling season to start a family with her husband and fellow top pro rider Philip Deignan took some getting used to. After all, the 2015 world road champion seemed poised to make another serious run at the Flandrian classics with an exceptionally strong roster of teammates on her Belgian-based squad Boels-Dolmans. Another win in the Women's Ronde van Vlaanderen or an Ardennes classic wasn't out of the question, nor was a potential second world title out of reach at the end of 2018. In his own right, Philip is one of the most trusted workers and road captains on Team Sky, a former top-10 finisher in the Vuelta a España, and a highly regarded climber in the men's peloton.
Yet the Deignans are in good company. Many top women have taken time away from a cycling career to raise families, none more visibly or as successfully as multiple U.S. Olympic gold medalist Kristin Armstrong. And in other global sports, women like tennis star Serena Williams, distance runner Deena Kastor, WNBA star Candace Parker, and several top international soccer players are demonstrating that they can balance the hard work and challenges of motherhood with elite and championship-caliber athletic careers.
However, at the pro road racing level, women's teams have traditionally not been very accommodating to women who wanted to start a family. Recently, The Netherlands' public broadcasting station NOS provided an overview of a report on intimidation and abuse in Dutch sports, including elite-level cycling. Among the revelations were examples of women's pro racing contracts with clauses that allow the team to fire a rider if she becomes pregnant. According to Iris Slappendel, director of The Cyclists' Alliance, 30 percent or more of the contracts she and her Board have reviewed in the last two seasons are structured this way — in clear and open defiance of labor laws.
Despite the cultural issues that are awaiting reform in pro cycling, Lizzie believes she is up to the challenge of returning to the elite level of the sport and hopes to become an even better rider. The unique thing for Lizzie and Philip Deignan is that both are pro cyclists, simultaneously racing at the top level of their sport. Furthermore, both have the potential to continue competing at the top level for several more years. It is tough enough to have a normal family life when just one of the partners is racing, so how will the Deignans adjust when Lizzie delivers their child, expected in September? The Outer Line spoke with Lizzie just after the Ardennes classics and captured some of Philip's insights during the recent Tour of Norway.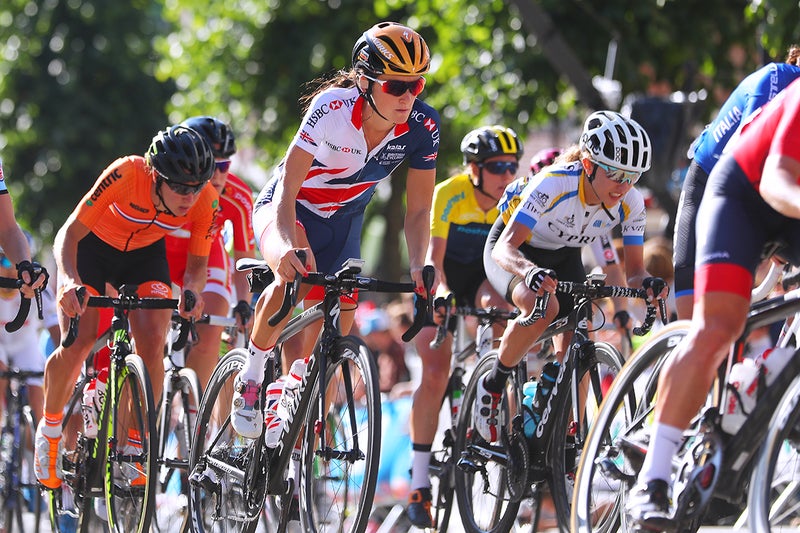 Lizzie is straightforward on her perspective about balancing motherhood and a professional sporting career. She believes that the experiences and challenges to come will not change her sporting goals, and may even help to provide more focus in her overall approach.
"Motherhood is something that's always had a place on the timeline of my career, but life changes quickly," she says. "I never set for myself a timeline towards retirement, winning this race or that race; rather, I have always focused on specific targets. The Tour of Flanders and the world championships were the big targets I'd set for myself previously, but I've come to appreciate that each season would be a stepping stone."
While she would like to win Flanders and another world championship before she finishes her career, she is also looking forward to having this year off the bike competitively to focus on her family and recharge her competitive spirit.
"I will focus on new targets," says Lizzie. "Having had success at the Olympics before, the 2020 road race really excites me. But mostly I'm excited about the challenge to prove to myself and other riders that women can come back to their athletic careers after having a baby. I can't stress this enough, it is important for women to know that they can have it all."
Lizzie has penciled in a return to her racing career in June 2019.
"So many things can happen, so we'll have to be flexible and see how the process goes," she says of her plans. "I want to be cautious, of course, but I will still be goal-oriented when I return to the sport. Personally, I think it will be an important year for me because the world championships will be in Yorkshire in 2019, which is where I come from. I'll be grateful and proud if I get a chance to ride it because the course passes right in front of the house where I grew up."
Despite the time off from high output training and, of course, going through the life-changing experience of becoming a parent, Lizzie doesn't think motherhood will make it harder for her to race professionally.
"Lots of people tell me I'll be different after having a baby, but professionally I will remain the same, I will be determined and focused," Lizzie predicts. "I've always found it difficult to balance things between having a normal life and my life as a professional athlete. Having a baby may make balancing things a bit tricky, but I will cope."
For his part, Philip is fully aware of the uniqueness of their situation. In most elite athlete households, one of the partners can usually be a stay-at-home parent after a new arrival. We see news of male riders announcing the new arrival of new babies all the time, and it has become somewhat of a tradition for riders to bring their children onto the podium at big events.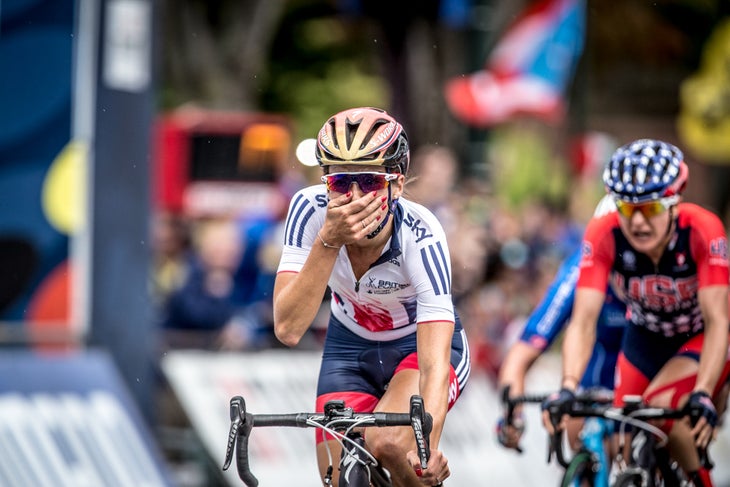 "I think for me and Lizzie, we have always been good at separating our working lives from our family lives," says Philip about the significance that both are simultaneously competing at the top level of the sport. "Of course, we are both living the dream in terms of our jobs, but ultimately it is still our work. Our home life and working life will still be as separate as possible. Having a new baby will, of course, be an added challenge, but we made the decision based on what will make both of us happy — not just what would be easy. Whether its mum or dad that continues to work or both, every family's situation is different and our choice to both continue working will hopefully be a success!"
One thing Lizzie doesn't want to entertain about her return in 2019 is the notion that it will be a "comeback." She recalls the hard work it took to build her career and sees 2019 as a new chapter in her development as a professional.
"I only really realized that I was truly a pro cyclist in London at the 2012 Olympic Games when I won the silver medal in the road race. It was so surprising," she recalls of her arrival onto the elite road scene. "I didn't see myself as a contender at all. Maybe it's because I started cycling on the track first and came up through that program, rather than in the road development path."
Switching from the track to the road was the challenge which Lizzie believes defined her spirit and imbued her with a will to succeed.
"The British track system at the time was very protected, and so much was provided and measured for you in that environment, with careful oversight. Road racing was much different, and to succeed on the road I had to do it myself. There is no set system, and there are so many variables. Winning silver was proof that I could succeed and set bigger goals."
Already a proven engine on the track, Lizzie believes that her medal-winning ride at the London Olympics highlighted what she was missing in her abilities on the road.
"I realized that you can have a lot of talent to ride a bike, but it takes years to develop the confidence to ride as a leader," says Lizzie. "My team has provided me the environment to really work on that. A good example is — in retrospect — the Ponferrada Worlds in 2014. That was a race where I failed, not because of physical issues but because I didn't have the confidence. Self-confidence is the difference; you can build it up and you can lose it just as quick as physical ability. I've learned to recognize when I have both and put it all to good use."
Although motherhood is clearly Lizzie's priority for the near future, she isn't very far from her teammates and has been in constant communication with her team. So, how did she feel watching them perform so well and have so many classics successes?
"I'm really happy, they've worked incredibly hard for this success. It all comes down to the level of dedication and commitment that we could see developing at the training camps, and how they came together on the road. I do miss the racing, though!" she says.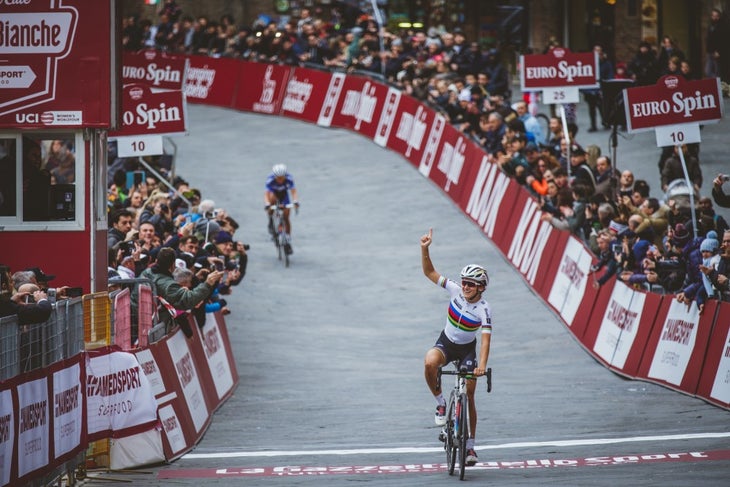 Philip hasn't had much downtime this season, having already logged significant hours supporting his team in the early-season stage races and preparing for possible week-long and grand tour starts later this year.
"My teammates and management have all been really positive, lots of congratulations came in when we announced our news," says Philip about his team relationship. "I won't have the luxury of deciding my race program based on childcare; both of our race schedules will be dictated by our teams and based on our performance. We will plan our childcare as best as we can, but with the help of our families we are lucky to have some flexibility."
Philip does foresee one significant change in his life as a pro athlete. "I am expecting a lack of sleep!" he says. "It's already difficult to spend time away from home, and I am sure leaving Lizzie and our child for races will become even harder. But I am excited about the prospect of becoming a dad and the new sense of motivation that will come with it. I have heard from so many riders that it gives you another reason to race and train so hard."
While off the bike this season, Lizzie will continue to be a mentor in the UK's private Dave Rayner Fund rider development program. She believes she can give back to the sport while still racing in her prime years.
"As I've gotten older, I found that I enjoy working with younger athletes. I get frustrated when I can see they are not meeting their potential, especially if they focus on the bad things — I really want them to learn from those experiences," says Deignan. "Even though I'm currently working with five girls in that program, I could probably make room for a few more."
In many respects, Lizzie has left any controversies from her career in the past and is warming to the idea that she is a role model to many women racing today.
"Being viewed as a role model in anything means that you are respected. It is really important to me that other riders respect me in the peloton," she says. "It is impossible for a group of 150 or more women to know me personally. But they can make a judgment on how I conduct myself in the races and the media. I always try to be fair and safe whilst racing, be a committed teammate, and stand up for women's cycling as much as I can."
Whatever course her racing career takes next, it will only be a matter of time before Deignan is back at the front of the women's peloton. She has set high expectations for herself, and in doing so she may be moving the bar higher for women in pro racing and changing how the sport views women as athletes.
"It is impossible to replicate someone else's career and results because every rider's career travels a different journey," says Lizzie of her future in the sport. "I hope that my story can encourage riders to believe that anything is possible."
Portions of this interview originally appeared on the website of The Cyclists' Alliance.