Q&A: Dr. Rachel McKinnon, masters track champion and transgender athlete
McKinnon becomes the first transgender athlete to win a UCI world cycling championship, leading to questions and controversy.
Heading out the door? Read this article on the new Outside+ app available now on iOS devices for members! Download the app.
This past weekend Dr. Rachel McKinnon became the first transgender athlete to win a world cycling championship, taking the masters age 35-44 world title in the sprint competition at the VELO Sports Center in Carson, California. An opinionated discussion has erupted on social media in the wake of Dr. McKinnon's victory concerning fair play, the advantages of male athletes over female athletes, and the rights of transgender athletes.
Dr. McKinnon is familiar with this discussion. The Canadian currently teaches philosophy and ethics at the College of Charleston, and writes and lectures on the topic of transgender athletes in sports.
VN: Do you feel like you have an unfair advantage because you are a transgender athlete?
Rachel McKinnon: No, absolutely not. If you look at my results at Canadian nationals, in the 500 I was like eighth place (editor: Dr. McKinnon has always competed in the female category). At masters worlds, for the 500 I was a very disappointing fourth. In the Keirin at Canadian nationals, I was fourth. I haven't won any elite UCI races. I got a third in the Keirin at Trexlertown in June. That was my best result. In the road, I won one pro stage in the Tour of the Southern Highlands that had a downhill finish. Me being not the lightest person, I'm pretty good at sprinting. The next stage was an 80-mile road stage and I was out the back a quarter of a mile into the road stage, which started two minutes into the race. I finished 30 minutes behind the pack. If you look at any hilly race I've ever done, I've never won. The races I do win are only the flat ones, and even then I train my butt off. Just getting on the podium at a UCI race, that isn't even a World Cup, is a huge victory for me. I think there is absolutely no evidence that I have an unfair advantage. People who oppose transgender inclusion in sport put us in the double bind. It's the "damned if you do, damned if you don't" scenario. If I win, they attribute it to me being trans and having an unfair advantage. If I lose, the same people think I must not be good anyway. People will never attribute my winning to hard work which is what I think I deserve.
VN: Take us through your victory this past weekend. 
RM: My final was against Carolien Van Herrikhuyzen from The Netherlands who is an amazing person to compete against. Both of us were undefeated going into the finals and we had a really hard-fought final. I won it in two rides. The first ride she led and she wanted to pin me against the rail. I have a criterium background so I'm also pretty comfortable there. Coming into turn four I decided to jump first and came around her and managed to hold her off until the line.
In the second ride, I had to lead out and this was a really fun ride. It was hard. I led out and we were doing some cat and mouse … I had to chase her and hold enough gap so that coming around the bell into turn 2 I went after her and went for the pass and I was still behind her wheel behind turn 3 and I audibly said, 'C'mon!' and came around here out of turn 4 across the line. I was elated. I honestly couldn't have raced against a nicer person. We shook hands and she motioned me forward to hold hands across the line.
VN: What is your background in competitive cycling?
RM: My sport background is in badminton. I moved to Charleston, South Carolina, to take up my job at the College of Charleston and there isn't any elite badminton down here. I needed a new sport. I wasn't good at running and I took spin classes and really fell in love with cycling and decided on a whim to buy a bike. I started racing on the road and turned out I was actually good at it, much better than I was at badminton. I raced on the road for three years, raced all over America and in Canada. I got to category 1 and realized that my dreams of making it further than domestic elite racing wasn't going to happen. Track had always been alluring to me. A 60-minute criterium was always pretty boring because the final two minutes is when the sprinters come out to play. I thought that track sprinting would be like the final two minutes. I jumped in head-first. I was a road for three years and have raced on the track for the last year.
VN: What is the story behind your transition? 
RM: I was born with an "M" on my birth certificate. Not all trans people are the same; we don't all know at age two or three. I started supposing I [was trans] when I was 13, and it took another 16 years to come to terms with it and figure it out. I started my transition right before I finished my Ph.D. and came out to the world two days after I defended my dissertation.
VN: Let's drill down into the topic of the unfair advantage. Much of the discussion revolves around testosterone and the idea that athletes who are born male have more testosterone than those who were born female. That inherently gives transgender women an unfair advantage.
RM: The myths around testosterone are very deep, and I do a lot of research around this. Some people think testosterone is only found in males and that estrogen is only found in females, and that is not true. Everybody has both. On average, males have more testosterone than females and females have more estrogen than males. In a recent study by Stephané Bermon and Pierre Yves Garnier, they tested over 2,000 IAAF world championship track and field athletes and found that 1/6 of the male athletes were in or below the female range of testosterone, so a disproportionate amount of elite males have very low testosterone. This study showed there is absolutely no relationship between testosterone in terms of performance in males. The relationship they found in women was weak and sporadic.
When people think of testosterone and athletic performance, they think of doping with exogenous testosterone — testosterone that comes from outside the body. Compare that to endogenous testosterone, which occurs in the body. While chemically they perform roughly the same way, there is ample evidence that shows exogenous testosterone, compared to what you naturally have, produces big performance advantages. That's why it's considered doping. There is no evidence that having a higher produced value of endogenous testosterone has any performance advantages at all. The evidence does not bear that out. So that is the second myth: the more testosterone you have, naturally, the better you are. So trans women might be male early on, and that on average such bodies have more endogenous naturally testosterone, therefore they're stronger because of that. We have evidence that is just not the case.
Also, we have evidence, thanks to Dr. Joanna Harper, that when you take someone who has a given level of endogenous natural testosterone, and you reduce that — through such things as like hormone suppression therapy, or the loss of a testicle, or menopause — when you lower someone's natural testosterone their performance goes down. The body is used to a certain level, and when you drop it, the body performs worse because your body isn't getting what it's used to. But that's also why when you add more exogenous testosterone, your body isn't used to it so your performance goes up.
VN: Yes, but what about the eyeball-test argument? The fastest male marathon runners are faster than the fastest females; the top male weightlifters can carry more than the top female lifters, etc?
RM: Right, and I'm not denying there is currently a performance gap between elite male and female athletes. But there's two questions here at the same time that have a complicated interplay. One: Why is there that gap? People like a simple answer. Men have more testosterone, so therefore, it's because of testosterone. But our bodies aren't simple; they're complex and messy and beautiful. We see that 1/6 of elite male track and field athletes have lower than the average female testosterone yet they perform at a higher level, so it's not just about testosterone. We've seen that the gap in performance between elite men and women is closing in every sport. As the men are improving and new records are being set, the women's records are being set faster. The gap is closing. Its misleading to take the current gap an say that will always be the case. We're seeing it close in some ultra-distance sports.
But people are mostly focused on power events where big muscle matters and this eyeball test that you talked about. One of the problems you talked about is that elite athletes are in a sense freaks. We all have a genetic advantage that makes us good in the sports we've selected. And that typically ignores the wide range of types of bodies of people of that type. So we like to point to Caitlin Jenner and say look how big she is, that's unfair to women. That ignores the 5 foot 1 kid who can't throw a ball. It's not the case that all trans women are these big six-foot-tall, 200-pound powerlifters. I happen to be a 6 foot tall, 200-pound powerlifter, but that's beside the point. So it also ignores the range. We have no evidence at all that the average trans woman is any bigger, stronger, faster than the average cisgender woman.
… I'm sometimes misquoted as saying the performance advantage is irrelevant. It's not, per se, that the advantage question is irrelevant. Its that the way that we think about human rights, in that legal and ethical standards of when it's OK to override a person's human right, is that the performance advantages aren't high enough. If you look at elite athletics, every single elite athlete has some kind of genetic mutation that makes them amazing at their sport. Michael Phelps, his joint structure and body proportion, make him a like a fish, which is awesome. But we shouldn't say that he has an unfair competitive advantage. The question is not whether there is a competitive advantage, the question is whether there is an unfair advantage. Sports is about competitive advantages. We have coaching and equipment and training, nutrition, rest all of these things are meant to produce competitive advantages over other people. Just because there is a competitive advantage doesn't make it unfair.
Is being trans just another natural physical characteristic that, if — and this is a gigantic "if" — it provides an advantage, should we treat it like just being tall? We do not regulate height. In many sports height provides a massive competitive advantage. I'm six-foot. I'm too short to be an elite volleyball athlete. If you compared a five-foot woman to a 6-foot-4 woman, the tall woman will have such a competitive advantage that the shorter woman won't be able to compete in volleyball or basketball. But we don't consider that massive advantage unfair. Is being trans just another way to be a natural person who maybe gets an avenge for it that we should treat like being tall?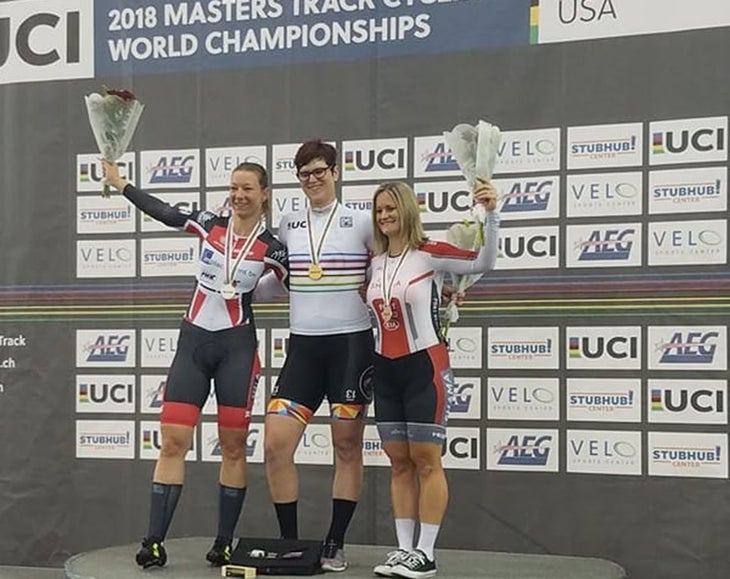 VN: How would you describe the current rules governing transgender participation in sports?
RM: I would say in a word, inconsistent. The [International Olympic Committee] fashions itself as a beacon of sport and I think that they are so a lot of sports that take the IOC's lead. There are other sports that have more permissive rules for participation, and others that are more strict. Roller derby is as inclusive as it gets. Some sports still don't allow trans participation, and they can do this because they aren't Olympic eligible sports. All sports that aspire to be included in the Olympics have to abide by the IOC regulations, but they are allowed to meet other standards. The UCI has explicitly signed on to the IOCs rules, but USA Cycling, for their non-elite athletes — Cat. 3, 4, 5 — has a more permissive rule than the IOC, which I think is great.
I think USAC could do better, but it's a good step forward. The current IOC policy was updated in 2015 over rules that were established in 2003. The 2003 policy requires athletes to have irreplaceable genital surgery. And then they required a waiting period of two years before people were eligible to compete. In 2015 the IOC recognized that is unfair to trans people — unfair to require them to undergo surgery they might otherwise not want — to compete in sport which they said is a human right. They also said transgender men can compete whenever they want, but you can't go back to competing in the women's category for a period of time. Once a transgender man takes hormone therapy, they can get a TUE for testosterone. But once they take that they are ineligible for women's sport and must compete with men. The restrictions for trans men are low.
VN: What rules do you compete under?
RM: A transgender woman must be able to demonstrate a continued level of endogenous testosterone below a certain level for one year, that level is 10 nanomoles per liter. Because I race in the UCI I absolutely have to meet that policy, and I have provided medical evidence to USAC that I more than meet that policy. I have an Instagram post from a couple of years ago showing my testosterone results and they are below the bottom of the average female range. They are actually undetectable. My endogenous testosterone is undetectable. My body makes next to nothing.
VN: What do you tell your competitors about transgender people and the rules governing your participation? Do you talk to them about it?
RM: That's what prompted my Instagram post. There were lots of complaints to USA Cycling back when I was a Cat. 3 cyclist. People wanted me banned from cycling. They thought it wasn't fair and, USAC pushed back on that saying no, she meets the policy, she's allowed to compete. That didn't stop the complaints. People thought that I should be drug tested. I felt forced in a way to release really private medical information, my numbers about my testosterone. Even though I have released this evidence that I have such low testosterone, for some people it doesn't matter to them. Some people think the policy is itself unfair.  Unfortunately, that doesn't stop some people from saying it's unfair, even though I clearly meet the ICO/USAC/UCI policies.
This interview was edited for length and clarity.