A Chat with Project 1T4i riders Marcel Kittel, Tom Veelers and Tom Stamsnijder
"It's always a progress," Kittel says
Heading out the door? Read this article on the new Outside+ app available now on iOS devices for members! Download the app.
Send a German and two Dutch pro cyclists to California for the first time in their lives and what jumps out? "It reminds me a little bit of Australia," says Marcel Kittel.
Kittel, the 23-year-old German winner of stage seven of the 2011 Vuelta a España and four stages of the Tour of Poland, also took the bronze metal in the 2010 under-23 world championship time trial in Australia. "All the palm trees and the coast" along San Diego's Pacific edge remind him of his weeks down under.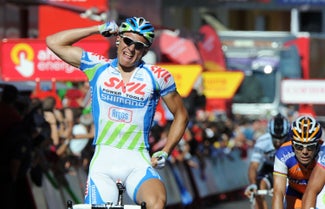 We caught up with Kittel and his two Dutch teammates, Tom Veelers and Tom Stamsnijder, during two weeks of San Diego training and wind tunnel testing with their 2012 team, Project 1T4i. Part of the team is in San Diego while the rest of the squad — a continuation of 2011's Skil-Shimano pro continental team — trains in Alicante, Spain.
"The whole country is so totally different than Europe," Kittel notes of the United States. "Every thing is a little bit bigger and wider."
Sitting in the control room of the San Diego Low Speed Wind Tunnel, Kittel says he has been refining his time trial position since he was a junior. Something worked, because he won the junior world championship time trial championship in both 2005 and 2006. Nonetheless, he has been anticipating his first wind tunnel opportunity to test his position "in a very professional way."
"I think my position is OK," the friendly German observes, but then adds, laughing and with disarming directness, "but maybe they will find that it is just shit!"
Kittel says that he is not the type to dwell on the technical aspects of his bikes. "A Tony Martin or Fabian Cancellara, they are really interested in having a perfect position for time trialing because that's their speciality."
But with his focus on sprinting, obsessive attention to his time trial position is not as personally important to Kittel. Dialing in his bike fit "is of course nice, because I can save maybe energy if I have a better position," but he admits that working on his position on the road bike is more critical for his career.
Thinking back to his August 26 Tour of Spain stage win in Talavera de la Reina over Peter Sagan and Oscar Freire, Kittel says, "it was a big goal to win a stage there. You never know in the end what happens. It was a good day for us, but it wasn't easy." Winning the first three stages of the Tour of Poland, and then taking a stage seven victory for good measure, "Was also not easy. But of course if you have good legs, then cycling, it feels a little bit easier." Kittel admits that for him, much of the suffering he experiences takes place in his head. "The pain in your legs, it's only half of the pain," he explains.
To address the space between his ears, Kittel has been working with the Skil-Shimano coach Merjin Zeeman on psychology. "He's really good with the mental part of training," Kittel observes. "I know I have to learn a lot." During stage races the coach and rider talk about Kittel's perspective on himself and his position relative to other riders. "A lot of times I have the feeling that my world, the world of Marcel, is really dark. And then he said to me, 'OK, maybe you should have a look; is it really that dark like you think, or is it maybe more bright?"
Only one pro rider crossed the line first more often than Kittel in 2011, Philippe Gilbert. Yet, the fact that Kittel still gets discouraged illustrates what a powerful role mental outlook plays in a cyclist's training program. "It's always a progress," Kittel says of the psychological tier of his training regime.
"In the beginning when I started to work with Merjin, I thought, 'Ahh, I don't get it what he means.'" But with time, Kittel began to grok the thrust of Zeeman's lesson that by taking a wider-angle view of his position in life, the rider could harness powers locked in a closet in his brain. "He saw things that I hadn't seen before."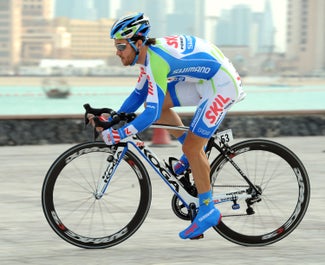 While Kittel spends time in the wind tunnel, his 2012 teammates Tom Veelers and Tom Stamsnijder chill out in the team's modest hotel near San Diego's Mission Bay. The two Dutch riders spent four hours riding up the coast in the morning, and while they enjoyed the ocean views, they would have preferred a more open Pacific Coast Highway. "Way too many traffic lights!" Veelers, 27, says with a smile. That said, they are loving the San Diego weather, which is about 30 degrees warmer than back in Holland. They also look forward to getting out to some of San Diego's stoplight-free rural backcountry roads once their wind tunnel duties are done. "We are going to get into the mountains and get some altitude in our legs," Veelers says.
The riders are always thinking ahead to how current training affects their future schedule. By putting big miles in the bank during their weeks in San Diego, Stamsnijder says they can return to Holland for Christmas and enjoy life without stressing over missing miles: "We don't have to think about it for Christmas and New Year; we can just stay around with the family." After the holiday break, the riders head to Alicante for another camp at a place the team maintains there. In addition to the formal training camp, "You can go whenever you want," Veelers says of the team's Spanish house. "It is always there. The living there is for free."
Veelers' soft-spoken approachability contrasts with his brick-hard physique, a sturdiness that delivered him victory at the 2006 U23 Paris-Roubaix. While Veelers rode for Skil-Shimano in 2011, Stamsnijder is moving to 1T4i from Leopard Trek. Since both riders rode together as juniors on the Rabobank development team, Project 1T4i is a reunion.
At 26 Stamsnijder is already a veteran, having won the U17 Dutch national time trial championship in 2000 and taking the U19 Tour of Flanders in 2002. The 6' 3" pro says his position was already pretty well dialed before this, his first time in a wind tunnel, but says he learned that by opening his arm position he could generate more power. "I can use more my back and my hips for support. That's a plus for me. It's nice for me that so early in the season you can get already the ideal position on your time trial bike so you don't have to fiddle around half way through the season."
Along with about 25 hours a week on the bike, Stamsnijder works out two times weekly with a personal trainer. "He just drills me for one-and-a-half hours until I'm dead," he said.  After tests in November showed that Stamsnijder needed to work on his back and abdominal muscles, he enlisted the trainer to help him shore up his core strength. "It's something you just need to be doing."
He says he can feel the difference on the bike. "Especially with the power efforts we did today, you are more stable on the bike." He also noticed a change while racing early-winter cyclocross. "When you take a corner it's just so much easier; you are just more stable on the bike." To help with flexibility and agility, team doctors also recommended that Stamsnijder start doing yoga to supplement his existing post-ride stretching regime. "After dinner or before I go to sleep I take half an hour or 15 minutes to stretch everything out."
As Dutchmen, both Stamsnijder and Veelers look forward to the world championships coming to Holland in 2012. Along with the treat of having the road race finish on the same Valkenberg climb that concludes the Amstel Gold Race, they are especially anticipating a new world championship trade team time trial event. "We are hoping we can participate with the new team," Stamsnijder says. "I think it's one of our team's main goals to get a good result there."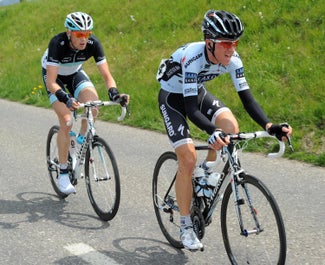 Not many professional riders have anything good to say about the UCI, but Stamsnijder is delighted with the organizing body's decision to add this new team discipline to the worlds menu. "The whole year you are with your team. You are more with your teammates than with your girlfriend or your wife," he notes. With the national teams that compete in the worlds road race events, this cohesiveness is lost. "You get eight guys from the same nationality but different teams put together three days before the worlds and say, 'OK, Figure it out.' That's too hard." With the new team trial event, Veelers anticipates that the season-long bonding that is the glue of a tight TTT squad will carry through to the world championships.
As for Project 1T4i's on-the-road strategy for 2011, both riders are also happy about taking an opportunistic, freelance approach to racing. They mention the Garmin-Cervélo team's slow, steady march to the top tier of the ProTour pecking order as a model. "We are just growing with easy, easy steps," Veelers says of 1T4i's progression since its 2005 beginnings. In the same way that Jonathan Vaughters' team started out in 2008 by plucking off a win here and a win there at races like the Giro and Circuit de la Sarthe, Veelers says, "Everybody is free in the team. Anybody can jump in the breakaway when they want."
Yet, especially after Kittel's string of wins in 2011, Veelers admits that it will be more difficult for the team to fly the underdog flag in 2012. Other teams and race organizers  "are starting to know that we take our responsibility," he explains. In addition to Kittel, he cites double Critérium du Dauphiné stage winner John Degenkolb (HTC in 2011) as a presence, along with Gretsch and Frenchman Alexandre Geniez, who will both help it win invites to important races and make it more difficult for its riders to slip away without other teams taking notice.
Compared to 2011 when he raced in defense of the most-marked man in cycling, Fabian Cancellera, Stamsnijder says his 2012 squad will approach the season with "a different way of racing." With Leopard-Trek, "we had one big guy, and that's it. Everyone works for that guy. With this team, they try to motivate everyone."
Veelers was instrumental in delivering a motivated Marcel Kittel to his stage win at the Vuelta in 2011—he placed seventh in the stage himself. But that race had few opportunities for sprinters, as it grinded riders over one of the most mountainous routes ever. Asked about the infamous Angliru climb in the Cantabrian Mountains, Veelers says he consulted with 35-year old Garmin-Cervélo veteran Andreas Klier before the stage. "He was putting empty bottles in his pocket," Veelers recalls. The fans on the Angliru, a 13-kilometer climb with some stretches that are nearly 24%, "are really glad with bottles," Veelers says Klier told him. So Veelers also came prepared with extra bottles for the fans. Smiling at the memory, Veelers says "They just see a bottle and they start pushing you and you are a hundred meters further." That climb is like few others, Veelers points out. "You are riding full gas at 7k an hour!"