American Amber Neben, 2008 TT world champion, preps for another go
"I feel like I've been given a God-given ability and the opportunity to race," the 2008 world time trial champ says.
Heading out the door? Read this article on the new Outside+ app available now on iOS devices for members! Download the app.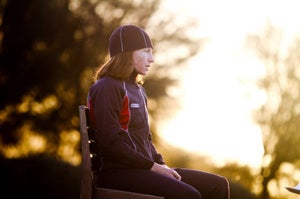 Amber Neben has been to so many world championships, she's lost count. "I could figure it out if I needed to," says the evergreen 35-year-old with an impish smile, "but it's a special thing; every year it's an honor to be here, it's very exciting."
What is a first for the 2008 world time trial champ, however, is competing at a worlds in an English-speaking environment — not that she minds it. But for this self-driven Southern Californian, she's had to negotiate an uneven, injury-plagued road to get into shape in time for Geelong, where she's down to ride both Wednesday's 22.9-kilometer time trial — which she says suits her capabilities — and three days later, the elite women's road race, staged over 127.2km.
Lucky for Neben, she comes from the school of hard knocks.
Surviving a life-threatening case of spinal meningitis at aged four, where doctors told her parents she was either not going to live, or be brain-damaged and deaf — thankfully, none of those eventuated — and then in the fall of 2007, beating melanoma before her crowning moment as 'Ms. TT Worlds' in Varese, Italy, nine months later, she credits her faith in God for overcoming life's obstacles.
And, should she stand on podium Wednesday, she'll thank the Lord again. "I'll keep everything in perspective based on the year I've had, but my goal is the podium. That's what I'm gunning for and God willing, I get up there," she says.
VeloNews: What are your impressions of Australia and Geelong in particular — you've been here before, when Geelong hosted a women's World Cup, right?
Amber Neben: Back in 2004 – that's the only time I've been here. It's a beautiful area, and so far, the people I've interacted with have been very friendly. But it's a little cold right now …
VN: After your former Nürnberger team downsized significantly this year, you only switched to the Webcor team in mid-May – do you feel the initial uncertainty surrounding your future affected your results this season, or was it more due to your broken collarbone a few months back?
AN: Actually, I think it was more my muscle tear in my quad and in my adductor in April — that completely shut me down for four and a half weeks. Coming back from that was really tough, and just as I was getting my form back I did my collarbone, so it'll be interesting to see how I go this week. The uncertainty (surrounding Nürnberger) was difficult in that I didn't have a plan for the year with a racing schedule, so that was tough. But I was going OK till I pulled my quad.
VN: Is everything back on track now?
AN: Yes – as far as it can be. My collarbone is as good as it's going to be at this point in time; it still needs a bit more time for the bone to heal completely. I'm not thinking about it — the plate's still in there and at some point in time, I'll have to take it out. But I've been training hard the last six weeks and I'm happy that I've been healthy enough to do that. I couldn't ask for anything more.
VN: The course for the RR and TT — you're down for both, and they're ostensibly on the same course, so are they good for you?
AN: I think more for the time trial than the road race. Only because since I haven't raced since July, so I don't know what kind of road fitness I've got.
The time trial has got a little bit of everything — the climbing is going to be really good for me, and I'll have to work really hard to try and hold the speed going back down. I think it's a pretty hard course all round, and you'll have to have good fitness. I'm excited to get out there and see what happens.
VN: It's only been two years — not so long ago — since you last won the TT Worlds in Varese. How would you rate your form then and now?
AN: That's a really hard question. In 2008 when I won, I was going good the whole year, I was healthy the whole year, and I came in feeling really good. This year, having to fight back from the muscle tear and the collarbone break, it's been a really different year. Instead of being up here (motions hand at neck height), resting a little then peaking, I've had to come from here (hand at waist level) and build up, so it's a different feel for my head and my body.
I honestly don't know … I think I'm going OK — but you never know till you go out there and throw it all down.
VN: What result would please you?
AN: I always set the bar high, even though I've struggled this year. My expectations are the podium — I'd be really happy with the podium. I'll keep everything in perspective based on the year I've had, but my goal is the podium. That's what I'm gunning for and God willing, I get up there.
VN: Will you be going into the road race as a co-leader or helper?
AN: I'm actually happy to do either one. We'll have the team discussion on Thursday, I'm sure, and make a race plan. We've got some other riders who are going really good right now, so I'm happy to help them out. If I'm asked to be a leader, I'll do my best with what I've got right now. Big picture-wise, knowing I haven't raced since July, I kind of feel like I'm a bit of a wildcard, in the sense I don't really know what I've got.
VN: You said you haven't raced since July, but you must have been following the results of your competitors; for the road race, who looks good right now?
AN: You can't ever count out Marianne Vos — she seems to win everything, and she's got plenty of world championship stripes to prove she knows how to win at the right time. The Germans are going to be formidable — both Trixi (Worrack) and Judith (Arndt) are going really well. Emma Johannson's done well in the World Cups … Emma Pooley, this could be a course for her.
I think there are a handful of different people that could play into different scenarios and there are multiple countries that have really solid teams. It's going to be hard; regardless of who it is, it's going to be a hard, hard day.
VN: You've been a professional racer since 2002 — what is it that keeps you going?
AN: You know what? I feel like I've been given a God-given ability and the opportunity to race. And I still have the passion to ride; I enjoy interacting with people and sharing my experiences, and being a mentor in that sense. I don't know… I just feel like I've got this opportunity in a small window of my life, and as long as I'm healthy and still enjoying it, I'm going to keep going with it.
(Related: Amber Neben's diaries on VeloNews.com)