André Greipel: 'I have proved myself.'
André Greipel: 'I have proved myself.'
Heading out the door? Read this article on the new Outside+ app available now on iOS devices for members! Download the app.
It's safe to say that André Greipel is arguably the world's second-best sprinter right now. Unfortunately for the big German, the world's best is Mark Cavendish, his teammate at HTC-Columbia.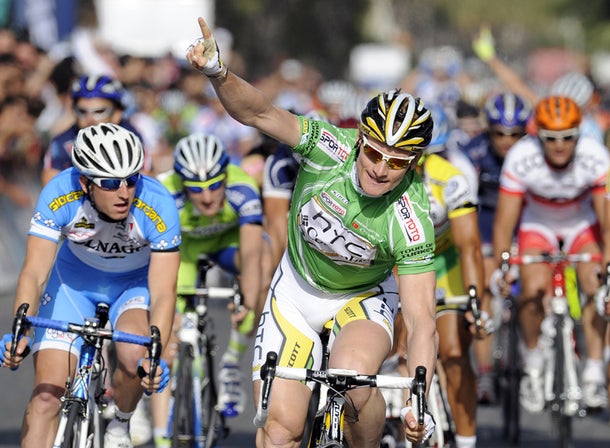 So far, team management has done a good job at keeping these two highly competitive and highly productive sprinters on different race programs. That strategy has made HTC-Columbia the most successful team two years running, with the pair winning 74 races the past two seasons.
In fact, the last major race they both raced together was the 2008 Giro d'Italia, where Cavendish enjoyed breakout grand tour success and Greipel won a stage that only revealed to the rest of the world the gnawing tension between these two stars.
With Cavendish heading to the Tour of California later this month, Greipel lines up Saturday as HTC-Columbia's top sprinter with all the pressure to carry the team's hopes into the season's first grand tour.
VeloNews European correspondent Andrew Hood sat down with Greipel earlier this season. Here's what he had to say about his background, sprinting, his intra-squad rivalry with Cavendish and how the film "American Flyers" inspired him to be a bike racer:
VeloNews: What is your family background?
André Greipel: My parents are just normal people. My father is a truck driver and my mother works in the hospital. I have a sister, she is three years older than me.
VN: Tell us how you first got into racing. Was your family involved in racing at all?
AG: I was always watching the Peace Race. It always passed by our door. I could see them passing. I always liked to ride my bike. First, I was in motor-cross club, because my father liked motorcycles. I saw the movie, "American Flyers," I said to my mother, "I would like to try this." I went to Rostock to the club, it was in the autumn and they were doing athletics. I had to run 2km to make a test. I lapped the others in 2km, so it was pretty impressive. The coach said, "OK, you can come back." I was nine. I was always a good runner.
VN: "American Flyers" was not a very good movie …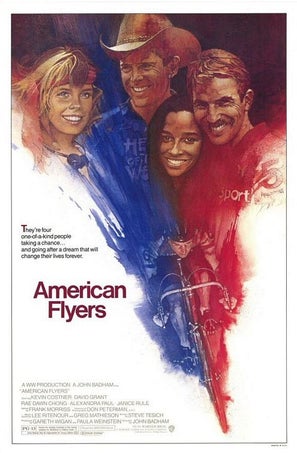 AG: It was a good movie at the time. When in East Germany, you had just two or three TV programs. If you see movies like that, American movies, and you never saw them before, so every movie is impressive. And I liked the racing part. It got me excited to race a bicycle.
VN: Rostock was part of the former East Germany, do you remember much of those days?
AG: Of course, I remember that. It was not East Germany when I started to cycle in 1992-93. I was born in 1982. The club just started with a new name. The trainer was looking for new riders during this period. That's how I came to cycling.
VN: Was joining a cycling club at 10 years old normal for that period?
AG: Two times a week we were training on the track or with athletics. I started to be serious in cycling when I was 15-16 years old. Then I started to train, with training programs, then I joined the national team in Germany.
VN: When did start to dream of becoming professional?
AG: That was always a dream. I was always good, but sometimes not good enough on the road. The national coach was not really good in supporting me. He said I was more of a track rider than a road rider, but I always liked to race more on the road. I was always a good sprinter, but sometimes the climbs were too hard and I couldn't make it to the finish as an amateur. After I left juniors, I went to the Jan Ullrich amateur team in 2000. It was part of the Team Telekom program. It was the best amateur team in those days. I won four times in a row the team league, it was 10 races in a season. I never did the national championships, I never know why. The national coach and I, we never agreed with each other. I was always good, I became better on the climbs, when I got to the finish line, I was always good.
VN: Who was a rider who inspired you early in your development?
AG: When I was really young, it was Olaf Ludwig. When you come from East Germany, he was the idol for everyone. He won the biggest race in the world – the Peace Race – a few times. When Ullrich won the Tour de France, he was kind of an idol as well.
VN: There are many problems in German cycling now, do you feel like you have a responsibility to try to improve its image?
AG: Now I feel like it is starting to come up again. We have a lot of good riders right now. In Germany, there's just the Tour that counts. Tony Martin was in the young rider's jersey in a lot of stages. Germany noticed there are some new riders, some new talents coming up. I am also not the oldest, I try to be one of them who brings cycling back in Germany. I hear that people do not read the articles about doping. Cycling has changed so much in the last three years. The cyclists have done a lot to change it. There were always be some black sheep out there, I just hope it just becomes better now.
VN: You haven't raced on the track for a long time, but you have a build of a track rider …
AG: I used to ride a lot when I was young, until juniors, then I stopped. Maybe I will try this once again.
VN: Did they try to make you race track or did you simply prefer to race on the road?
AG: I always knew that I was good on the road. I just needed to work on it. It was a lot of trust from my trainers. They offered me support. Then I joined team Weisenhoff in 2005, my first year as a professional. After one year, they stopped, so I came to T-Mobile in 2006.
VN: You've suddenly become one of the top sprinters in the world, how did that happen?
AG: I always know where I have to ride. Until 2008, I had to work for the other sprinters, and I didn't get support to get my own chances. In 2008, it started that I got my own chance to sprint and then I won the Tour Down Under. That was a point when everything changed for me.
VN: What emotions do you feel when you win a sprint?
AG: The last 200 meters is just the fruit of the whole stage, the whole day. The team works a lot for this success. I am the lucky one who can, if it's possible, to try to win the stage. That we can get the victory which we deserve, because we work a lot for these victories.
VN: Columbia has lost quite a few riders from last year, do you believe Columbia will dominate the sprints in the grand tours?
AG: There were a lot of riders who left the team, we also have some young riders who are coming to the team. They are good riders as well. I think they just need to learn from us and we try to do this in a better way. The races I've done with them, they're quite good, strong riders. You cannot replace a rider like George Hincapie, because he is one of the best riders in the world. We're working on that, because the team wants to win. That is our job.
VN: Who is the rider that you have confidence to lead you out?
AG: Last year, Greg Henderson was my best lead-out man, but this year, I trust a lot Marcel Sieberg. He always knows where he has to ride, because he's one of the tallest riders in the bunch. Everyone can see him. He's a kind of rider where you can always follow him easy.
VN: Is there a certain type of sprint that you prefer?
AG: I like it when it's a slightly uphill finish. It doesn't matter, if it's flat, or downhill, I want to win. In professional cycling, it's the team who makes the difference. If you have a good team, you have the best lead-out, that makes it easier. If you're a fast sprinter, the team just makes a difference.
VN: What has been your most important victory of your career?
AG: For me, the Tour Down Under in 2008 was very important because I proved I could win when the team is working for me. The victory when I won the golden jersey in the Vuelta last year was also one of the best victories. It doesn't happen so often to have a leader's jersey in a grand tour. That was one of the best sprints I have ever made. There was no lead-out man anymore. I could move in the front of Boonen and Bennati, and Farrar was fourth, so it was a really good sprint.
VN: At Columbia, you also have your teammate Cavendish, is there room for both you?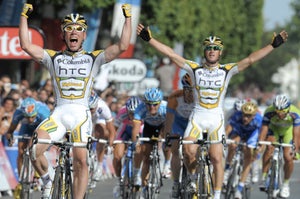 AG: There are a lot of races, there's just one race in July, where I want to take part as well. Once I would like to be the No. 1 sprinter in the Tour. There's no doubt about Cavendish, because he won the last two years, 10 stages in the Tour. Maybe I need to wait another year.
VN: You've won at the Giro and Vuelta, do you believe you can win at the Tour as well?
AG: Of course. Cavendish, he had the best lead-out train you can have. You have Tony Martin, George Hincapie, Mark Renshaw. Before you have Michael Rogers, Kim Kirchen, there are no riders in the bunch who can be faster than them in the lead out. In my opinion, if I get the same lead-out train, I can get the same results. Of course, Cavendish was the last Tour's fastest sprinter by a length. If do not take part in these races, I cannot win them.
VN: Are you prepared to work for Cavendish if you're selected for the Tour?
AG: There are some rumors. I would like to take part in the Tour and we'll find out if I will be there in July. How it works out, we will see then.
VN: Has the team given you an indication if you'll be racing the Tour?
AG: There are plans, but I don't stick to any programs anymore. There are so many program changes during the year. I just try to be good from race to race.
VN: Is it a frustrating situation for you?
AG: It's not the best one. I proved that I am a good sprinter. I would like to take part in the Tour.
VN: What is your contract with Columbia?
AG: I have just this year remaining.
VN: Would you consider racing for another team if you do not go to the Tour?
AG: It's hard to say something about that right now. I feel good on this team, I would like to stay. I also won't race my bike all my life, so once I would like to be sprinter No. 1 at the Tour de France.
VN: You've won more than 30 races in two years, so you believe you deserve a spot in the Tour?
AG: I have proved myself. There has always been a lot of team support in this. In every other team, I would be on the schedule for the Tour de France. That makes me thinking about it.
VN: Last year, you broke your shoulder in Australia and came back to win more than 20 races, how was that experience?
AG: I had 15 weeks off without racing. Then I came back and I wanted to come back like I left. The team gave me the time to train good, to be strong again. I did 60 races, I won 19, 20 in overall, since I came back, I won 19 races, in 52 days. That's a good percentage.
VN: You don't like to race the classics?
AG: I liked the classics when I was an amateur, but it's different with the sprinters. There are maybe 20 riders who can sprint, in the classics, there are 180 who want to be first in the corner. It's just maybe I am too old for this now.
VN: Are the worlds also a goal for you the next two years?
AG: It's not so easy, the parcours this year. If you have really good condition, it's possible for a sprinter. Copenhagen is uphill for 800m, I don't know the percent uphill, I have just heard about it. Of course, I would like to be world champion, but a lot of things have to come together to make that happen. If there is a good circuit for a sprinter and I have a good team there, it's possible.
VN: What do you need to do to improve your sprinting?
AG: Positioning is always a thing I can improve. Maybe I need to get better in the climbs. I always try to work on my good sides, on my strengths.
VN: What is your strongest quality?
AG: I think it's just the power. I had a good sprint today. I had 1820 watts in the final sprint.
VN: Who are your top rivals?
AG: Farrar, Hondo-Petacchi is a good duo at the moment, Boonen is fast, McEwen, he's old but still fast, Freire, too. The sprinters are closer right now.
VN: You've beaten all those guys at least once?
AG: Of course …