UPDATED: Armstrong soloes to victory, takes overall lead in Aspen womens stage race
SNOWMASS VILLAGE, Colo. (VN )— Kristin Armstrong (Peanut Butter & Co.-Twenty12) soloed to victory in Tuesday's 35 mile stage 2 road race to take the overall lead in the 2011 Aspen/Snowmass Women's Pro Stage Race.
Heading out the door? Read this article on the new Outside+ app available now on iOS devices for members! Download the app.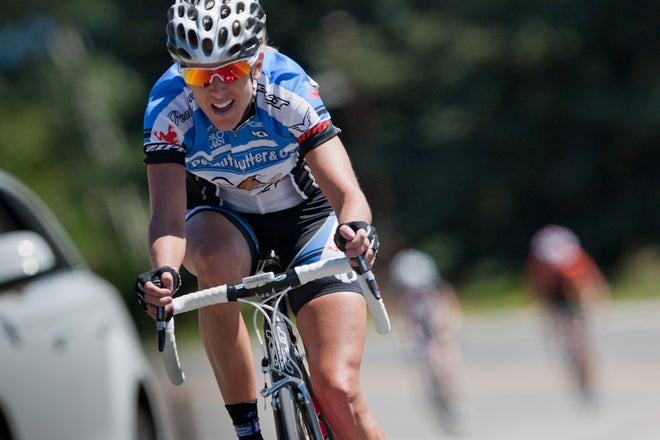 SNOWMASS VILLAGE, Colo. (VN) — Under near perfect conditions in the central Rocky Mountains, the race for overall lead at the inaugural 2011 Aspen/Snowmass Women's Pro Stage Race is proving to be quite a battle.
Olympic, multiple world and national champion, Kristin Armstrong, 38, (Peanut Butter& Co.-Twenty12) soloed to victory in Tuesday's 35-mile stage 2 road race to take the overall lead, breaking away with Janel Holcomb of Colavita/Formo D'Asolo early in the race, then attacking to finish 40 seconds clear, hands held high.
"It was a really hard race; each lap got harder and harder," Armstrong told VeloNews. "With two laps to go, I decided I didn't want to be the victim, so I attacked first."
'Brutal' course
The course for the road race was a 3.5-mile circuit around the Snowmass Club golf course, at the heart of the Snowmass Village resort community west of Aspen. Each lap involved climbing roughly 300 feet in altitude with grades of between 4 and 5 percent, to about 8,200 feet above sea level, on the backside of the course through Snowmass Village. Ten laps of the course, raced under cobalt blue skies, temperatures in the low 80s Fahrenheit and a slight breeze, meant a rough total of nearly 3,000 feet of climbing in just 35 miles.
Holcomb, who originated the break by attacking on the fourth of 10 laps, finished alone for second, with Anne Samplonius of NOW Cycling leading in a small group of riders for third place at 2:37, followed by Armstrong's teammate and race leader Kristin McGrath, Andrea Dvorak Colavita/Formo D'Asolo and Metromint Cycling's Kelly Crowley.
"We were halfway up the climb with another six laps to go," Holcomb told VeloNews. "I went up on the right side and just ramped it up. I looked back and saw only Kristin was on my wheel, so I thought, 'that'll work!'"
Armstrong and Holcomb worked together smoothly to a one-time advantage of more than two minutes while their respective PB & Co. and Colavita teams controlled the race behind.
'I never gave up'

"On this course, the place to try is on the climb. I felt it was best to work with her until later in the race. If I didn't work, and just sat on, I knew McGrath was behind with the leader's jersey. I never gave up," Holcomb said. "But I knew Kristin is accomplished, powerful, explosive and had some cards to play,"
"I told Rachel to ride smart and have confidence in yourself," added Colavita sports director Rachel Heal.
On the penultimate lap, however, Armstrong unleashed a powerful attack and never looked back.
"Janel had just finished pulling. I knew I had at least one match to light with two laps to go," Armstrong said. "I knew if it didn't work I'd have another one to light on the last lap."
One team noticeably absent from the action at the front of the race was the HTC-Highroad womens team. Amanda Miller, Emilia Fahlin, Ally Stacher and Katie Colclough all finished in the main field nearly four minutes down.
'A very rough day'

"We all had a very rough day," Fahlin, a three-time Swedish time trial champion, told VeloNews. "None of us are used to this altitude; and the course was brutal."
Six riders abandoned the race altogether. Another suffering in the thin air was France's queen of cycling, Jeannie Longo, on her fifth consecutive day of racing, having competed on the Front Range over the weekend — and having lost sleep overnight, too, due to news of her father's ill health.
"And Kristin's team did the race for her, so she could go whenever she wanted," Longo said. "I tried to be placed well for the selection, and I was able to use big gears in the beginning. But my cramps came back again and I had to gear down."
The stage race ends Wednesday with a 60-minute criterium on the streets of downtown Aspen. Crowds gathering for the finish of the USA Pro Cycling Challenge, which will finish in Aspen later in the afternoon, are expected to number in the tens of thousands.
With 35 points for today's stage win, plus 28 points from her runner-up performance in Monday's time trial, Armstrong now leads the overall classification seven points ahead of Holcomb and Monday's winner, McGrath, who are tied for second place overall with 56 points.
"We're actually looking forward to tomorrow," said HTC's Fahlin. "We're good tactically, we love going fast and we're motivated. And it will be really nice to race with big crowds and a special atmosphere."
Altitude 'a huge factor'

The criterium carries 25, 20, 18, 16 and 14 points for the first five places down to two points for 15th through 20th place. With such a tight race for the top three overall — and Samplonius and Crowley breathing down their necks in fourth and fifth places and 48 and 44 points, respectively — expect these pro women to have another aggressive day at the office.
"The altitude so far has been a huge factor," said Samplonius. "But tomorrow it's a whole new ball game."
Stage results

1. Kristin Armstrong Savola, Peanut Butter & Co. Twenty 12, in 1.35'58"
2. Janel Holcomb, Colavita / Forno D'asolo, at 40  
3. Anne Samplonius, Now Cycling/now And Novartis For Ms, at 2:37  
4. Kristin Mcgrath, Peanut Butter & Co. Twenty 12, at 2:37  
5. Andrea Dvorak, Colavita / Forno D'asolo, at 2:37  
Steve Wood is an AP Award-winner freelance journalist and media consultant living in Vail, Colo., as well as a former European correspondent for VeloNews. He can be reached at slwoodyink.com.