Arrival: Jonathan Brown comes into his own in 2018
American cycling's favorite kid brother is now the reigning national road race champion — what's next for Jonny Brown?
Heading out the door? Read this article on the new Outside+ app available now on iOS devices for members! Download the app.
NO ONE IS AROUND TO NOTICE AMERICA'S national cycling champion as he walks through the lobby of this Utah hotel and takes a seat in the adjacent restaurant. Without his stars and stripes jersey, Jonathan Brown looks like one of many other professional cyclists who are here to race the Larry H. Miller Tour of Utah.
Brown's peers, however, don't have a story like this to tell.
Brown has repeated it maybe 100 times by this point, nearly two months after his historic national championship victory in Knoxville, Tennessee. Still, his retelling has the tone of unrehearsed authenticity. He still pauses often and struggles to find the right words to describe the action, the incredible feeling when he attacked a breakaway in the waning miles. He still smiles when he describes his improbable move — the one nobody thought would stick—and recounts what it was like to hold his slim advantage to victory, in front of a stunned crowd, in his hometown.
"It's hard for me to even find words how to describe the feeling once I'd finished," Brown says. "It took a while for it to soak in, realizing I just won a race that every pro wants to win at some point in their career."
In some ways, this enthusiasm and disbelief is just what you'd expect from a 21-year-old who is suddenly thrust into the limelight. Brown is not yet a grizzled veteran who has been coached by team personnel to always say the right thing.
Brown's stoke is also completely legitimate, due to the unpredictable nature of his victory. He was not the best climber in that breakaway. Other riders had bigger engines, stronger legs. He races for the Hagens Berman Axeon development team, not a WorldTour squad.
Yet Brown raced with greater aggression and intellect than his peers in that breakaway. He was also lucky. He's completely at peace with this reality — those three attributes have made him the youngest rider to win the men's elite national title.
A road title earned as an up-and-comer brings with it immense expectations. Surely, fans assume, a national champ at 21 can develop into an international star within the next few years. Perhaps Brown is destined for greatness, and perhaps he is not. He's still young, with years remaining to develop into a sprinter, climber, or time trialist.
Or perhaps Brown's destiny is to simply evolve into a well-rounded bicycle racer. Brown is a supremely talented young rider, born with strong legs and lungs. But those around him agree that he does not have the otherworldly talent to make him a prodigy or a once-in-a-lifetime success. He's no LeMond, no Lance. So, Brown's pathway in pro cycling will likely depend as much on his intellect and spirit as it does the strength of his legs
"He's not a shooting star, not like one of these guys that goes to the top right away," says Brown's team director, Axel Merckx. "But he's steady and he keeps progressing and he gets better and better, and that's very cool to see. The jersey proves it."
BEFORE HIS BIG DAY in Knoxville, Jonathan Brown was best known as the younger half of cycling's Brown brothers. His older brother, Nate, is one of a handful of Americans racing at the WorldTour level. In 2017, he wore the king of the mountains jersey for two days at the Tour de France.
Growing up, Jonathan looked up to Nate, who is six years his senior.
"Especially when he was on the world scene and doing things like that," Brown says, "It was always, 'I want to be like my brother,' and get on these teams just like him."
The pair grew up in Tennessee, two bike racers out of four siblings. They were introduced to the sport by their father, David Brown. He raced as a professional in the 1980s before becoming a full-time pilot and then returning to the scene as a masters racer.
"Pretty much from birth I've been around racing on bikes," Brown says. "Nate got into racing at 10 years old, as soon as you get a USA Cycling license. At that point, if he's 10 I'm four, I was already growing up watching him race. I couldn't wait until I could start racing."
That desire only grew as Jonathan watched his older brother go to junior nationals. Jonathan got his own shot at racing nationals at age 10. Nate won the junior title in his age-group that year in Pennsylvania. Jonathan, a self-described "chubby kid," had a different experience.
"It was finally my chance to go out there and race against kids my age and everything and… Yeah, I got my ass kicked," he says.
Brown stuck with cycling. It helped that he had a close relationship with his older brother, who became a rising star on the U.S. development scene. That gave Brown an inside look at what it took to break into professional cycling.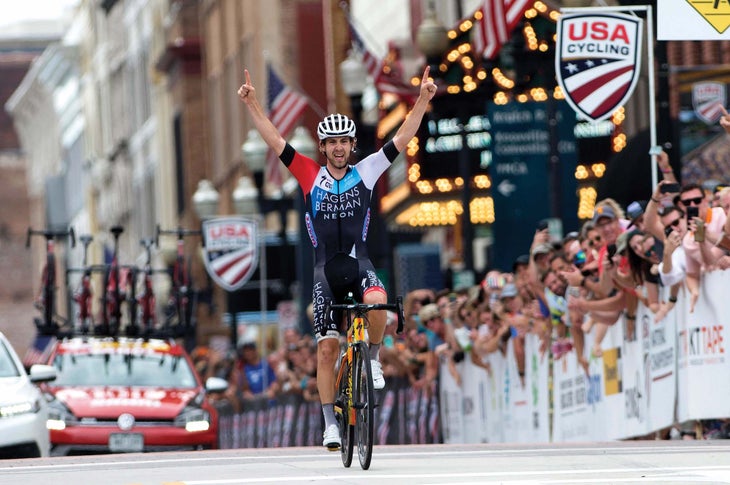 Nate worked his way through the ranks, joining Merckx's development team, then called Trek-Livestrong. He won two under-23 time trial titles. Jonathan continued to watch his older brother's success as he raced in the junior ranks.
As teenaged boys often do, Jonathan's chubby, boyish body leaned out as he got older. At age 16, he rode to his first junior national title. The following year he defended his title, cementing his place on the map as an up-and-comer to watch in the U.S. domestic scene.
Nate Brown says he knew his younger brother was maturing during a trip home several years ago.
"I used to be able to whoop Jonny's ass in a wrestling match. So, I said, 'Oh, I'll wrestle him,'" Nate says. "And he took me to the ground. That's when I realized, 'Holy crap, this isn't the little kid I remember any more.'"
As Nate's younger brother, Merckx was already familiar with Jonathan's exploits; the Belgian saw his potential. In late 2015, Merckx signed Jonathan to his development team for the 2016 season. Brown was just 18 and headed to the country's top under-23 squad, where riders from across the globe earned major victories in elite professional races. In fact, that season Axeon riders recorded an impressive tally of international results. Gregory Daniel won the U.S. road title and the overall at the Tour de Beauce. Logan Owen won a U23 Liège-Bastogne-Liège title. Neilson Powless showed his potential with a Tour de l'Avenir stage win.
All three appeared destined for the WorldTour.
By contrast, Jonny Brown rode a quiet debut season. The jump up from the junior ranks proved to be a big one. Even in 2017, he struggled. Merckx started him in domestic races like the San Dimas Stage Race and the Redlands Classic
"My first two years were a bit of an eye-opener for me," he says. "Even still it was like, 'Oh, this is pro racing.' I'm doing races longer than I've ever ridden my bike before."
Into 2018, his third season with the team, Brown remained among the less visible youngsters in Merckx's stable of talents.
And then, in the early months, something finally clicked.
At the U23 version of Liège-Bastogne-Liège, and at the Tour de Bretagne, Brown finally was able to stay with the leaders deep into the races. He finished seventh at the U23 Paris-Roubaix. Brown thrived for the first time since his jump to the professional ranks.
Yet few fans of the sport noticed. Brown was rarely the designated winner. Instead, he functioned as the team's road captain, whose job it was to direct the troops and arrange a plan of attack.
"I take the leadership role a lot of times," Brown says. "It doesn't hurt my feelings if I'm not the go-to guy. I enjoy rallying the troops and getting the team the result."
It's the kind of attitude you'd expect to hear from a seasoned veteran of the pro peloton—not a 21-year-old kid on a team known for showcasing prodigious young talents.
"He's very level-headed," says teammate Michael Rice. "He's someone that leads by example."
Teammates list Brown's ability to marshal teammates, and his knack for coaching people to improve through better use of tactics, as major strengths. Those talents are a fine complement to what may be his biggest asset as a young rider: his instincts.
"There's not a lot of guys in cycling who have 'the nose.' He has the sense for racing, and feels it," Merckx says.
BROWN'S NOSE FOR RACING won him the national title. His legs and lungs, however, put him in a position for victory.
Brown came into the U.S. national championship riding a wave of top form. At Canada's Tour de Beauce he finished inside the top 10 on multiple stages, a sign that he had good legs. As nationals approached, Brown elevated its importance in his mind. After all, Brown grew up in Tennessee and recently moved to Knoxville after spending several years in Austin, Texas.
Brown knew he had good legs early in the title race. He made the day's first breakaway, and then followed the decisive move alongside Gavin Mannion, Jacob Rathe, and Robin Carpenter.
In the closing miles, Brown began to skip pulls, lagging at the back as if he was out of energy. As his three breakaway companions continued to pull, Brown looked exhausted.
Nate Brown watched his brother from the sidelines, having abandoned the race earlier in the day.
"I thought I knew Jonny, and I said, 'He looks pretty tired, he'll be lucky if he gets a podium. I don't think he'll win,'" Nate Brown says, looking back on it.
"And then, all of a sudden, Jonny attacks."
Brown surged away just after the circuit's main climb and quickly built a minute advantage on the group. The three tried, but could not close the gap. Mannion says Brown simply outfoxed them.
"He kind of played us that day," Mannion says. "He didn't look so great early on and we all underestimated him."
The masterstroke was Brown's own plan. He raced on instinct, not by direction. In fact, Brown's team radio fell out three laps into the race, so he had no contact with his team director.
"When I attacked, they could have been yelling at me that I was the stupidest person ever and I wouldn't have known," Brown says.
Brown's tactical savviness points to success at higher levels of the sport. Could similar strategies help him score victories in the European peloton? Perhaps. At this stage in his career, Brown's future is still unknown. Over the years, young riders have earned exaggerated expectations with big rides at nationals. A U.S. title does not beget big wins on the WorldTour. It can, however, guarantee a rider a steady job and paycheck on American teams for years to come.
In the weeks after his win, Brown says agents contacted him offering to connect him with big teams. Instead, Brown decided to race for Merckx's team for another season. Perhaps it's no surprise. After all, Brown seems to care as much about making good decisions, his development as a rider, and the success of his teammates as he does about personal ambitions to reach the sport's pinnacle.
Brown's physiological attributes suggest flat and hilly one-day races, perhaps Belgium's classics, will suit him. He knows how to ride in a breakaway, and how to sprint. Unlike his brother, Jonathan Brown is not a climber.
Those around him describe a rider willing to put in the work, one who is not afraid of addressing his weaknesses and trying to improve on them. That said, it's still far too early to know with any certainty what kind of rider Brown will ultimately become. For now, he's just trying to balance enjoying life in the stars-and-stripes jersey, and continuing to develop.
Whatever his power numbers are by the time he moves on from Axeon, Brown's acumen and attitude for racing are exactly what directors like Merckx look for on the road. What he has above his shoulders should suit him well if his legs follow. Whether that means Brown will be hunting WorldTour stage wins in a few years or putting in the yeoman's work to shepherd teammates over bumpy terrain, don't be surprised to see him embracing whatever role he settles into.