BMC comes up short at E3 despite strength in numbers
BMC Racing had three strong riders in the mix at E3 Harelbeke, but Van Avermaet could only manage a third-place result.
Heading out the door? Read this article on the new Outside+ app available now on iOS devices for members! Download the app.
HARELBEKE, Belgium (VN) — BMC Racing counted three riders in the chase group in the final five kilometers of E3 Harelbeke, but that wasn't enough to catch Niki Terpstra, just 20 seconds ahead. The riders in red and black came up short in their bid to defend Greg Van Avermaet's 2017 title.
BMC put big engine Stefan Küng to work at the head of the group trying to close the advantage, with Jürgen Roelandts and Van Avermaet firing off intermittent attacks, but neither rider managed to open up a significant gap off the front. Terpstra took the win, his Quick-Step teammate Philippe Gilbert won the sprint for second, and Van Avermaet settled for third.
Talking to media after the finish, Van Avermaet could only tip his cap to the winner.
"I think if you go from 70 kilometers to go or whatever it was and you finish it off, you can say a lot of things but I think the smartest thing is to say Terpstra deserved the win," he said.
On a day dominated by Quick-Step, BMC was the only other team sporting numbers in the finale. Sport director Fabio Baldato told VeloNews he left it up to his two main contenders to decide how to play things rather than giving them a singular goal.
"They were all on the limit. Jürgen should be the fastest, but he was also not feeling good," Baldato said. "And there's still a fast guy in Trentin, and Gilbert, sitting on the wheel for many kilometers. Honestly, I left it to the guys to the decide, with Greg and Jürgen.
"I asked Kung to sacrifice himself for the others. He did. He tried to ride more than everyone else. But having guys like [Matteo] Trentin, [Oliver] Naesen, Gilbert on the wheel doesn't help. You can go full-gas to chase back and do the sprint for Jürgen, on paper he's the fastest, but then you lose to Trentin or Gilbert"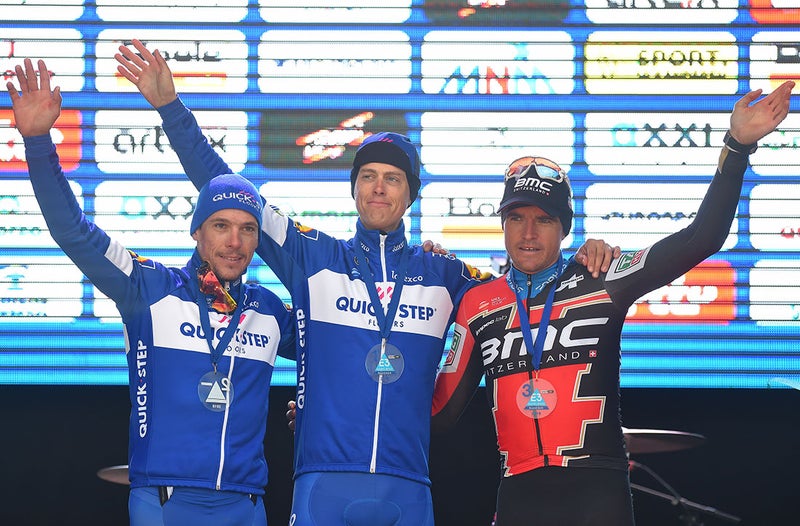 Küng echoed Baldato's sentiments, pointing to the talented hangers-on in the group as a threat to any organized chase.
"With Gilbert and [Zdenek] Stybar they always tried to let gaps open, which is normal because they wanted to have Terpstra remain in front," said Küng, who came home 10th on the day.
"If we bring [Terpstra] back, then they're the freshest guys. And in a sprint like that, it's not pure kick. It's about who still has the most in the tank. So it was a really, really difficult situation. It was good to be up there with three guys but then you have the responsibility. We tried our best."
A big crash near the midway point of the race also played a part. Van Avermaet and a pair of teammates stayed ahead of the carnage, but before long, Van Avermaet was alone against a well-staffed Quick-Step Floors. Küng and Roelandts had to make up ground to rejoin their team leader, and by then, Terpstra and fellow escapee and teammate Yves Lampaert were already long gone with Van Avermaet stuck behind.
"The problem was I did a lot of efforts in the middle of the race, and then a big group came back to us," Van Avermaet said. "It was hard for me to reset my legs a little bit. I tried to find a little bit of rest, but it was hard to close. We had to work all together, and we had three guys, but the most important was to work together to take Terpstra back but he was super-strong."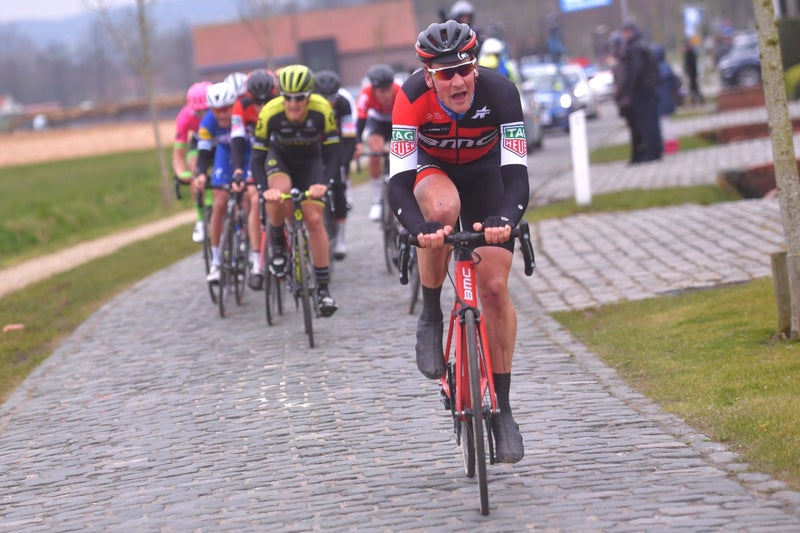 Baldato didn't point to any specific areas beyond the crash as decisive missteps for BMC. He did say, however, that he and his team would try to dissect the day's tactics after the race to see how they might have played things differently, with an eye towards the races to come.
"We need to talk between us, find out where we did a mistake — because for sure we did a mistake — and get more connected," Baldato said. "Sit down, have a chat, and find out the best plan for Flanders."
Despite missing out on the win, riders and DS alike struck an optimistic note regarding the form BMC's heavy hitters showed at E3.
"Stefan did everything he could to keep it rolling. Jürgen tried to do his best with a few attacks, but it was super hard. If you take the lead up with two guys, the others can save their legs," Van Avermaet said.
"I was super-happy with my legs, super-happy with my race. I put a lot of effort in, and it was a good training for me. And in the end, I am also pretty happy with my result. I'm on the podium. Okay, it's not the win, but I know how hard it is to win this kind of race so I'm pretty happy with what I did today."