Book excerpt: 'Greg LeMond: Yellow jersey racer'
Jeff Bradley and Greg LeMond recall their early days as up-and-coming junior racers, soon to be pioneers of modern U.S. pro cycling.
Heading out the door? Read this article on the new Outside+ app available now on iOS devices for members! Download the app.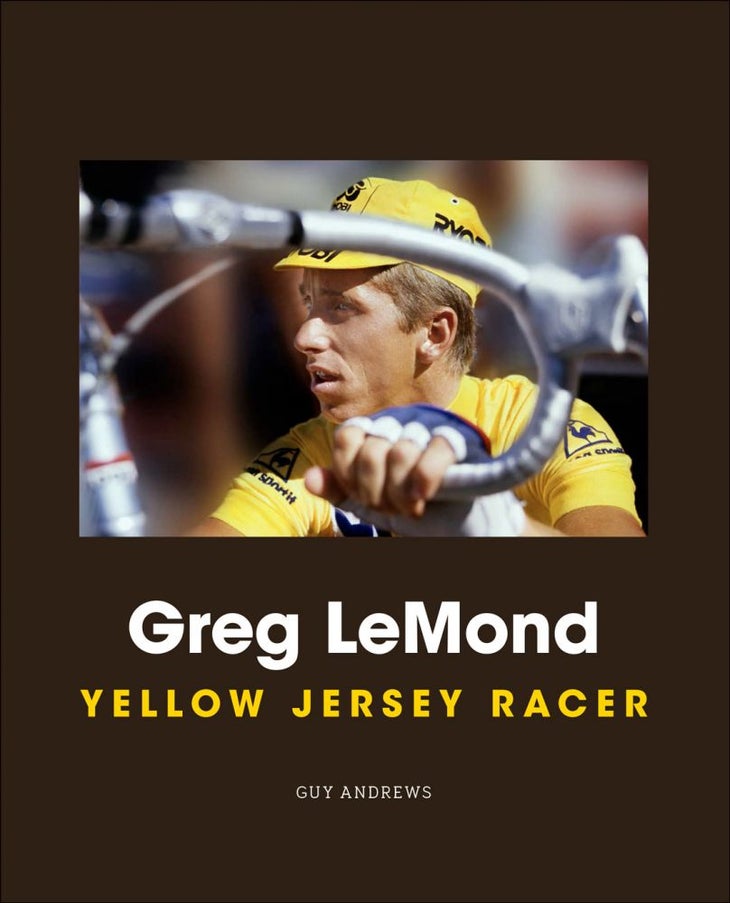 Used from "Greg LeMond: Yellow Jersey Racer" by Guy Andrews, with permission of VeloPress.
American Flyers
In 1978, Jeff Bradley was one of a new breed of American cyclists, capturing the imagination of U.S. cycling fans when he, Ron Kiefel, Greg Demgen, and Greg LeMond won a bronze medal in the team time trial at the junior world championships in Washington, D.C. It doesn't sound like much now, but along with Connie Carpenter's silver medal in the women's road race at the 1977 world championships, this was one of the first USA cycling medals since 1969, when Audrey McElmury had won a surprise gold at the worlds. Small change for many European nations, but this was the start of a renaissance for U.S. cycling.
At the end of the 1970s, cycling was an also-ran sport in the United States; even such winter sports as skiing and speed skating were more popular. However, with the benefits of crossover fitness training beginning to influence the world of winter sports, the summer pursuit of cycling proved ideal for the winter sports' off-season. Such athletes as Carpenter and Eric Heiden, both of whom had competed at the Winter Olympics as speed skaters, were now looking to cycling for a fresh challenge. As a skier, Greg too had found his way into cycling via a winter sport, as had his friend and arch-rival Jeff Bradley, another former speed skater. Having made the summer switch to two wheels, neither Jeff nor Greg ever looked back.
In 1979, Jeff finished fourth in the junior world championships in Argentina, beating a soon-to-be classics ace, the Belgian Eric Vanderaerden, in the bunch sprint; Greg had already won the race from a three-man breakaway. Also in Argentina, Jeff and Greg won another bronze medal in the team time trial — to match the one they had netted the year before — but this time with Andy Hampsten and Mark Fris. A renowned sprinter, Jeff chalked up around 150 wins in his career, racing all over the United States and Europe, and reaching a high with a ride in the 1987 Tour de France with the 7-Eleven team, his first and last attempt at the Tour. Today, Jeff runs a bike shop in Davenport, Iowa.
It's hard not to find similarities between the fictional racers in the films "Breaking Away" (1979) and "American Flyers" (1985) and the lives of Jeff, Greg, and the rest of the late-1970s American cycling fraternity. Without doubt, the photographs of the early races in which Jeff and his peers competed immediately bring to mind the "Cutters" team in "Breaking Away," in which a group of young racers takes on the might of an Italian cycling squad (in the case of the Cold War-themed American Flyers, the out-of-town competitors are bearded Soviets). Despite the filmmakers' naive misunderstanding of the sport of cycling, the parallels between fact and fiction remain: the camaraderie among the racers, the coming-of-age stories, and the road trips of many thousands of miles to compete in races across the United States will all ring true with many American riders of the time.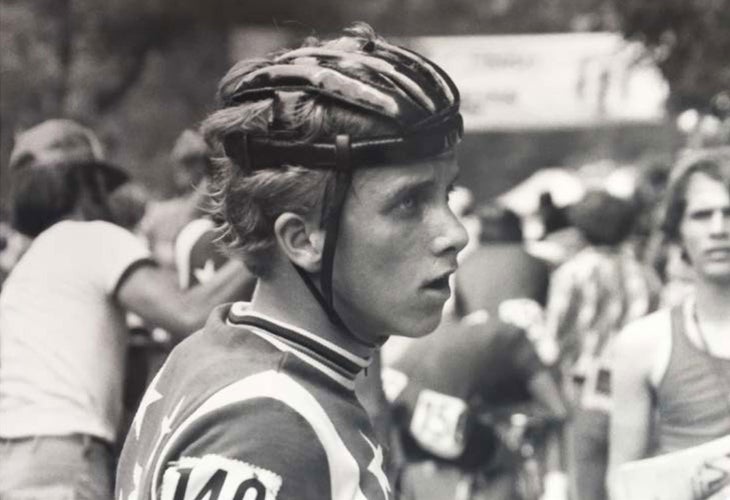 Jeff Bradley:
"I first met Greg when we were probably 14 or 15 years old. It was on the track at Northbrook, just outside of Chicago. We'd heard of each other: stories went back and forth for quite some time, and Greg was the 'sensation' coming out of the West Coast. We were both young kids, and the sport was much smaller at that time, so everybody could easily keep track of everybody else throughout the country. We were still in the Intermediate category at that point — we were not yet in juniors — and it was the national championships. We hit it off as friends right from the start. We battled a lot head-to-head as youngsters, but we were always friends and rivals. We were never at war with each other.
"Like Eric Heiden, Connie Carpenter, and others, I had crossed over to cycling from speed skating. Back in the mid- to late-'70s and '80s, a lot of the speed skaters raced bikes in the summertime. Especially in the Midwest, there were families who messed around with bicycle racing. For me, I was just a much better cyclist than speed skater, and I enjoyed it a lot more too. It was much more interesting. You start out, you can travel with the family to local races, and as your success comes you get more offers from sponsors and you make it to the national team and things blossom from there. We had a great time. I was much better at the sport as an amateur when it was fun, when it wasn't all business. That's the way we started out in the U.S.
[pullquote align="left" attrib="Jeff Bradley"]"Greg was a fly-by-the-seat-of-your-pants kind a guy, and he needed the guidance back then. We would go out and party a little too much."[/pullquote]
"Greg and I became close friends when we entered the juniors category. In those days, it covered three age groups: 16-, 17-, and 18-year-olds. The first time we spun out together was the junior worlds trials in Princeton, New Jersey, where the age bracket was 17- and 18-year-olds; we were still 16 and so too young to qualify. When we were racing together during that time, it often came down to being between Greg and me. Anyway, Greg placed first and second in the junior worlds trials. He was easily the best. It was an eye-opener: the guy just had an extra gear, something way beyond special. It was 1977 when he won the nationals; after that we traded off national championships back and forth [over] the three years we were juniors, and then he won the junior worlds in Argentina when we were 18-year-olds.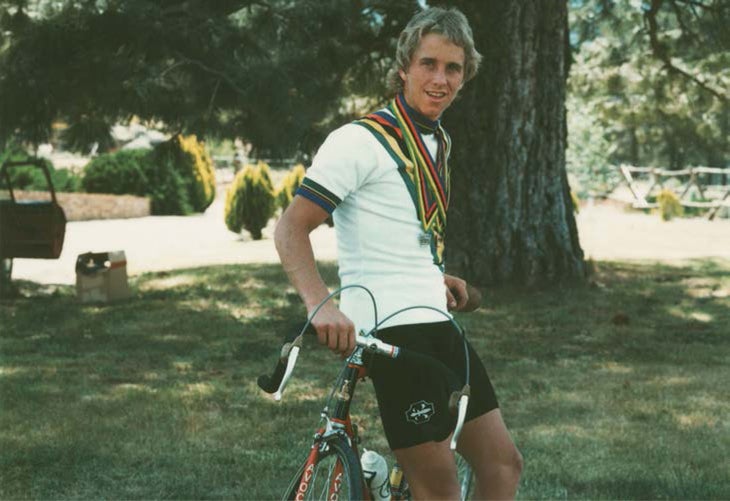 "America had been in the doldrums [in terms of bike racing], and then all of a sudden we started to put in performances at world and Olympic level. I think it was more than just raw talent. Obviously, Greg had bucket-loads of talent, but there was a spirit among us too. At the junior worlds in Argentina in 1979, the team was Greg, Andy Hampsten, Mark Fris, and myself, and we really thought we could win that race [they eventually came third]. We had a lot of morale … especially for 'outsiders!' That really carried through to the following year. We were no longer juniors, and were competing with much older and more experienced guys, but we were absolutely as good or better than our seniors, who were five to ten years older than us.
"I remember those first European amateur races: the Ruban Granitier Breton, Circuit de la Sarthe, and Circuit des Ardennes. All the national teams would be there and we held our own. Americans had never held their own in the past, and we were winning these races. Greg won the Circuit de la Sarthe [in 1980], with guys like Cyrille Guimard saying, 'Who's this American kid stomping on all the Russians and East Germans?' But as kids, we all did pretty well too. It wasn't really just Greg; we were all in there.
"In the team time trial situations, Greg was always the strongest guy. In particular, at the junior worlds in Argentina, Hampsten crashed out halfway through; our other teammate, Mark Fris, was sitting at the back so we had to keep slowing down to keep from dropping him; and Greg was doing 80 percent of the work. Well, if we'd had another contributor, if Andy hadn't crashed, or we hadn't had to slow down to keep our third guy on … OK, so maybe we wouldn't have won, but who knows what could have happened?
[pullquote align="right" attrib="Jeff Bradley"]"Greg could take the beatings much better than the average guy. He had so much natural raw talent, he could survive all the hard races and the sicknesses and bounce back from them."[/pullquote]
"Eddie B. [Eddie Borysewicz, the legendary Polish-born American national coach at the time] paid very close attention to the team time trial. He was an awesome coach, and had a lot to do with nurturing Greg's early years. If anybody called the shots, it would have been Eddie B. He kept a tight rein on Greg; he focused in and helped him find his way. He would have pushed himself too hard in a training situation otherwise, because even as a 16-, 17-year-old, Greg could take a high volume of training. So, on his own: he was a fly-by-the-seat-of-your-pants kind a guy, and he needed the guidance back then. We would go out and party a little too much. We had to be reined in a few times; we had to slow down. We definitely didn't do everything right, but it was good to have the U.S. Cycling Federation coaching staff with us. They did a great job for the time. They did well, but the whole successes of the late '70s was down to talent, enthusiasm, good team morale, and Eddie B.
"Of course, the team time trial was quite an intense event for juniors — 75 kilometers, with nowhere to hide — but we were good at it and we trained specifically for that event. It was the one event that was less of a lottery, so less work was involved. Eddie B. had a lot of experience with team time trials, and that was the one thing he was going for which guaranteed success, so that's what we were focused on. During that period, Greg and I spent a lot of time together at the Olympic training centers. That was our first experience of training camp with the coaches for two weeks. We spent a bit of time at the Colorado Springs Olympic training center too. We were super-serious: for us, it was our leaving-high-school-and-going-to-college era.
"We did a lot of training for the team time trial. A lot. Much of it was spent behind a motorbike, narrowing down the longlist [of potential team members] throughout the season. We'd start with six, or eight, or ten guys and the list would just get narrower and narrower until we found what worked.
"That continued, even after Greg left and turned pro. It continued all the way through the '84 Olympics with Eddie B. and the time-trial squad: Ron Kiefel, Davis Phinney, Thurlow Rogers, Roy Knickman, Andy Weaver, and myself. We were all kind of in the mix of that group all the way through '83, '84.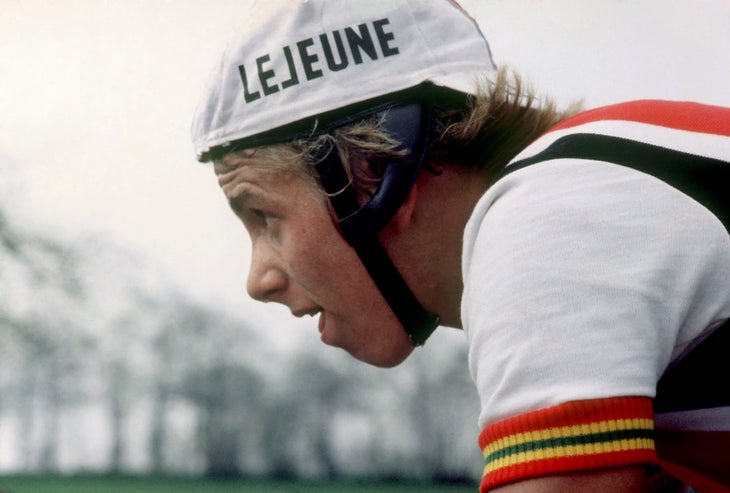 "As amateurs, we would go over and do those small-stage spring races in France. Greg was already riding for Renault and living in Nantes, but we would get together. I would go stay with Greg for three, four, five days at a time, and the U.S. team … We'd have a spell of not racing where I'd go hang out with Greg. So I did actually see him a bit. Back then, there was no Internet, and even a telephone call back to the States was awful expensive, so it was like isolation. Greg had a nice house to live in, but there was no English-speaking anything. The lifestyle, the food, the weather — everything was different. And the racing turned into much more difficult racing.
"Right after the Olympics in '84, that's when all the talk of a U.S. pro team started, mainly Jim Ochowicz [the future team's manager and current team boss at BMC] and the 7-Eleven crowd, making the decision to take a load of us from the amateur ranks and see if we could compete as professionals. By the mid-'80s, Greg had already broken the ice; he was already a force to be reckoned with as a pro. That's how the whole thing started. At the beginning of '85, around late February/early March, I started as a pro for 7-Eleven, and we went over [to Europe] for the Giro d'Italia and Tour de France.
"Greg had changed a lot by the time we started taking part in the pro races, even physiologically. He was way more cut out for it, and could take the beatings much better than the average guy. He had so much natural raw talent, he could survive all the hard races and the sicknesses and bounce back from them. He was the cream that came to the top and was obviously special. [At 7-Eleven] we were all doing the same thing; we didn't have any standout guys. As we got more experience, we managed to scratch out some results here and there — guys like Ron Kiefel and Davis Phinney, and then later Andy Hampsten — but it took a while. With Greg, however, you could tell it was coming. He was in there fighting. Thinking back to when we were 15-, 16-, 17-year-olds, we'd always talked about making a living being bike racers, but it was just a dream. To have it happen and come to fruition … It was a special time for sure. It was a lot of fun, but especially for Greg. Holy cow! He was a warrior and had a head for the game. And he had it all written down: he had his goals in front of him all that time.
"Greg maintained a façade, too, that he was always a bit of a joker. He'd go out drinking, and we'd be normal American kids having a great time, but then Greg was just a winner. He would never back down, and I think he thrived on pressure. Even going way back to our early years, the more the odds were stacked against him, the more determined he'd be to overcome them. At the junior worlds in Argentina, he got hooked under the tires by Kenny De Maerteleire and actually crossed the line second [Greg was forced into the curb by the Belgian, and had to jump a row of tires. He broke a couple of spokes in his rear wheel but still came back to finish second. De Maerteleire was later penalized for his actions, and the positions were reversed]. That would have knocked most people out of the race, but Greg wouldn't give in. I think that's the one quality of his that really stands out: he would never back down. Ever."
Greg LeMond early results
1977 Team: amateur junior
1st: U.S. National Junior Road Race Championships
1978 Team: U.S. national team and amateur junior 2nd: U.S. National Junior Road Race Championships
9th: UCI Junior Road World Championships (Washington, D.C.)
3rd: Team Time Trial (with Jeff Bradley, Greg Demgen, and Ron Kiefel)
1979 Team: U.S. national team and amateur junior
1st: UCI Junior Road World Championships (Buenos Aires, Argentina)
2nd: pursuit
3rd: team time trial (with Mark Fris, Jeff Bradley, and Andy Hampsten)
1st: U.S. National Junior Road Race Championships
4th: Red Zinger Classic (open)
1980 Team: Lejeune (amateur)
1st: Circuit de la Sarthe
2nd: stage 4a
5th: stage 3
1st: Lima Road Race (Colombia)
3rd: Circuit des Ardennes
1st: stage 5
Greg LeMond:
"I wanted something more challenging than going up a ski lift and whizzing back down. I was interested in sports where I could accomplish something myself without having to depend on others. There were friends around, but when you live in the countryside, your closest friends are miles away.
"I always wanted to keep moving and improving."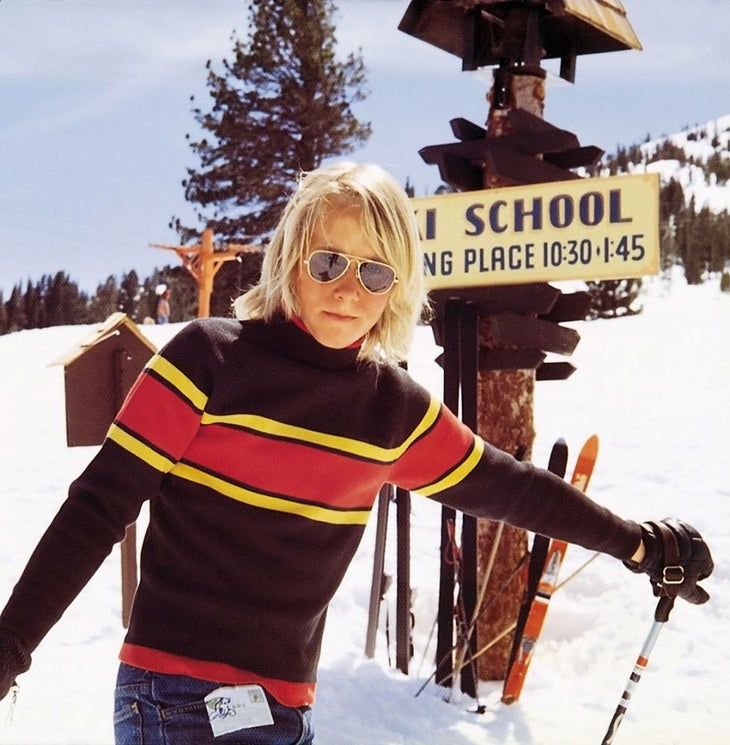 "When I got into cycling, I bought a Raleigh Grand Prix. It was red and black. I stumbled into cycling through riding with my dad. I didn't know anything — I happened to ride through the winter in Reno, and I ran into a guy [Cliff Young] at Rick's Bike Shop in January '76. He seemed to be recruiting bike riders to get into racing. He asked me if I had any interest in racing, and I said I didn't. He said, 'Well, come to a meeting in two weeks' time and see if you're interested.' [The meeting] was like hearing people talk a foreign language, but two weeks later my dad and I showed up at a race. I was in tennis shoes, running shorts, and a tank top; everyone else was on their Italian bikes. Anyways, I ended up getting second place. We had a national champion in the group and some very experienced racers who couldn't believe I got second place, and they were saying to my dad, 'Your son has got a lot of talent.'
[pullquote align="right" attrib="Greg LeMond"]Eddy Merckx and those guys — they all put their pants on the same way I did, so why wouldn't I be able to go out there and win?[/pullquote]
"In those first five years — God, it was fun. It's hard to explain how [my early years in cycling] were so dynamic for me, because I went from not even thinking about racing to winning. Up until turning pro, it was the most fun I had in my career. I did my first race in a tank top and tennis shoes on a Raleigh Grand Prix, and I won the first 11 races I [competed in]. Once or twice a week I went to Roland Della Santa's shop [in Reno] just to hang out while he worked. He'd tell me stories about the great European stars, the thousands of screaming fans, and legendary races like the Tour de France and Giro d'Italia. In the summer of 1978, I won two races in Switzerland, two in France, and six out of eight races in Belgium. Noël Dejonckheere was a Belgian pro who came over to the USA during the Tour de France in '76, and I just met him and he rode with me even though I had been racing only for four or five months. He went back and told his parents he had seen the next Eddy Merckx! So that had already been spread around by the time I got to Belgium in 1978."
"In the summer of '78, we did a ride from Geneva to the Col de Joux Plane, near Morzine in the Alps. A group of us from Geneva Cycling Club, we watched the Tour de France go over the mountain from the chalet belonging to Jean-Claude Killy [a French alpine ski racer and fellow member of the Geneva CC]. When I saw the race, I knew that was what I wanted to do.
"There was this attitude that Europe was mythical and that we American cyclists could never compete. Obviously, I didn't buy into that. Eddy Merckx and those guys — they all put their pants on the same way I did, so why wouldn't I be able to go out there and win?
"For a cyclist, the Olympics are just a stepping stone. The Tour de France is where the best competition is: It's what cycling is all about. So in 1980, when the U.S. team boycotted the Olympics in Moscow, I turned pro.
"When I first went to Europe, in 1981, I signed as a professional for 6,000 French francs [around $15,000]. But in 1980, I had been making $30,000 racing as an amateur in the US, so it was a sizable pay cut. I thought it was worth it, though, because Renault was a great team and [Cyrille] Guimard was such a good coach."
Listen to our conversation with author Guy Andrews about Greg LeMond on the VeloNews podcast: