Book excerpt: Is technology killing tactics?
Traditionalists complain that radios and power meters ruin racing action, but the mid-race reality is not so straightforward.
Heading out the door? Read this article on the new Outside+ app available now on iOS devices for members! Download the app.
Editor's note: This is an excerpt from Peter Cossins's book, "How the Race Was Won: Cycling's Top Minds Reveal the Road to Victory." See more >>
"Directeurs sportifs don't attempt to get the riders thinking anymore, and that's a crime against the spirit of cycling, against man's spontaneity. More perverse still, earpieces have definitely become a sure-fire alibi for the riders."
— Cyrille Guimard, "Dans les Secrets du Tour de France"
Once it was derailleurs, tri-bars, and helmets, and now it's disc brakes, radios, and power meters. As in many sports, the advent of new technology has always divided opinion in cycling, but its popularization is inevitable. While technophiles are adamant that these advances benefit bike racing, making it safer and more accessible to spectators, purists like Cyrille Guimard bemoan "a PlayStation game," a sport where the riders are moved around like chess pieces by directeurs sportifs giving them orders via earpieces and are in thrall to their computers' numbers, dosing their effort and never daring to risk. The head and the legs? Not anymore, they insist. But are they correct?
In Guimard's defense, it should be said that as a directeur sportif he was usually quick to innovate, encouraging periodization in training and introducing aero frames into the peloton. He also points out that those advances didn't affect the necessity for riders to think and improve as racers. But he claims radios and power meters are preventing this, and he is far from alone in saying so.
These arguments are especially persuasive on days when a race has been dominated by one team setting a blistering pace on the front of the bunch and preventing any attack against their leader. Or likewise when the sprinters' teams have kept the breakaway tightly in check and gobbled it up like an hors d'oeuvre before getting their teeth into the main course at the finish. But is this suppression of spontaneity and unpredictability the reality of cycling in the second decade of the twenty-first century or is it more nuanced?
What can be said for sure is that road racing is different. Technology has changed it, perhaps more radically than at any point since the derailleur became widely used in the 1930s. The first step toward that was taken in 1991 when the Motorola team developed what was called the Peloton Communications System. Despite its heft, the two-way radio was initially built into the helmet of Motorola's Australian team leader Phil Anderson, until he broke it in a crash at the Tour of Switzerland and it was moved to a position under his saddle. Once fitted there, a wire wound from it along his top tube to a microphone secured at the top of the stem, the unit protected from the elements thanks to a plastic bag wrapping. The Australian had to lean down and press a button to operate it as if giving an announcement over a supermarket loudspeaker.
Gradually, the use of the technology spread, with Germany's Telekom team, for instance, using mobile phones to give and receive information and instructions. The devices have become smaller and less intrusive. Contemporary receivers are the size of a credit card, the thickness of two squashed together and usually slot into a custom-made pocket on the inside of a team jersey just below the nape of the neck.
The impact they have had on racing has been as substantial as their change in appearance, according to Marc Sergeant, whose racing career was reaching its end as radio use increased.
"Before radios came in, riders had to think more about what they were going to do. Occasionally, the team car would come up and the director would tell you to do this or that, that you had to react now," explains Sergeant, who went on to become a directeur sportif and manager at the Belgian Lotto team.
"But you needed clever riders on your team, guys who took decisions because sometimes you couldn't wait until the car came up. You needed guys who would look at the break's advantage and say, 'We're three minutes back and we need to close that gap down.' In those days, the riders had to think and respond straight away, but nowadays they often wait a little bit to hear what is said on the radio. They're not all like that, but in certain races, and especially the Tour de France, there is a tendency for riders to wait for instructions before they react."
This pause before acting is one of the complaints of those in the antiradio camp, which includes Greg LeMond, who believes that one of the essential qualities of racing is being eroded. "Cycling's a tactical sport, but it should be a tactical battle on the bike, not between two people watching on TV in their team cars," LeMond has said. "You want the people on bikes making the decisions — that's what makes cycling exciting. You don't want teams strangling a race. You want bluffing, strategy, and no one really knowing where they stand. The value of tactics has largely been lost."
Taking much the same stance, former pro Laurent Jalabert, who is now one of the stalwarts of French television's cycling coverage, has complained that "there's no point [for riders] even to look at the road book. You just need a bit of strength in your legs and a radio in your ear. You can't really tell who's a good rider anymore, who can read a race, and who's just physically strong and knows how to listen."
Max Sciandri, a member of that Motorola team in the mid-1990s, now a directeur sportif but "never a radio guy" as a rider, agrees with this perspective. "I came from that generation who had a feeling when the leaders would move. You'd have looked at the road book beforehand and would usually be ready for that moment and could consequently react. I would sit back behind the bunch a bit like Steve Cummings does now, and I'd sit and sit and sit, and then I'd feel the squeeze coming and move to the front," says Sciandri.
Although he uses radios at almost every race he works at, Sciandri admits that he would like to see riders regain that kind of insight and feeling that he had, to be removed from the control that directeurs sportifs have on them, partly because, like all other directors, he often has no clear idea what is going on in the peloton up ahead and, this being the case, can't make a quick decision on tactics. "I don't like to move them around in that robotic sense," he says. "I don't like radios. I'd be happy if they decided to get rid of them, and then we'd see how everyone would interpret the race."
His is not a commonly shared view among his peers and within the peloton, however. Critics all point to the issue of safety, emphasizing how quickly and efficiently details about potentially dangerous points and situations on the road ahead can be relayed to riders via radios. Removing them, they insist, could quickly lead to disaster. Patrick Lefevere highlights it in typically colorful fashion. "Do you know any company that has 175 employees and where the boss will wait five hours before going down to say that they're making mistakes, and then telling them what they should be doing? Of course not. The boss would go down straight away and put those mistakes right. A directeur sportif can do precisely that using a radio. Before radios, I could do exactly that, but it meant driving my car in the bunch …"
When the UCI and the Tour de France did agree to run a trial in 2009, prohibiting radios on the stage between Limoges and Issoudun, 14 of the 20 teams banded together to reject the initiative, citing rider safety as their central concern. When the stage got under way, more teams joined them and the result was a day when the bunch soft-pedaled from the start to very nearly the finish, resulting in a spectacle that was precisely the opposite of the harum-scarum action the administrators were hoping for. A plan to run a second stage without radios later in that race was dropped.
The dilemma that the UCI, the major race organizers, and many expert observers such as LeMond and Sciandri face is that there is very little data relating to the impact radios have had on racing. Most of the evidence is anecdotal and often contradictory, even when it is put forward by experts. Indeed, the only research done in recent years, a 2007 study by Professor Gaël Gueguen at the Toulouse Business School entitled "Information Systems and Performance: The Case of 'Tour de France' Racing Cyclists," which compared Tour pre-radio stages of 1991 through 1996 to post-radio stages in 2000 through 2005, revealed no significant difference between the number of stages that ended in sprints and breakaways during those two periods. The paper also suggested that breaks were more likely to finish with a bigger gap in the radio era, no doubt because a better-informed peloton knew when it was chasing a lost cause and would, as a result, sit up and roll in.
At the same time, a lot of the anecdotal evidence suggests that radios have been a boon to breakaways and the riders in them. In an open letter written in March 2011 to register his unhappiness with proposals to suppress the use of radios, Jens Voigt declared that suggestions that breakaways had a better chance of survival in pre-radio days were "nonsense." The German, at that time the undoubted king of the baroudeurs, declared: "I am in the lucky position to talk on both sides, I was often in breakaways and I liked to have the radio, get some support from my team car, some motivating words and get exact info on what team is chasing me with how many riders, so I can plan my effort after the action in the peloton. If I won a race in a breakaway it was because I was strong, in good shape, suffered like crazy, and worked hard — does anybody think the radio made me go faster?"
Marco Pinotti takes the same stance. "Radios do help the breakaway," the Italian insists. "On those occasions, I was in the break I'd be saying, 'Easy, easy, easy!' To an extent, the break is in charge. If it slows down, the peloton will slow down. If the break goes harder, the peloton will respond."
Pinotti adds that in races where the use of radios has not been allowed, the peloton's control of the breakaway has been much tighter than usual. Recalling a race in Ireland, he says, "The break went but it got no more than two minutes because the bunch didn't know what the situation was on the road as there was a delay in the communication of that information. That delay could have worked to the advantage of the breakaway, but the result was that the peloton decided not to take any risks and stayed around two minutes behind."
If there is a possibility for agreement, a halfway house that would ensure rider security would not be compromised while, at the same time, encouraging greater emphasis on tactical skills, it looks most likely to come as a result of limits being placed on who has access to race radio and the type of information that can be relayed to riders. Thomas Voeckler, a breakaway specialist who relished and thrived in situations where tactical acuity came into play, is among those who have suggested the introduction of such a system. "For me, the best solution would be a one-way radio from Radio Tour to the riders in order to tell them: 'Be careful, there's a car here; there's a dangerous road there.' I think races would be more interesting if that were the case."
Tour director Christian Prudhomme has also suggested the introduction of a solution like this, but it does bring up the possibility of an immense change because of how it could restrict the directeurs sportifs' influence on race action. Rather than relaying instructions instantly, they would have to depend on reverting to the traditional methods of either driving up alongside the bunch, which no one would be happy about from the perspective of safety, or having a rider drop back from the peloton into the convoy of cars to pick up orders in the same way they have to collect bottles, food, or clothing.
In his open letter, Voigt suggests that such an initiative would even presage a return to "the stone age" because riders would not be able to contact their team cars directly in case of mechanical incident. It could, claims Voigt, result in a situation where a team leader could puncture 5 kilometers from the finish and not be able to receive a wheel quick enough to ensure they didn't lose any time to their GC riders. Many would argue that this kind of unpredictable incident is exactly the kind of thing that we should be seeing in races because bikes aren't infallible tools. Voigt insists moments like this would disappoint team sponsors, who might review their financial backing.
To an outsider who is well aware of David Millar's dictum that "bike racers don't like being told what to do in a bike race by somebody who has never done a bike race," it seems clear that the best way forward is for riders to agree where they stand on this issue, especially because it is their safety that is in question. Imposing a solution without them being involved is not going to work because there will almost certainly be a fatal flaw that will guarantee noncooperation.
The power to change a race
Over recent seasons, the debate about radios has often been extended to encompass the use of power meters within races. A more recent phenomenon, at least in terms of their entry into the pro peloton, power meters were initially used as a tool for optimizing training. Over the course of the past decade, they have appeared with increasing frequency within racing, to the extent that most professionals now use some sort of measurement device that not only allows them and their coaches to analyze their power output and other informative data, but also gauge their effort during an event.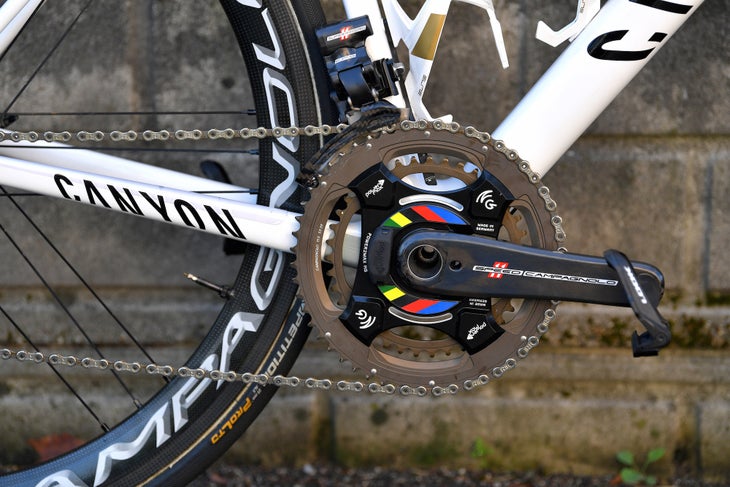 Critics, including high-profile racers such as Alberto Contador and Nairo Quintana, have condemned meters for imposing uniformity on performance and removing spontaneity from the sport, for effectively returning it to its early days when the fundamental tactic was to ride as hard as possible for as long as possible. Team Sky is often depicted as the team most guilty in this regard, their domestiques setting a pace that rivals simply have to follow, before, most often, Chris Froome clips away to finish them off.
"Sky hasn't established the system, but they do now tempo the race," says Max Sciandri. "If you look at a grand tour now, it's about tempo climb one, tempo climb two, tempo and attack climb three. So, there's no real tactics. No human can ride at 450 watts, so if they keep it at 430 on the climbs their rivals can't even make an attack."
Matt White believes there's been a negative impact on racing because of this. "If you've got a team like Sky riding a certain tempo on a climb with five riders on the front, it is actually pointless attacking because you'll be going nowhere. In one-day races, there is much more unpredictability, but in major stage races, riders are scared to attack because they're scared to lose. It has made the racing a bit more conservative, and that's certainly the case at the Tour."
Team Sky isn't the only one, of course, to have made good use of what meters tell the riders and coaches. Breakaways can dose their effort so they preserve as much power as possible for the back end of a stage when the peloton is rolling at full speed to reel them in. And teams leading a chase will be doing much the same thing, as Pinotti confirms. "When I was racing, I'd organize a chase at 300 watts. In the break they could do 350, but they could only do that for one hour, so we just needed to go at a steady 300, and then when you need to you can speed the chase up and catch them."
Pinotti admits that when he first used a power meter in a time trial he felt like he was cheating because it enabled him to pace himself so well. But he adds that after three seasons he didn't need to refer to his meter in the same way. "I'd look at it for confirmation, but I could have coped without it because I'd used it so much when training. After you've used a power meter for hour after hour in training, you know when you're pushing 350 or 400 without looking. You know from feel."
Reflecting on the calls for use of meters to be prohibited when competing, he suggests that "the riders who say they should be banned are the riders who don't know how to use them. They feel that they are at a disadvantage. They perhaps ride more on feel." But he maintains that trying to reverse the impact that the devices have had on races would be futile because it cannot be reversed. "It's a question of experience, and perhaps younger riders don't have that same feel when they come into the peloton. They might pull a little bit too hard and pay the price for that. But that experience comes quite quickly. If they do decide to ban them then we will adapt, but I think it would be a step backwards. To be honest, I don't think it would change much either. You couldn't ban their use in training, and once you practice with them in training you've got the insight you need to apply when racing."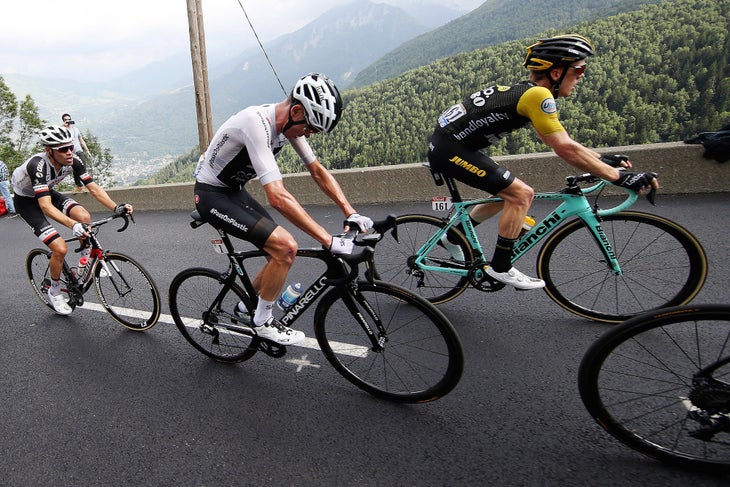 When asked about the possibility of a ban being introduced, Tejay van Garderen insists he doesn't care one way or another. "If they decide to ban them, I'd kind of roll my eyes and be like, 'Whatever!' It wouldn't be a big deal but it would be stupid.
"Contador should know better than anybody because he has raced with a power meter for as long as I've raced with him, and I turned pro in 2010. If he didn't want to race with one, he could have done so, but it's funny that he's waited until he's retired to say that they should get rid of them. In addition, the power meter didn't stop Contador from attacking," notes van Garderen, who goes on to insist that their importance in races is overstated.
"I don't think the power meter is really what Chris Froome is looking at when he looks down in that way that he does. He's probably glancing at it, but I don't think that's what he's riding to because your threshold is not a set number where you say, 'Put it here and let's go!' It changes every day and he's judging his own sensations and how he's feeling. I bet he's just looking at the power meter and thinking, 'I wonder what it is today?' Being an analytical guy, you're going to glance at those numbers and think about them or interpret them, but they're not going to change how the race is raced."
Van Garderen suggests that the mistake those looking on from outside a race make is believing that riders are simply riding according to their numbers. "I do 20-minute tests all the time in training and, depending on my fatigue levels, my threshold changes by the day. Your threshold is not just a simple number. During a stage race there's such an ebb and flow that some days I might be able to do 420 watts for 30 minutes, while other days I might struggle to get over 400 and sometimes it's not even that. It all depends on the fatigue in your legs, the amount of sleep you got, if it's hot or cold out, if you're underfueled, if you're overfueled — there are so many different variables.
"Sometimes you gauge your own sensations and look at your power meter and think, 'I'm going to hold this for a certain amount of time,' but it's not as scientific as many people assume. Sometimes you glance down at it in the same way people who are addicted to their iPhones are always glancing at Instagram. It also gives you a little bit of a focal point, but sometimes it completely screws you up. You can be feeling great, like you're at the top of the world, and you're holding the pace just fine and then you look down and you're doing 440 watts and you're like, 'Oh shit, I can't do this!' and really you should be trying to ignore it."
The American reemphasizes his point that riding like Sky does in grand tours, setting a tempo that is intended to prevent rivals attacking and, at the same time, steadily draws energy reserves from every rider's legs, isn't a new tactic anyway. Most of the sport's dominant riders have had their teams race in a similar way since the Coppi era. "I don't think power meters really affect races in the way that people think that they do," he concludes.
A conversation with Sky team manager Dave Brailsford the day after the team had produced their latest display of pacesetting at Sierra Nevada, defending Froome's lead in the 2017 Vuelta, supports Pinotti and van Garderen's judgment. The team's standout performer at the race's loftiest summit finish was Spaniard Mikel Nieve, who had steadily reeled in Vincenzo Nibali's attempt to gain some time. "When Mikel Nieve rode for an awfully long time and gradually brought Nibali back, his Garmin wasn't working, so he had no numbers, no data, he just did it on feel," Brailsford reveals.
Calls for this technology to be shunned also run counter to the increasing and very popular trend toward on-screen data provision for fans. As part of a move to improve understanding of the sport, race organizers and other stakeholders such as the Velon group that comprises 10 WorldTour teams have devoted considerable resources to provide stats on, for instance, heart rate, power output, and speed. To further the spectator experience, onboard cameras and GPS positioning are also used. They will, in fact, also be extremely useful tools for seeing exactly how tactics unfold — how, for instance, a team's lead-out moves their sprinter up to the front of the peloton. With applications such as Strava and Zwift also hugely popular and allowing fans to see where their favorites are riding and even compete against them remotely, cycling is reaching out to its base support like never before. Why roll that back?
Bike racing can still be as thrilling and unpredictable as it ever has been. Think of Philippe Gilbert winning the 2017 Tour of Flanders with an 80-kilometer solo attack, Mat Hayman claiming the 2016 edition of Paris–Roubaix five weeks after breaking his arm, Tom Dumoulin triumphing in the 100th running of the Giro d'Italia in a race that had almost everything, including a moment that required him to search out a roadside bush for some privacy. Yes, it can be dull — and almost every recent edition of Liège–Bastogne–Liège is testament to this — but no more so than it was 100 or 50 years ago, and probably much less so than it was 20 years ago when widespread doping not only leveled the competitive playing field, but effectively flattened every hill and mountain as well.
Rather than tinkering with technology, road racing needs to adapt to it, marrying the benefits it brings in terms of safety and communication with the unpredictability and ingenuity that all sports expect from their great events and performers. To their credit, Prudhomme and his organizing team at the Tour de France have been doing exactly this by making mountain stages shorter and therefore more difficult for any one team to control. This has produced the kind of frantic spectacle that challenges strategic planning and tactical responses, but one that also gets Cyrille Guimard smiling.