Book excerpt: When Lance met LeMond
New book tells the story of the first encounter between Lance Armstrong and Greg LeMond and how it led to acrimony between the two.
Heading out the door? Read this article on the new Outside+ app available now on iOS devices for members! Download the app.
Editor's note: This is an excerpt from a new book by Daniel de Visé, "The Comeback: Greg LeMond, the True King of American Cycling, and a Legendary Tour de France."
THE DAY AFTER Greg LeMond withdrew from his final Tour de France in 1994, the telephone rang at the LeMond home in Belgium. Greg's wife, Kathy, answered.
"Hi, this is Lance."
"Lance who?"
"Lance Armstrong." 1
Lance Armstrong was a promising young cyclist on the Motorola team, a unit descended from the pioneering American 7-Eleven team and led by Greg's friend Andy Hampsten. Greg had met Lance, had raced with him, had followed his career, and had seen him touted as the next Greg LeMond.
Kathy probably assumed Lance was calling to pay his respects. He was not.
"I want to rent your house," he said.
Lance was little more than a rookie, and Greg was a legend. For Lance to telephone Greg at the twilight of his career to offer congratulation, even consolation might have warmed the hearts of the weary LeMonds. For him to call with designs on their house was impetuous, if not insulting.
"What do you mean?" Kathy asked, trying to process the request.
"Well, Greg's cooked," Lance said bluntly, according to Kathy. "He's finished. I want to rent your house."
"Well, it's not for rent," Kathy said frostily, and the call was over.
The ensuing years would affirm Lance's position as a world-class cyclist. By 1996, he earned an estimated $850,000 a year, the highest pay afforded any cyclist on the Motorola team, which he now led. He had fulfilled his promise as a first-rate competitor in a single discipline of cycling, the one-day classic. By the close of the 1996 season, Lance had risen to seventh in the world cycling rankings. Apart from Andy Hampsten, Lance was surely the finest American cyclist since Greg.
But Lance was not Greg. He wilted in the mountains. He competed but did not dominate, in time trials. He lacked, in short, the two skills necessary to win Grand Tours. Lance possessed the raw talent to become an elite athlete — if not, perhaps, a superstar. His VO2 rating, scientific shorthand for an athlete's ability to consume oxygen, had been measured at 79.5. Greg, by contrast, had a VO2 capacity of 93, among the highest quotients ever measured.
Lance would drop out of the Tour de France in 1993, 1994, and 1996. In 1995, he would limp to the finish in 36th place.
At the end of the 1996 season, Lance began to suffer crippling headaches and blurred vision, and one day he coughed up blood, symptoms that would have sent most sufferers sprinting to a doctor. But Lance never got sick, so he brushed it off, along with a mysterious new pain in his right testicle — until the pain grew so severe he could no longer sit on his bicycle.
Doctors diagnosed a virulent form of testicular cancer, which had spread to his brain. Lance was told his chance for survival hovered somewhere below 50 percent. He was twenty-five.
Yet, two years later, in 1998, Lance was back on a bicycle. The Texan had been overwhelmed by the outpouring of support during his fight against cancer, including a two-page letter from the king of American cycling, Greg LeMond. "If you ever need to talk to somebody," Greg had written, "I'm here." 2
FOLLOWING A SUCCESSFUL 1998 SEASON, Lance traveled to Minneapolis to visit the parents of Kristin, his new wife. Shortly after Christmas, they invited Greg and Kathy over for dinner. Greg and Lance hardly knew each other, yet the two men now had much in common.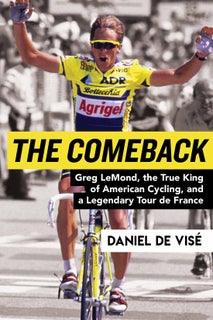 "What do you hope to do this next year?" Greg asked.
Lance offered, "I hope to win the Tour."
Greg was startled. "Well, that's a really good goal," he said. "So, what other ambitions do you have?"
Lance replied, "I want to win four Tours."
The remark seemed scripted to offend. Greg had, after all, won only three Tours.
Greg offered polite encouragement: "That's good. That's great!" He felt certain, though, that Lance lacked the physiology to win the Tour. On the drive home, Greg turned to Kathy and said, "I feel bad for him because he's delusional."
Lance completed his comeback on the eve of American Independence Day, stunning the cycling world by winning the brief time-trial prologue to the 1999 Tour de France. Lance's performance seemed to prove the Texan had somehow mastered the art of time trialing.
A week later, Lance pedaled to victory in a much longer time trial, beating his nearest rival by almost a minute over a course of nearly sixty kilometers. Now he led the Tour by more than two minutes. American journalists mobilized to cover an unfolding comeback story like no other.
Greg followed the narrative with unique empathy. Lance's comeback reminded him of his own, after a near-fatal hunting accident in 1987. There was just one sour note. Two months before the Tour, another story had reached Greg's ears. It was one of those gossipy, third-hand accounts heard all too often in cycling circles.
According to this one, Lance had crowed to a fellow cyclist that he approached his comeback Tour with a mysterious advantage. Lance had something no one else had, and it was undetectable. 3
Greg laughed it off. He believed in Lance. Yet, as he watched the Tour progress, Greg could scarcely believe how thoroughly Lance had transformed.
Greg journeyed to the start of the first mountain stage, boarded the Postal team bus and found the maillot jaune.
"Man, you are just flying up there. Unbelievable," Greg said. "I am so happy for you."
"Thanks," Lance replied.
Greg offered encouragement: "I've got to tell you, your capability of doing that time trial, that'll translate directly into climbing. Don't let anybody tell you that you're a time trialist and not a climber. If you can time-trial like that, you can win the Tour."
"I know," Lance replied coolly. 4
Greg left the bus feeling sheepish. Clearly Lance did not need his encouragement.
The next day's course featured five major climbs and ended at the resort of Sestriere, across the border in Italy. On the final climb, Lance rose from his saddle and began to sprint, turning the pedals so quickly, and with so little visible effort, that a casual observer might have assumed the cameras were slanted upward rather than the road.
He won the stage easily, finishing half a minute ahead of his nearest rival and building an overall lead of six minutes, which he would not relinquish.
Greg watched the climb on a screen at a nearby hotel, surrounded by shrieking tourists. Only one man remained silent. He was a mechanic who had worked on the disgraced Festina team. According to Greg, the man tapped him on the shoulder, gestured to the soaring Texan, and muttered, "sur le jus." On the juice.
"What?" Greg replied.
"Sur le jus."
"How do you know?"
"Look at his eyes," the mechanic said. "His breathing. There's no suffering." 5
Greg tried to cast the mechanic's words from his mind. Some cyclists continued to dope, but American cyclists mostly raced clean. Surely Lance and his team — hosted, as it was, by a federal agency — were not sur le jus.
BY THE NEXT DAY, Lance was a global celebrity. Journalists, cancer survivors, and millions of ordinary people seized on his comeback story, which was almost without parallel in the history of elite sports. For many Americans, it was entirely without parallel; the story of Greg LeMond had never quite saturated the nation's popular culture, and now, a decade later, it was fading fast.
Lance would go on to win the 1999 Tour de France and the next. In the summer of 2001, the Outdoor Life Network offered live coverage of the Tour in the United States for the first time. Stateside viewers watched French fans boo Lance in real time as he pedaled to his third consecutive victory, a feat that surely proved him, finally, the equal of Greg.
In Europe, the Lance three-peat would be overshadowed by breaking news. On the Tour's first weekend, newspapers reported that Lance was a client of Michele Ferrari, the most notorious sports doctor in Europe. Ferrari was due to stand trial on doping charges.
The story was broken by David Walsh, an investigative journalist in Britain. Walsh said Lance and his teammates had adopted a blood-boosting program six years earlier, in 1995, an effort centered on EPO. An unnamed teammate told him Lance "was a key spokesperson when EPO was the topic." 6
Greg dispatched an e-mail to Walsh. "Great work, David," Greg wrote. "You're on the right track." 7
Walsh responded by telephoning Greg for comment. Greg chose his words carefully, finally settling on an ambivalent quote that cycling fans could take how they wished. "If Lance is clean, it is the greatest comeback in the history of sports," he said. "If he isn't, it would be the greatest fraud." 8
Two weeks passed. Greg traveled to London on business. Then he returned to Minneapolis, where he met Kathy at the airport and climbed into the family station wagon. As if on cue, Greg's cell phone rang. He turned to Kathy and mouthed the words, "It's Lance." 9
According to the LeMonds, the following conversation ensued:
"Greg, I thought we were friends," Lance opened.
"I thought we were friends," Greg replied.
"Why did you say what you said?"
"About Ferrari? Well, I have a problem with Ferrari. I'm disappointed you are seeing someone like Ferrari. I have a personal issue with Ferrari and doctors like him. I feel my career was cut short. I saw a teammate die. I saw the devastation of innocent riders losing their careers. I don't like what has become of our sport."
"Oh, come on, now," Lance replied. "You're telling me you've never done EPO?"
The question caught Greg off guard. No one had ever publicly accused Greg of doping. Few riders had privately suspected Greg of doping. Surely Lance knew that.
Greg challenged Lance, "Tell me one person who said I did EPO."
"Everyone knows it," Lance replied.
"Are you threatening me?"
"If you want to throw stones," Lance said, "I will throw stones."
BY SUMMER 2004, Lance was a five-time winner of the Tour, and observers spoke of a record-breaking sixth victory with an air of inevitability.
A few weeks before the race began, the European press heralded the release of David Walsh's book, "L.A. Confidentiel," whose subtitle promised to reveal "Les Secrets de Lance Armstrong." "L.A. Confidentiel," co-written with French journalist Pierre Ballester, delivered a published account of a long-rumored hospital-room scene, a revelation that had first been passed to the authors as a tip from Greg. The authors alleged that, in a conversation with doctors following cancer surgery in 1996, Lance had casually admitted to taking EPO and human growth hormone, among other forbidden pharmaceutical fruits. The book also asserted that Lance had covered up his first failed drug test, in 1999, by procuring a backdated prescription. A onetime Postal Service team masseuse described using makeup to cover telltale bruises on the Texan's arm.
The book set off act two of the simmering feud between Lance and Greg. Greg told French newspaper Le Monde, "Lance is ready to do anything to keep his secret. … I don't know how he can continue to convince everybody of his innocence." 10
The Texan's defenders struck back. Lawyers for the Trek bicycle company dispatched a letter to Greg, warning that his comments breached his own contract with Trek. By hurting Lance, he hurt Trek, which sponsored both men.
Greg was now a cycling pariah. Sponsors vanished into the mist. Dealers at trade shows avoided his gaze.
At the same time, Greg was becoming a magnet to others who dared speak out against Lance. After the publication of "L.A. Confidentiel," Greg received an e-mail from Emma O'Reilly, the masseuse and star of Ballester and Walsh's book. When they subsequently spoke, Emma told Greg that Julien de Vriese, Lance's mechanic, had ferried drugs in a hollowed-out shoe heel.
Meanwhile, Kathy became friends with Betsy Andreu, the wife of Frankie Andreu, Lance's former teammate. The Andreus had provided Walsh eyewitness accounts of Lance's hospital admissions. Betsy recounted to Kathy the night in 2001 when Lance had first heard Greg's "greatest fraud" remark and vowed, "I am going to fuck him over." 11
One of the more striking facets of the ongoing quarrel between the two cycling icons was that, even after three years, almost no one had come to Greg's defense. The task of rehabilitating his public image finally fell to Andy Hampsten, the other great American cyclist — and one of a few cycling stars from the recent past who had never been accused of doping. Toward the end of the 2004 Tour, Andy posted an open letter to VeloNews, a popular American cycling journal.
"Greg has put himself into personal and business difficulties by speaking out," Andy wrote, addressing the sponsors whom Lance had pressured to drop Greg. "Voluntarily placing himself in this position shows me honesty and bravery far beyond what most of us could muster." 12
IN JULY 2005, Lance won his seventh Tour de France. He had already announced the race would be his last. To many European cycling fans, his quest to extend his record disrespected the proud tradition of professional cycling. Many of those fans assumed, of course, that Lance was doping.
At the close of the 2005 Tour, Lance gave a speech. Race officials did not ordinarily hand the microphone to the maillot jaune at the finish. Then again, this was no ordinary Tour. Lance delivered a message equal parts inspirational, patronizing, and bitter.
"Finally," he concluded, "the last thing I'll say for the people who don't believe in cycling, the cynics and the skeptics: I'm sorry for you. I'm sorry you can't dream big, and I'm sorry you don't believe in miracles." 13
They didn't. A few weeks later, the French sports paper L'Équipe published an investigative report that alleged Lance had tested positive for EPO on six urine samples collected during his very first Tour victory, in 1999. A French laboratory had subjected the old samples to a new test, unavailable half a decade earlier. The findings ran beneath the headline "Le Mensonge Armstrong: The Armstrong Lie."
Here was the first seemingly irrefutable evidence that Lance had doped. Jean-Marie Leblanc, the head of a Tour organization that had always defended the cyclist, finally broke rank. "He owes an explanation to us, to everyone who followed the Tour," he said. "What L'Équipe revealed shows me that I was fooled, and we were all fooled." 14
In 2004 and 2005, a fresh round of litigation would deepen the fissure between Lance and Greg. An insurance firm called SCA Promotions owed Lance a $5 million bonus for his record-breaking sixth Tour victory. Lance's cycling team had taken out a policy from the insurer to cover the bonus, if Lance managed to earn it.
By 2005, the insurer was now convinced that Lance hadn't truly earned the bonus, even if he had won six Tours. The firm set out to document Lance's 1996 hospital admission. Lawyers deposed Betsy and Frankie Andreu, who gave their accounts.
By the end of the hearing, the insurance company had a strong case that Lance had doped. Yet, after all the effort, the firm opted to settle rather than risk a verdict. Lawyers predicted the arbiters would rule in Lance's favor as long as he retained his Tour titles. In the eyes of cycling's governing body, Lance was still a champion.
IN SPRING OF 2010, former Tour de France champion Floyd Landis dispatched a mass e-mail to cycling officials in the United States and Europe. Floyd, who had lost his own 2006 Tour title over a failed drug test, admitted that he had doped for most of his professional career. He also accused his U.S. Postal Service teammates of doping — including Lance. In eleven years of doping allegations against Lance, Floyd was the first cyclist to name him, the first to violate the sacred omertà, cycling's code of silence. Floyd's e-mail triggered an investigation by the federal Food and Drug Administration. Doping wasn't a crime, so prosecutors set about building a case that Lance and his team had defrauded their sponsors by using drugs. The feds contacted Lance's former teammates and many of the characters who had testified in previous hearings. For the first time, Lance's old teammates faced federal prosecutors who wore badges and trotted out words like "perjury." Word soon leaked that Floyd would not be the only one to name names.
The case against Lance appeared to be hurtling forward — until, in February 2012, it abruptly halted. Prosecutors announced, without explanation, that they had closed the investigation and would file no charges, dropping the anticlimactic bombshell on a Friday before the Super Bowl. Press coverage gave little hint of a reason; cycling insiders speculated Lance had somehow leveraged his considerable influence inside the Beltway to shut it down.
Greg and Kathy were crushed. They took small consolation in the day's other news. An obscure, nongovernmental nonprofit, the United States Anti-Doping Agency, would carry on the fight. The Anti-Doping Agency had gotten Floyd Landis banned from cycling for two years after the 2006 Tour; now the panel was pursuing Lance. But the agency had no authority to put him in prison or to assess a seven-figure civil penalty.
Months passed in ominous silence. Then, on June 12, 2012, the Anti-Doping Agency announced its findings. The agency named Lance, along with four of his cycling "doctors" and his coach, in a far-reaching doping conspiracy, stretching from the dawn of his post-cancer comeback in 1998 through the conclusion of his career and beyond.
The Texan and his high-powered lawyers set to work attacking the small agency and dismantling its case. But the task proved unexpectedly tricky. To prevail against Lance, the Anti-Doping Agency had only to convince two members of a three-person panel that a preponderance of evidence supported its findings. Finally, on August 23, Lance announced that he would not fight the charges against him. "There comes a point in every man's life when he has to say, 'Enough is enough,'" he said, still waxing defiant. "For me, that time is now." 15
Lance and his handlers had underestimated their opponent. Upon his surrender, the agency proceeded to strip Lance of every award he had won in fourteen years of competition, including his Tour victories.
And just like that, Lance Armstrong was no longer a Tour de France champion.
Greg was at home in Minnesota when the news flashed across his television screen. He had thought the truth would never come out. Now it had, and Greg and Kathy felt no joy, only profound relief that their battle was over. In an interview with David Walsh, the journalist to whom Greg had given the "greatest fraud" quote, Greg searched his brain until he found something nice to say about Lance, something conciliatory: "He has got a very powerful network of people that have done a lot of amazing stuff on his behalf." 16
A professional cyclist did not attack an opponent who had crashed to earth.
In January 2013, word spread that Lance was finally ready to talk. He had agreed to tape an interview with Oprah Winfrey. In the resulting interview, broadcast over two days, Lance admitted that he had doped, that he had bullied, and that he had lied. "I viewed this situation as one big lie," he said, "that I repeated a lot of times." Still, Lance would not admit that he had cheated. To cheat, he reasoned, was to exploit an unfair advantage. Most of the top cyclists doped. "I viewed it as a level playing field," he said.
Lance had made a round of phone calls before the interview, tendering apologies to some of those he had wronged, perhaps so that he could tell Oprah he had made amends. One of those calls went to the LeMond home. This time, the LeMonds did not pick up the phone.
---
1. The LeMonds recounted this conversation in Reed Albergotti's and Vanessa O'Connell's book Wheelmen: Lance Armstrong, the Tour de France, and the Greatest Sports Conspiracy Ever (New York: Dutton, 2013), pp. 68–69, and in a 2012 interview with Irish broadcaster Pat Kenny on the Raidió Teilifís Éireann network.↩
2. Greg LeMond, author interview, October 10, 2017.↩
3. Greg LeMond interview, October 10, 2017.↩
4. Albergotti and O'Connell, Wheelmen, 116.↩
5. Alex Holmes (dir.), Stop at Nothing: The Lance Armstrong Story, ABC Commercial, Passion Pictures, 2014.↩
6. Samuel Abt, "Cycling; Suggestions of Doping Still Dog Armstrong," New York Times, July 9, 2001.↩
7. Albergotti and O'Connell, Wheelmen, 144.↩
8. David Walsh, "Paradise Lost on Tour," Sunday Times (London), July 29, 2001.↩
9. The quoted conversation appeared in David Walsh's book From Lance to Landis: Inside the American Doping Conspiracy at the Tour de France (New York: Ballantine Books, 2007). Paraphrased material comes from that source and others, including the Stop at Nothing documentary. Armstrong portrayed the call very differently. He denied threatening LeMond; indeed, he said it was he who endured verbal abuse from the Minnesotan, who was inebriated.↩
10. William Fotheringham, "Armstrong Wars with LeMond and LeMonde," Guardian (London), July 16, 2004.↩
11. Holmes, Stop at Nothing.↩
12. Andy Hampsten, "Open Letter from Andy Hampsten," VeloNews, July 24, 2004, shared by its author via e-mail message on December 14, 2016.↩
13. "Lance Armstrong Paris," YouTube video of 2005 Tour de France, podium presentation, posted by "silversea9," February 10, 2011, accessed June 13, 2017.↩
14. David Walsh, Lance to Landis, 235.↩
15. Juliet Macur, "Armstrong Ends Fight against Doping Charges," New York Times, August 24, 2012.↩
16. David Walsh, "Off Yer Bike!" Sunday Times (London), August 26, 2012.↩