Brailsford scoffs at roster cuts, budget caps: 'I am pro-growth'
Team Sky boss rails against rumored plans to further trim rosters and cap team budgets, saying he wants sport to grow as a whole.
Heading out the door? Read this article on the new Outside+ app available now on iOS devices for members! Download the app.
POZO ALCON, Spain (VN) — A day after confirming Team Sky might reduce its roster going into 2019, team boss Dave Brailsford shot back at suggestions of capping team budgets or further cutbacks in the size of the peloton.
One of the big talking points of this year's Tour de France centered on Team Sky's financial advantage over its rivals. After winning four consecutive grand tours, Sky's super-sized budget topping $35 million has become a target.
Speaking to VeloNews, Brailsford scoffed at the suggestion that budget caps and roster reductions are the way to make cycling better.
"We need to grow the sport, not reduce it," Brailsford told VeloNews. "I just don't understand it. People's solution seems to be to reduce the sport, reduce number of competitors, reduce sponsorship, caps — it's all about reduction. I just don't buy it.
"My view would be let's work together to get the smaller teams more money and grow toward the bigger teams," Brailsford continued. "Let's help the sport get bigger — the reductionist view does not sit happily with me."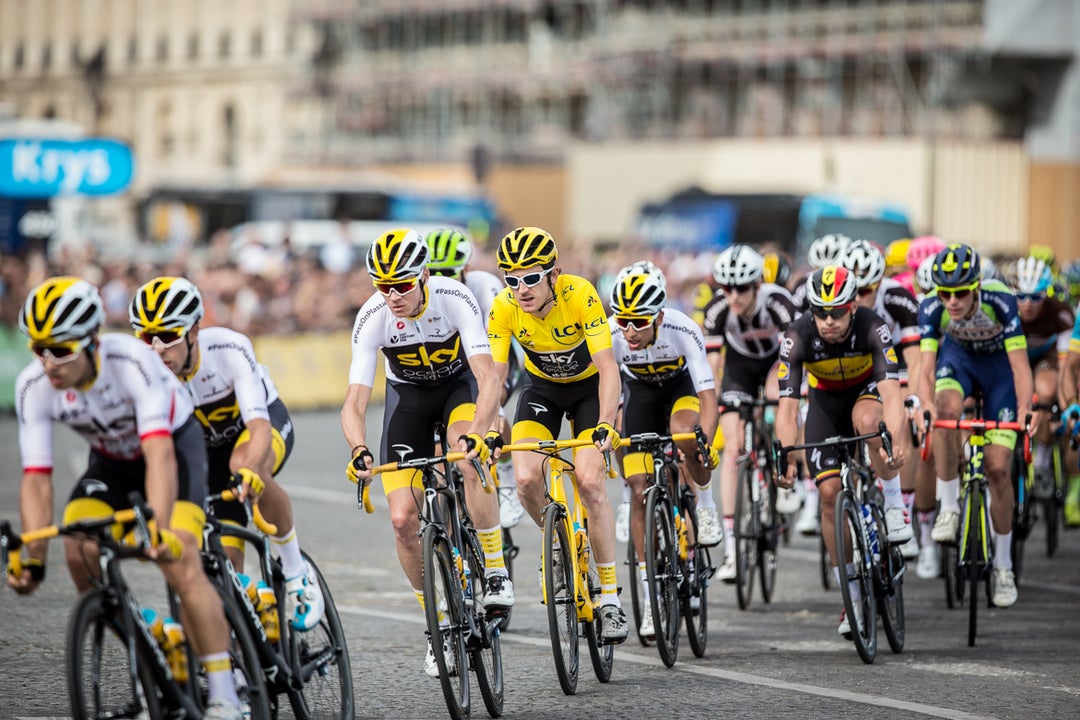 Brailsford's comments come as proposals are quietly making the rounds that further roster reductions and new budget guidelines could be part of WorldTour reforms set to come online by 2020.
UCI president David Lappartient said in an interview with a Swiss newspaper at the end of the Tour de France that the cycling governing body is considering a variety of ideas that he says will spice up cycling. Though nothing is firmed up yet, Lappartient hinted that there could be further reductions to team rosters, perhaps as few as six riders per team for grand tours, as well as other shakeups for the WorldTour league such as relegation and promotion similar to how the European soccer leagues work.
One idea that seems to be gaining traction is the concept of a budget cap on salaries or team budgets. Sky's budget, at more than $35 million per season, dwarfs many WorldTour teams, whose average budgets run between $15 million to $20 million per team.
Some believe a peloton-wide series of budgetary and financial guardrails would create a more level playing field. And, thus the logic goes, produce more wide-open and equitable racing.
Brailsford said he understands concerns of rivals lagging behind Sky's envious sponsorship position, but countered that cycling's leaders should be considering ways to raise the tide for everyone, not to penalize those who are flush with cash.
"I can understand that. In life, in general, there is a disparity between people who can afford to buy a Ferrari and those who cannot — that's life," he said. "But within sport, to make it great and to make it interesting for the spectators, I can understand the issues around it.
"We should aim to grow the potential for more sponsors, grow the income possibilities for the teams, bring the teams to a higher level, not reduce the top teams down," he continued. "Everybody benefits, not just Team Sky, but the whole sport. Let's grow the sport and make it into something really special. I don't think you grow by reducing it."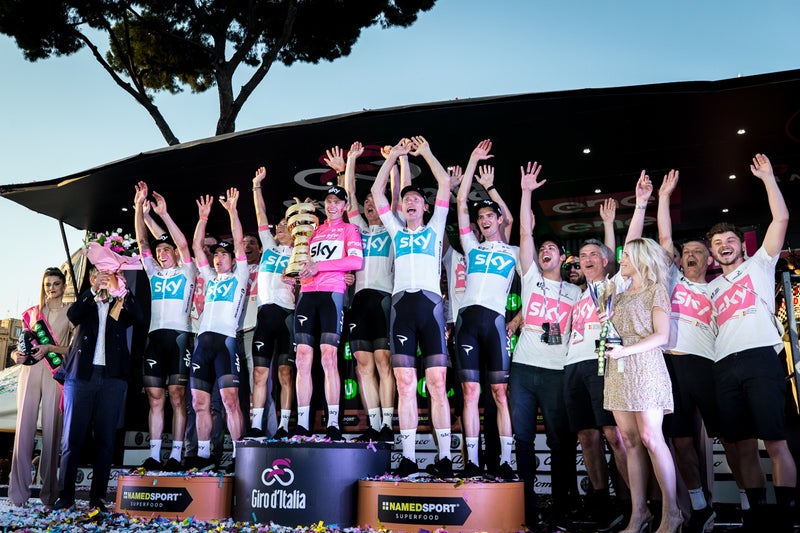 Brailsford also took issue with the reduction of WorldTour rosters across the calendar. Grand tours are now raced with eight starters instead of nine, and one-week and one-day races with seven instead of eight.
Proponents argued that smaller teams would result in more unpredictable racing and allow more teams to compete. There were some wrinkles across the season as teams adapted to the new rules, but Team Sky won the season's first two grand tours and Quick-Step dominated the spring classics. At first glance, smaller rosters did not reshuffle the have's and have-not's within the peloton.
Brailsford countered that what the rule has done is prompt teams to slash their payrolls because fewer riders are needed to fulfill racing obligations. Brailsford told VeloNews on Thursday that Team Sky is considering shrinking its roster from 30 riders for 2019.
"The rule as it was suggested was meant to have a performance impact against us or other teams or whoever," he said, "but everyone knew before it would have zero performance impact, and it has had zero performance impact in terms of the outcome of the races. It was misunderstood.
"It is having a business, commercial, employment, and economic impact for sure," he continued. "What they've done is reduced the number of riders who can compete at the WorldTour, reduced the opportunities and made it a smaller market. And fewer career opportunities for the riders who deserve better and it has not changed the performance outcomes in any way whatsoever."
Many team owners within the WorldTour league share Brailsford's frustration. The team's association issued a press release earlier this week calling for efforts to expand the sport and create new financial opportunities. The sudden closure of Aqua Blue and recent team mergers reveal how fragile cycling's business model can be.
"What we need to see are more race days, more employment opportunities, more riders in the WorldTour, not less," Brailsford said. "I am absolutely 100 percent polar opposite in the way I think about it in terms of how to grow the sport. My view is very different. I am pro-growth."