Can Mark Cavendish win again at the Tour de France?
Faster rivals, aging legs, and an uncertain leadout: Our editors debate if Cavendish can deliver one more win to usurp Eddy Merckx.
Photo: Anne-Christine Poujoulat - Pool/Getty Images
Heading out the door? Read this article on the new Outside+ app available now on iOS devices for members! Download the app.
Here's what's confirmed: Mark Cavendish will race in 2023 with Astana Qazaqstan.
Now let the speculation games begin.
At 38, Cavendish could be in the final year of his storied career. There's some unfinished business at the Tour de France, where he's tied at 34 wins with Eddy Merckx on the all-time list.
That historic mark will be at the center of every conversation about Cavendish in 2023.
Will he return to the Tour? Will he have anyone to lead him out? Will he have the legs to compete against a new generation of sprinters?
Cavendish's defied the odds across the arc of his career. Does he have one more Tour stage in his legs to make history?
Our editorial team dives in:
Never write off Cav: Sadhbh O'Shea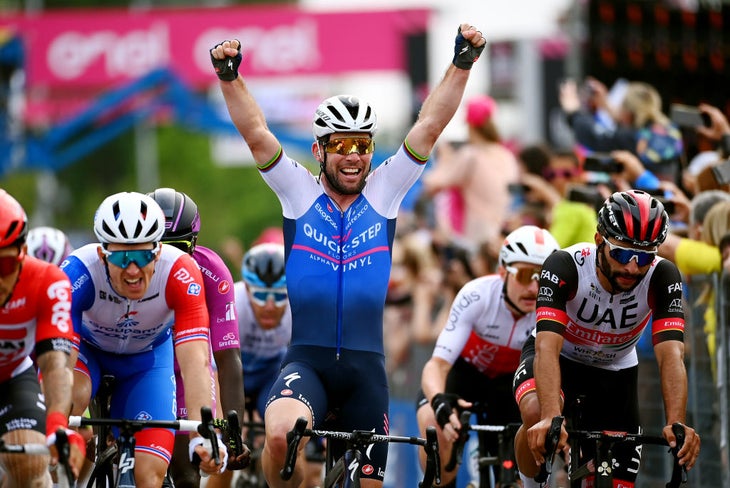 If I had a dollar for every time Mark Cavendish had been written off, I'd have several. The Manxman has been done and dusted multiple times over the last decade, according to his critics anyway, but he's managed to bounce back each time.
This year will be no different.
He's obviously still very driven to race — it would have been very easy to pack up and retire following the demise of the B&B Hotels project — and he's not going to turn up to the 2023 season half-cocked. He's been out training regularly in tough conditions on his native Isle of Man this winter and looks ready for a full-gas season.
Also read: Human Powered Health: 'We came close to signing Cavendish'
Of course, there will be challenges that he'll face this season, particularly the lack of a dedicated lead-out train to guide him in finishes. Had the B&B Hotels project survived into this year, he'd have almost certainly had a top train to support him, but that was broken up upon its demise.
At Astana, he will have a more hastily selected leadout with Cees Bol — though it's not confirmed yet — the main man for Cavendish while his rivals will have more fine-tuned trains going into July. However, this is not an insurmountable challenge, and you don't always need to use your own train to get a good run at the finish line.
When things click for Cavendish, he can be unbeatable, and experience can help deliver over youth and power. At last year's Giro d'Italia, he took a stage victory by catching his rivals by surprise and he's more than capable of doing it again.
Cavendish needs just one victory to push himself past Eddy Merckx and become the sole Tour de France stage win record holder. There are at least six good chances of taking a sprint stage throughout the three weeks.
If the stars align one more time: Andrew Hood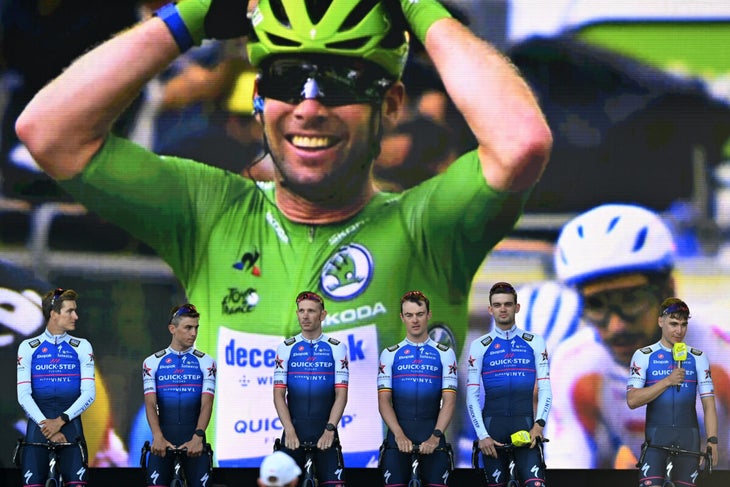 If the stars align, Cavendish definitely has one more Tour de France win in his legs.
But the stars are not always so agreeable.
Throughout his career, Cavendish has been able to bend the peloton to his will, often at seemingly insurmountable odds. It's obviously no mistake that he equaled Eddy Merckx on his Tour record.
To win one more time will be a challenge by any measure.
Also read: B&B implosion strands scores of riders
Doubts about a leadout, faster and younger rivals, a climb-heavy Tour route, and Cavendish's aging motor all add up against him.
Yet all Cavendish needs is to see lightning strike once. Can it happen? Most certainly. The odds, however, will be against him.
First off, the sprint chances in the 2023 Tour are limited.
This year's climb-heavy Tour route will see only four chances — maybe six — for mass gallops. Stages 3, 4, and 7 will be his best chances. After that, the Pyrénées and Alps are stacked up like dream killers for the sprinters.
Cavendish must strike early if he wants to win a stage in the 2023 edition.
Second, the sprinter class is deeper for 2023 than in 2021. Not only will Caleb Ewan, Sam Bennett, Fabio Jakobsen, Dylan Groenewegen, and Biniam Girmay be there among the "pure" sprinters, but there's also Mathieu van der Poel, Wout van Aert, Michael Matthews, Peter Sagan, and even Tadej Pogačar who can win on especially grinding finales.
And third, Cavendish won't have the red carpet leadout provided by Michael Mørkøv and the Quick-Step train. As my colleagues point out, Cavendish likes to have things just his way. And in 2023, there will be more headwinds than tailwinds for Cavendish.
Having said that, Cavendish is pure class on the bike, and he won't squander what he knows will be his last chance to set a mark that will likely be his for generations.
It's this July or never.
Time waits for no one: Jim Cotton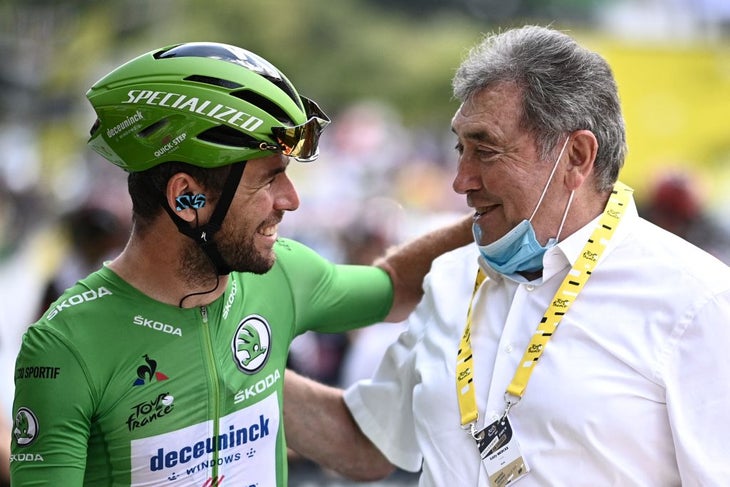 Eddy, you can rest easy. That stage-win record will remain equally yours, 'coz "Cav" won't be winning any Tour de France stages in 2023.
Why?
The bike, the leadout train, the clicking clock of time.
While I think Cavendish has the class and sprinter skills to score with almost any team, I just can't see it happening with Astana-Qazaqstan this year.
The 37-year-old is notoriously picky about his bikes and didn't keep his distaste quiet for previous rides on Meridas and BMCs. Cavendish has a long background on Specialized sprinter machines, and it's the U.S.-brand that's helped power him to some of his greatest success.
Also read: Cavendish likes look of 2023 Tour route
Sure, "it's not all about the bike" as someone said, but Cavendish may not have the time before the July Tour to fully bed in with his shiny blue Wilier.
And the lack of proper leadout does not do Cavendish favors.
The "Manx Missile" has an ability to strike without much guidance, but the lack of a proper pilot puts Cavendish off the back when riders like Fabio Jakobsen and Sam Bennett are safe behind Michael Mørkøv and Danny van Poppel, respectively. In a sprint field as fierce as the Tour de France, you need every edge you can get.
Cavendish proved age is no object when he won four Tour stages in 2021 at 35.
But fast forward two years to the Tour de France of 2023 and sprinting is a whole new place.
Fabio Jakobsen and Arnaud de Lie are in the ascendancy. Intermarché-Wanty-Gobert has more sprint trains than it knows what to do with. And Jasper Philipsen stepped up from his dark-horse status with nine victories off the back of his Alpecin-Deceuninck pain-train. And there's Wout van Aert, Caleb Ewan, and the list goes on.
Bunch sprints are more fiercely competitive than ever and the sprint-o-meter seems to point against Cavendish for 2023.
So 34 it is, then. Sorry Cav.