Cancellara likely to retire after 2016 season
Fabian Cancellara says that his current two-year contract may be his last, and that he will have more to give the sport after retirement
Heading out the door? Read this article on the new Outside+ app available now on iOS devices for members! Download the app.
DOHA, Qatar (VN) — There is zero doubt that Fabian Cancellara is, and has been, on the top of his game for years now, evidenced by repeated monument glory, rainbow jerseys, days spent in yellow, and general excellence.
He'd like to go out that way, too. Cancellara said that his current contract with Trek Factory Racing, good for two  years after the 2014 season, will most likely be his last.
That may mean his career ends here, in Qatar, where he told reporters of his long-term plans, at the 2016 UCI Road World Championships.
"I have a three-year contract and in my opinion it looks like it will be 16 years professional. I mean, I don't feel tired, but once in a while it comes up. That's normal. It's not going against Jens [Voigt] or Chris Horner, but you won't see me on [that] stage riding the bike," he said Thursday evening just outside Doha, Qatar. "I will of course stop at the highest level. You build up something for your career and then somewhere you're on the highest level … In my situation I can't wait until I'm down here," he said of aging and finishing further and further back in the pack.
It's hard to blame him. For years now, Cancellara has been a rider of reference. He has six monument victories — three at Paris-Roubaix, two at the Tour of Flanders, and one at Milano-Sanremo — and multiple world time trial titles. For a rider like Spartacus, there's nowhere to go but down when the switch goes off.
"I could stop now and I would not have a problem, to do so and find new ambitions, but it may not satisfy me. Maybe for a month or two, but I'll miss something. That's why there's still some time left but there are many options after. I'm not scared of that. I want to bring something back to cycling. I have quite a few ambitions to bring cycling to another level because cycling gave me a lot so I want to give cycling back something," he said, offering a glimpse of a man who is, perhaps, the closest thing today's peloton has to a true patron.
Cancellara told reporters he hopes to become involved on an organizational level at some point.
"I think cycling has to go to another level, it's a political mess. With all the new things that could come, new president, big mess with the races and changing … I think I can be a strong opinion maker — this is what I like to do," he said. "Now it's difficult because I'm still a rider, so when you talk as a rider somewhere you get pointed out. You want to give something to the young riders, or even with Trek to help them, there's more than that.
"The federation of Switzerland, the Tour de Suisse with my management. Politics … Olympics… this is a big thing now. I have visions where everyone feels good. A president has a hard life, you have teams, confederations, race organizer, all this is a big thing. I feel like they're wrong guided. Maybe with [new UCI President Brian] Cookson something will change, a new era. I think that's good. Cycling needs that. Whatever problem we had in the past I think cycling can be helped," he said.
But it isn't as if a rider and a man like Cancellara can just shut it off, is it? Won't there always be something looming?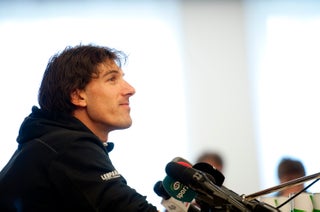 "It's important to have goals or ambition," he said. "We're moving to a new generation which is important in cycling. … We need strong leaders. We could not have this now because what the past showed. You can't have it with Lance [Armstrong] or [Mario] Cippolini. In other sports you have leading athletes to give to the sports more and that's maybe a good possibility for this generation. We could, Tom [Boonen] and I, give this sport something new."