Christian Vande Velde will take a pass on this year's Giro d'Italia
Christian Vande Velde isn't going to tempt fate yet again and is steering clear of the Giro d'Italia this year as he prepares for a peak in form for the 2011 Tour de France.
Heading out the door? Read this article on the new Outside+ app available now on iOS devices for members! Download the app.
Christian Vande Velde isn't going to tempt fate yet again and is steering clear of the Giro d'Italia this year as he prepares for a peak in form for the 2011 Tour de France.
After becoming just the second American to wear the pink jersey when Garmin won the team time trial to open the 2008 Giro, Vande Velde crashed out of the past two editions, on the third day of racing both times.
For 2011, Vande Velde's road to the Tour will pass through the Tour of California with a big detour away from Italy.
"Hell no!" Vande Velde said when VeloNews asked if he's returning to the Giro this year. "My relationship with the Giro started off really well, but it ended horribly, so I am separating ties with her."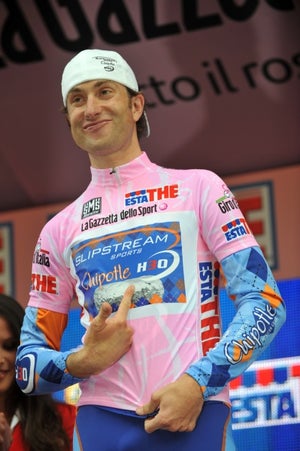 Vande Velde has bittersweet memories of the Giro. He enjoyed one of his most memorable days of his career when Garmin won the TTT in Palermo and he donned the maglia rosa, but the following two Giros were marked by unfortunate crashes that nearly forced him into retirement.
Those Giro crashes left their mark and Vande Velde doesn't want to test fate yet again.
"The first crash, I really don't know what happened. All the spokes in my front wheel were just gone and I hit the deck," he says of his Giro crashes. "The second crash was panic all the time. It was one of those crashes where 30-40 guys hit the deck, it was insane. People were fighting for position when someone went down. I hit a dyke on the side of the road. It was on the same day, just all these emotions came flooding back. My train, Adrien (Van Diemen) was with me. I just held onto him and hugged him. I just wanted to go back to Chicago. That was too much drama in 12 months."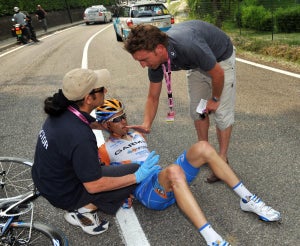 He said the success of the 2008 Giro helped him gain the confidence and fitness he needed that eventually helped him evolve into the leadership role at Garmin. He would later ride to a top-5 at the Tour.
Looking to replicate the experience the following year, Vande Velde's luck ended when he crashed out in stage 3, but he was able to bounce back and help Bradley Wiggins ride to fourth overall while he quietly posted an equally impressive eighth.
Last year, Vande Velde skipped racing in California for the first time since the race's inception and chose the Giro again instead of returning to the United States to compete in California's new slot in May. Lightning struck twice, however, and Vande Velde crashed yet again on the Giro's third stage.
This time, the injuries were far more serious, yet the scrappy Vande Velde managed yet again to line up for the Tour with hopes of punching into the top-5 again. Those dreams crumbled on the infamous crash on the road to Spa and Vande Velde was sent packing home with four broken ribs and an equally banged up spirit.
At the insistence of ex-Garmin sport director Matt White, Vande Velde raced last year's Vuelta a España, just as much as to regain his confidence as his fitness. He made it to Madrid and later raced in the world championships in Australia with a rejuvenated love for racing.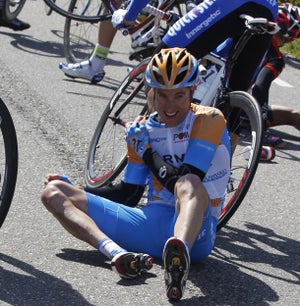 "Coming back to start the (2010) Tour was way above what I did the previous year. After my crash in the Tour last year, I was so destroyed, I didn't care if I raced again. My body was destroyed. I was so far from being able to race," Vande Velde said of his post-Tour trauma. "I could barely pick up my kids, let alone pick up a bike. It was almost a relief to be away from cycling. I still had four broken ribs when I started the Vuelta. I hadn't ridden my bike in four weeks. It was probably not the best idea, but at the end of the day, I am glad I did it. I had fun racing my bike again."
Vande Velde has a busy European racing schedule through the Ardennes classics and will return to California, where he expects a challenging route to deliver an exciting race for fans and media. After a short break, he'll return to Europe, with a likely start at the Critérium du Dauphiné in June ahead of the Tour.
Vande Velde has his fingers crossed that if he can make it to July without any major injuries he can once again challenge for a spot on the final podium.
"I just want to race 100 percent all the way to the Tour and get there unscathed. I know that if I can get there uninjured, fresh, I can race with anyone on GC," he says. "I have two years left with Garmin. I don't want to piss it away. I want to do the best I possibly can for the team, whether it's me or Ryder (Hesjedal) for the GC. I want to get to the Tour with a clean slate."