Christoph Strasser wins RAAM, others still battling for second
That this 30th Annual Race Across America would be memorable was evident right from the start, just nine days ago.
Heading out the door? Read this article on the new Outside+ app available now on iOS devices for members! Download the app.
That this 30th Annual Race Across America would be memorable was evident right from the start, just nine days ago.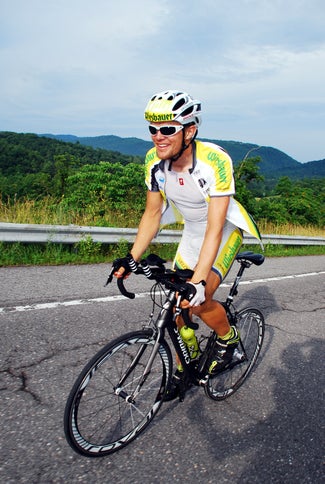 The start list for RAAM 2011 boasted the biggest field of solo racers ever, with an especially strong field. Most knowledgeable RAAM fans predicted that the favorites were the two most experienced racers, Austrian Gerhard Gulewicz (2nd RAAM 2009 & 2010) and Slovenia's Marko Baloh (2nd RAAM 2006, 3rd RAAM 2009).
While many predicted a strong ride from Christophe Strasser (Austria), few considered him a threat to win. Strasser, however, had come to the USA to settle a score.
"Two years ago I was really fast in the beginning," he said last week in Oceanside, "I had a good start and a good first three days. Then in Colorado entering the Rocky Mountains I got problems with my lungs. I got pneumonia and had to quit the race. I spent four days in the hospital in intensive care. Now I am back to get to the finish. I am very focused and very motivated."
Strasser & Baloh's early battle
Strasser established his intentions early. While it was Steven Perezluha (USA) the youngest rider in the race who made to the first time station, Strasser was mere minutes behind in fourth.
Strasser then worked into first by the second time station in Borrego Springs. As the racers entered Arizona, Baloh began moving up on Strasser, and closed to within minutes of first place before Parker, Arizona. He eventually passed Strasser and was first to reach Flagstaff.
Baloh stretched his lead to 20 minutes by Tuba City. As the two approached picturesque Monument Valley, they sped through Kayenta with Baloh in front and Strasser separated by perhaps 50 feet. Each was credited with the same arrival time, although Baloh was in front, but just barely.
Forty-four miles later, it was Strasser who arrived first at Mexican Hat, Utah, with Baloh rolling in six minutes later. It was here, a day and a half into the race, and with 723 miles behind him, that Baloh took his first sleep break. It would be the last time that he or any other RAAM Solo racer would see Strasser.
The Austrian soloed his way across the Rockies, the plains of Kansas, the Ozarks of Missouri and the torturous Appalachians, holding his lead all the way until just after midnight this morning, when the 29 year old reached Annapolis, Maryland.
His overall time of 8 days, 8 hours and 6 minutes represents an average of 14.94mph, the third fastest average speed ever. That puts him among the RAAM elite. The top three fastest overall stands as follows:
1. Pete Penseyres 15.4mph (1986)
2. Daniel Wyss 15.28mph, (2009)
3. Christoph Strasser 14.94mph, (2011)
Throughout his race winning ride, Strasser's speed average had him in position to break Penseyres' long-standing record; that is, until the Appalachians. By the time Strasser put the last of those climbs behind him, his average had fallen below the crucial number.
"We knew that it was very close," he said this morning, "My crew chief did some calculations about the record, but then we did not want to stress ourselves in the finish."
Strasser has served notice that he is a force in the ultra endurance cycling game. His speed, his professional yet engaging manner, and his physical and mental strength, are all marks of a champion. But perhaps most impressive is his racing maturity. To back off and save himself for another day in what is likely to be a long and successful career.
As we saw by his smiles and engaging personality throughout the race, he knows that for him, enjoying the ride is key to staying motivated.
"When you see the pictures on our home page you will see that we had a lot of fun," he said this morning at the finish, "But still we can be a hundred percent professional and serious about getting the job done. It is an honor to be here and a rider should push as much as possible."
The chasers
The battle for second through fifth continues behind Strasser. The big news yesterday was the withdrawal of Gulewicz, who came into this year's RAAM prepared and confident that this would be his year.
He rode a strong race, besting his time splits from previous years. But exhaustion and perhaps a loss of motivation got the better of him in the Appalachian town of Grafton. Facing at least another half day of leg-burning hills, Gulewicz phoned in his DNF Thursday afternoon.
With Gulewicz out, and front runners Baloh and Blanco slowing in these waning miles, Mark Pattinson's (USA) steady and consistent pace that had kept him solidly in fifth for most of the race, finally carried him into second.
Pattinson will likely finish this afternoon, and when he does he'll match the performance of his rookie RAAM of 2007. The remaining three will finish in the next 24 hours … or will they?
Nothing is ever certain in RAAM, especially in the final miles. Our final report for RAAM 2011 will be posted once the top five positions have been finalized.
2011 Race Across America
1. Christoph Strasser (Austria) 2989.1 miles, FINISHED 8 days, 8 hours, 6 minutes (14.94mph)
2. Mark Pattinson (USA) 2934.9 miles, 8 days, 20 hours, 50 minutes (13.79mph)
3. Marko Baloh (Austria) 2898.3 miles,  8 days, 20 hours, 15 minutes (13.66mph)
4. Alberto Blanco-TeamRAPD (USA) 2858 miles, 8 days, 21 hours, 13 minutes (13.4mph)
5. Christopher Gottwald (USA) 2744.1 miles, 8 days, 20 hours, 26 minutes (12.92mph)