Court of Arbitration for Sport has no jurisdiction in one Jan Ullrich appeal, but will rule on second
The Court of Arbitration for Sport (CAS) has announced that it does not have jurisdiction to rule on an appeal of the Swiss Olympic disciplinary chamber's refusal to open an anti-doping case against Jan Ullrich.
Heading out the door? Read this article on the new Outside+ app available now on iOS devices for members! Download the app.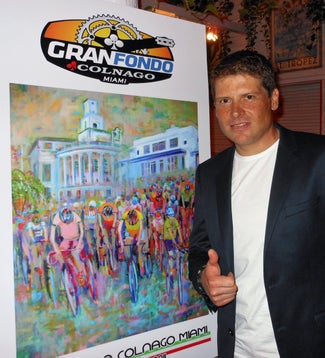 In what is sure to come as a disappointment to scandal-weary 1997 Tour de France champion Jan Ullrich, the Court of Arbitration for Sport (CAS) on Wednesday ruled in only one of two current appeals related to the cyclist's alleged involvement in the Operación Puerto doping scandal.
CAS dismissed the case of Swiss Anti-Doping, ruling that the organization (which did not exist at the time of Ullrich's alleged violation) lacks jurisdiction to bring action against the cyclist. The court, meanwhile, acknowledged the legitimate grievance of cycling's governing body, the Union Cycliste Internationale (UCI), in a parallel effort on which it intends to rule within six weeks.
Both the UCI and Swiss Anti-Doping had filed appeals disputing the Swiss Olympic Committee's 2010 decision to discontinue proceedings against Ullrich. The retired rider faces a largely symbolic lifetime ban from the sport.
Ullrich, who recently returned to cycling on a recreational basis, spoke to Velo magazine earlier this month about his frustration with his case's multi-year timeline and desire to put Operación Puerto behind him at last.
Speaking through his manager, Falk Nier, Ullrich downplayed the practical consequence of an adverse ruling, suggesting a ban would have no "influence on (my) future life." Ullrich flatly denies any desire to return to the sport.
Operación Puerto is the name of the Spanish police investigation into the doping practices of Dr. Eufemiano Fuentes. An apartment belonging to Fuentes was raided on May 23, 2006, yielding a haul of steroids, hormones and blood bags that would eventually implicate many of cycling's biggest names — including Ullrich, Ivan Basso and Alejandro Valverde.
After initially accepting a written assurance of his innocence, Ullrich's T-Mobile team suspended him on the eve of the 2006 Tour de France after his contact with Fuentes was confirmed. Blood seized in the raid was later compared to a DNA sample derived from Ullrich's saliva and prosecutors called it a match "without a doubt."
Unlike several of his peers, Ullrich has avoided any formal sanction to date. The rider paid a €250,000 fine to settle a German fraud investigation in 2008 and appeared to have put his case to rest in February of 2010, when the Swiss Olympic Committee (with whom he was registered as a cyclist) dropped his case citing a lack of jurisdiction over the now-retired rider. The UCI filed an appeal the following month, arguing that Ullrich's licensure at the time of his alleged violation was sufficient grounds for action.
Ullrich's post-cycling life has been a difficult one. Following his abrupt withdrawal from the sport, he abandoned his bike altogether as he dealt with emotional problems and burnout. At his doctor's insistence, Ullrich returned to recreational cycling in the spring of 2011, making his first public appearance at an Italian cyclosportive in August under the pseudonym "Max Kraft."
Recently signed as an ambassador for the Monaco-based Star Events, Ullrich participated in Miami's Gran Fondo Colnago on November 20. Speaking with Velo, Ullrich credited cycling with his improved emotional health and expressed an eagerness to put his case behind him once and for all.
"(I) want to have a final decision, because then it's over," the 2000 Olympic gold medalist explained.
Though it appears Ullrich's case may soon be drawing to a close, the stakes are just now heating up for Operación Puerto's accused masterminds. Madrid's Superior Court announced last week that Fuentes, former Liberty Seguros manager Manolo Saiz and five others arrested in association with the scandal will face trial on charges of endangering athletes' health. Each faces a potential two-year prison sentence.
The case against Fuentes may be bolstered in part by Ullrich himself. Nier has intimated in recent weeks that the cyclist intends to speak freely about his career and case after the ruling and has refused to rule out the rider's formal confession.
More of Dan Wuori's exclusive interview with Jan Ullrich will appear in an upcoming issue of Velo magazine.