Danielson predicts 'chaos' at Colorado tour; Schleck and Evans downplay rematch hype
Billed as a rematch between Tour champion Cadel Evans and runner-up Andy Schleck, the USA Pro Cycling Challenge is the first time the Tour's top riders have crossed paths since the final podium presentation on the Champs-Élysées.
Heading out the door? Read this article on the new Outside+ app available now on iOS devices for members! Download the app.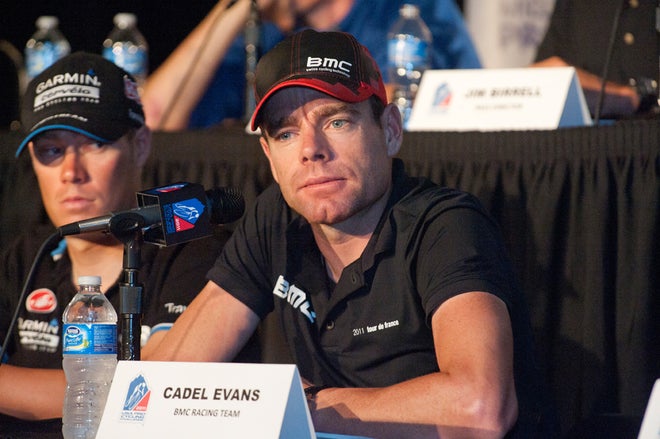 COLORADO SPRINGS, Colo. (VN) — The podium of the 2011 Tour de France was present and accounted for Sunday afternoon here, at a USA Pro Cycling Challenge pre-race press conference held at USA Cycling headquarters.
Billed as a rematch between Tour champion Cadel Evans and runner-up Andy Schleck, the USA Pro Cycling Challenge is the first time the Tour's top riders have crossed paths since the final podium presentation on the Champs-Élysées.
The inaugural event's start roster features three additional men that finished in the top-10 of the 2011 Tour — Fränk Schleck (Leopard-Trek), who placed third; Ivan Basso (Liquigas-Cannondale), who finished eighth; and Tom Danielson (Garmin-Cervélo), who finished ninth.
USA Pro Cycling Challenge — by the numbers
5: number of top-10 finishers from 2011 Tour de France
7: number of stages (5 road stages, plus a prologue and an uphill time trial)
17: number of teams
135: number of riders
518: number of miles
12,126: highest point of race, in feet (Cottonwood Pass)
All five men attended the press conference, as well as Christian Vande Velde (Garmin-Cervélo), Robert Gesink (Rabobank) and Sergio Henao (Gobernacion), the 23-year-old Colombian climbing sensation, who was flanked by his team manager, former world time trial champion Santiago Botero.
Also on the podium were race director Jim Birrell, event CEO and co-chairman Shawn Hunter, Colorado Gov. John Hickenlooper and Colorado Springs mayor Stephen Bach. Seated in the audience, UCI president Pat McQuaid and USA Cycling CEO and president Steve Johnson each briefly spoke.
Notably absent from the press conference was recent Tour of Utah winner Levi Leipheimer (RadioShack), Colorado resident Tejay van Garderen (HTC-Highroad) and race owners Richard and Rick Schaden.
Referring to the race's picking up from the legacy of the Coors Classic of the 1980s, Hunter said the press conference was "about 25 years overdue," and lauded the event's terrain as some of the most beautiful and demanding the sport of cycling has ever seen. And McQuaid said that while the event was important for the sport of cycling, ultimately Colorado would benefit the most from the event.
Prior to taking questions from a jam-packed room full of print and TV journalists, race organizers showed a 30-second commercial, to be aired on Versus and NBC this week, pitting the USAPCC as a rematch between Evans and Schleck.
Asked by VeloNews if it is accurate to characterize the race as a continuation of their Tour de France rivalry, both Evans and Schleck downplayed any scenario involving fighting each other for the overall win.
Since he won the Tour four weeks ago, Evans has been on a whirlwind tour, racing post-Tour criteriums before traveling to Australia, where his victory was celebrated on August 12 with a Melbourne parade attended by 30,000 fans.
Evans pointed to Colombian riders such as Henao and Janier Acevedo, and Spanish teammate Oscar Sevilla, as the men most likely to animate the race. At Utah Henao finished second overall, and Sevilla finished fourth.
"If we're good, and we're able to acclimate to the altitude, we might be able to fight it out, but I'd look to the Colombians," Evans said. "They live and train above 2,000 meters, and I look at them as favorites. We've come out of the Tour tired, and travel and so on hasn't helped us be at our best here. We'll do our best, but those guys come from a more favorable environment."
Schleck arrived in the U.S. on August 9, and after spending a few days in Wisconsin visiting bike sponsor Trek, he's been primarily based in Steamboat Springs, where a group ride last weekend, spontaneously announced on Twitter, drew an estimated 400 riders.
"I don't see this race as a rematch," Schleck said. "That's next year at the Tour de France. Of course I hope to beat him, but that's not the goal, that's not why I'm here. And it's not only us. There are 130 other riders here to win this race, and there are no bad riders here. But it's not a personal rematch between Cadel and me."
Instead both men pointed to the race's high altitude passes as the race's primary obstacles — such as stage 2's climbs over Cottonwood Pass (12,126 feet) and Independence Pass (12,095 feet).
"I've been here since the 9th, so I will have no problem with jetlag, but the altitude is still going to be hard," Schleck said. "This is higher than I've ever been, and to race bikes this high, it's a big challenge. But we all have to do it. It won't be hard just for me."
Though Colombian squads Gobernacion de Antioquia-Indeported Antioquia and EPM-UNE are largely unknown to the American- and European-based pelotons, the teams have clearly left an impression on the top riders from the Tour de France.
Asked what he expects from the Colombian teams based on what he saw at the Tour of Utah, Danielson answered, "chaos."
"If they are in the leader's jersey, they will attack anyway, and if they aren't in the leader's jersey, they'll probably attack … so plan on them attacking," Danielson said. "Fortunately in this race there are a lot of strong teams that will ride. Unfortunately for Levi last weekend (at Utah), it was up to his team — it was those guys versus his team, which made the race so difficult for Levi to win. I think they are super strong, and I have a lot of respect for them.
"To beat those guys, we'll have to be attentive on all fronts, and be ready. In the initial creation of this race, people talked about Cottonwood Pass, some of the early climbs on certain stages and, people thought it would be a big group going over the top. But with these guys in the race, it won't be a big group, and that entire team will be in the first group. It's going to be chaos."
Chaotic or not, Danielson, a Colorado resident, said competing against the top riders in the world, in his home state, was a dream come true.
"This is a beautiful experience," he said. "For years I've been seeing guys who are respected in their home country, like Thomas Voeckler in France, and now we have one of the biggest races in the world in our home state. I am super excited, and even those riders who are not from Colorado are excited to be here. Just being at this press conference is a magical moment for me."