Dark days for domestic peloton as three teams face uncertain future
With three key North American teams are on the brink of collapse, up-and-coming domestic riders face uncertain future.
Heading out the door? Read this article on the new Outside+ app available now on iOS devices for members! Download the app.
VAIL, Colorado (VN) — Travis McCabe sat beneath the Team UnitedHealthcare tent and thumbed the screen of his phone. As his teammates spun intervals on their stationary trainers, McCabe greeted passers-by with his traditional laid-back smile and easygoing attitude. Everything seemed fine.
It's wasn't. Behind his smile, Travis McCabe managed the uncomfortable stress that springs from career uncertainty. McCabe is the top sprinter in the domestic peloton, one of the fastest cyclists on the globe. He is 29 years old, the prime age for a man in his profession. Yet he lacks a firm foothold in the sport, and in several weeks he will learn whether or not he will continue his career in pro cycling.
"It's super stressful. It's all we talk about," McCabe told VeloNews at the Colorado Classic. "You go on training rides and people are like, 'I can't believe you don't have a job yet.' With teammates it's like, 'Do you have a job? What's next? Where do we go from here?' Everyone is asking everyone else what their plans are."
McCabe's team, owned by the California-based Momentum Sports Group, is without a title sponsor for 2019. The Minnesota-based UnitedHealthcare informed Momentum prior to the season that it would not be returning as a title sponsor beyond the 2018 season. Management, in turn, relayed the message to McCabe and his 23 male and female teammates as the 2018 season began.
"They told us at the beginning of camp that UnitedHealthcare would not be the title sponsor," McCabe said. "We all knew it was coming, it wasn't like the rug was pulled out from under our feet. Everyone knew this was happening."
Still, McCabe and others held out hope that a new sponsor could be found. But as 2019 season progressed, Momentum was unable to locate a replacement. In an interview with Cyclingnews, Momentum's co-owner Thierry Attias said the team would not renew its UCI license if a new sponsor cannot be found by August 30.
Time is ticking for McCabe and his teammates.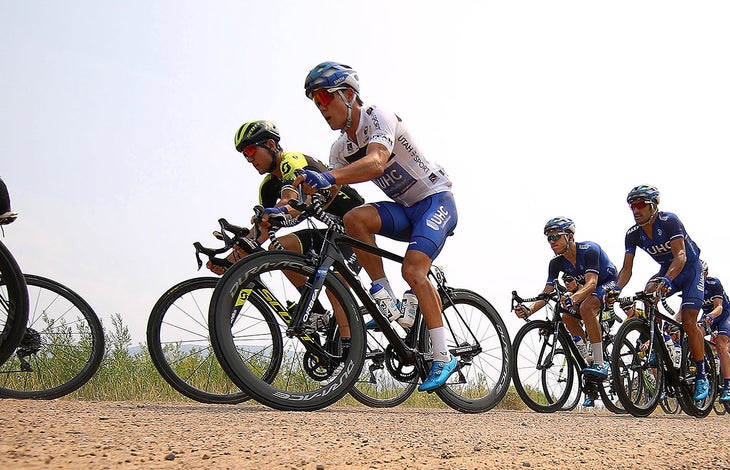 MCCABE IS NOT ALONE. Across the domestic North American peloton, dozens of professional cyclists find themselves on shaky footing heading into the 2019 season. One of the longest-running squads in the peloton, Jelly Belly-Maxxis, learned that its title sponsor, the Fairfiled, California-based Jelly Belly candy company, would not continue its sponsorship of the team. Jelly Belly's sponsorship dates back to 1999. Owner Danny Van Haute said he is currently looking at potential replacement sponsors. If a sponsor cannot be found by August 30, Van Haute said he plans to take a year away from the team.
"Maybe we go try to find a new sponsor and come back for [2020]," he said.
Jelly Belly employs 11 riders. During its 19-year run, the team served as a springboard for talented North American riders on their way up, and as a safety net for riders who were between jobs. The team's current star, Keegan Swirbul, joined the squad after a knee injury derailed his 2016 season.
"I couldn't race the whole year. After that nobody would sign me," Swirlbul said. "Danny believed in me. Without [Jelly Belly] I wouldn't be racing."
Canadian team Silber Pro Cycling is in a similar position. Team manager Scott McFarlane learned this spring that his benefactor, investor Arthur Silber, would not continue his financial support of the squad beyond 2018. McFarlane broke the news to his riders at the Canadian road national championships, telling them that they were clear to seek contracts elsewhere for 2019. McFarlane has given himself a deadline of September 30 to ink a new deal. He told VeloNews that he is also hopeful that a new sponsor can be found.
At the Colorado Classic, the dismal prospect of three teams folding cast a somber tone across the peloton. What would the domestic scene even look like in 2019? Would there be enough teams to race? What did the disappearance of three teams mean for the other squads?
"Look around—three teams right there may disappear, and if it wasn't for a couple of very kind sponsors, I don't know what cycling would look like in the United States," said Axel Merckx, owner of the Hagens Berman Axeon cycling team. "It feels like, in four or five years, the whole thing could just go away."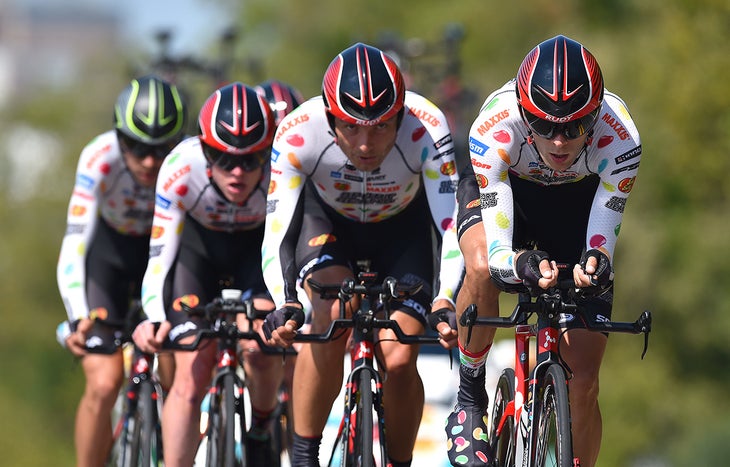 THE U.S. DOMESTIC SCENE has endured multiple periods of contraction over the last 25 years. After the 2003 season two of the domestic scene's largest teams, Saturn and Prime Alliance, abruptly disbanded, sending more than a dozen riders into unemployment. From 2008-2009 the scene endured another blow, with Rock Racing and Toyota United both closing down.
Yet some veterans of the racing scene believe that the current climate is unique. The potential sudden loss of three teams comes after multiple years of shrinking team budgets and smaller salaries.
"It's not so much that it's a huge step down for next year," says Jonas Carney, manager of Rally Pro Cycling. "It's been 10 years of slow decline if you think of where we were in 2008 and where we are today. Teams go away, and teams come in to replace them, but they have nowhere near the budget of the teams they're replacing."
Teams are funded by sponsorships, with smaller UCI Continental squads such as Jelly Belly and Silber supporting operational budgets in the low- to mid-six figures. Pro Continental teams such as UHC can have budgets that soar well beyond $2 million.
The current downward cycle is tied to several factors. Both UnitedHealthcare and Jelly Belly are ending their respective deals after long-term commitments. Jelly Belly's sponsorship ran 19 seasons, while UHC's ran nine. Team title sponsorships often end after five or so years. Others point to the country's marquee race, the Amgen Tour of California, stepping into the WorldTour ranks in 2017. The WorldTour designation kept smaller UCI Continental teams such as Jelly Belly from gaining access to the race, which historically provided sponsors a sizable boost in media impressions.
Races are also on the decline in the U.S. In recent years longtime events such as the Cascade Classic, Mt. Hood Classic, Northstar Grand Prix, and Tour of Alberta, among others, have all folded. With fewer races, teams have a harder time guaranteeing exposure to sponsors.
"For me, the main worry is having enough quality race days. We're already pretty slim," says Mike Creed, manager of the Aevolo team. "If the Tour of Utah or [the Colorado Classic] go away, it would be crazy. It's already crazy that after Colorado the season is done."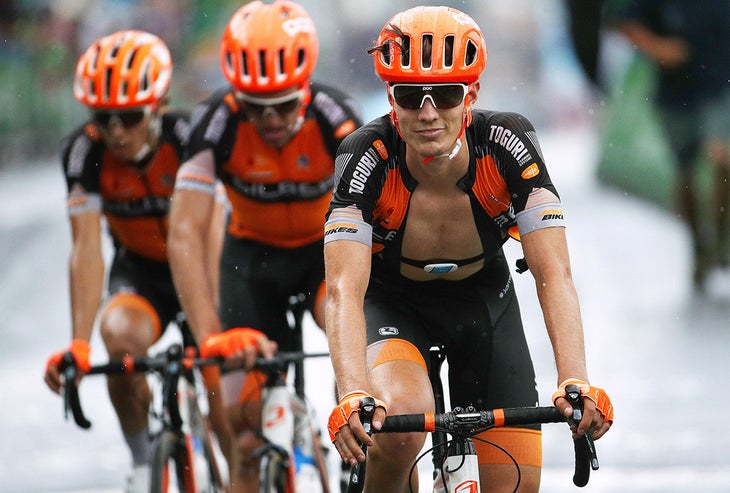 THE POTENTIAL LOSS OF THREE TEAMS has flooded the employment market for the country's other professional teams. Carney, Creed, and others said they have received dozens of resumes for the 2019 season, including ones from top riders.
"There are so many good riders on the market right now," Carney said. "It breaks my heart because I only have a couple of spots. I'm having to turn away guys who are very very deserving of a contract. I just don't have a space."
Race winners like McCabe should likely find spots within the other domestic teams. Domestiques and young up-and-comers could likely face a more challenging situation, due to the lack of open roster spots. Creed's Aevolo team works solely with U23 riders, so older riders need not apply. John McAllister, general manager of the Elevate-KHS Pro Cycling Team, said he wants to work with his current roster of 11 riders.
"We have a really good dynamic going with our existing guys," McAllister said. "I'm definitely looking at [resumes] but I'm not looking to change the team."
Nicolas Greef, owner of the Colorado-based 303 Project team, said he is looking at new riders for 2019 due to the huge influx of resumes he's received in recent weeks. But Greef's team is largely funded privately by himself and an angel investor, so his ability to grow will be determined largely by his ability to find new funding for his team.
"We're negotiating and talking to people for [2019]," Greef said. "There's no real financial backing at this point."
Creed is optimistic that many of the riders cast into the market will find jobs, and that perhaps a new team will step in to hire riders. Will those jobs pay enough cash to support someone? That's a less-likely scenario, he said.
"There are always going to be new teams. Someone will cobble together some money," Creed said. "But the bar keeps getting lower and lower. People will have just enough money, and [riders] will be like 'It's better than nothing.' And then that level will become the new bar."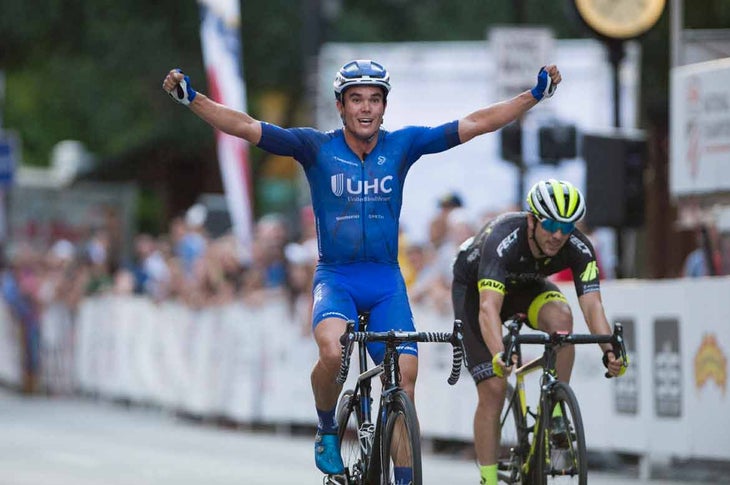 MCCABE SAYS HE AND HIS TEAMMATES are still hopeful that Momentum Sports management can secure sponsors for 2019. They are also cognizant of the challenges they face in securing jobs for 2019, he said. All of the riders are racing to win in hopes that a top result can secure a job for the coming season.
Such a dynamic might lead to infighting among the riders. That has not been the case, McCabe says. Instead, the team has ridden to try and help those riders lacking results gain victories. Perhaps, some teamwork could help a teammate find a job for 2019.
"We need to give people opportunities to show themselves so that everyone lands on their feet next year," McCabe said.
Whether it was by design or just fate, UnitedHealthcare's riders have, thus far, lived up to the challenge in Colorado. At the race's second stage — the individual time trial up Vail Pass — four UHC riders stood atop the men's and women's final podiums combined.