Doug Ryder and his daring WorldTour comeback plan with Q36.5
After a parenthesis in 2022, South African manager returns with a new ProTeam squad, world-class backers, and WorldTour ambitions.
Heading out the door? Read this article on the new Outside+ app available now on iOS devices for members! Download the app.
If anyone deserves the comeback of the year award, it's Q36.5 team manager Doug Ryder.
A world pandemic and sponsor problems swamped the South African's Qhubeka-NextHash at the end of 2021. The team lost its WorldTour license, and riders and staff scattered across the peloton.
After a parenthesis in 2022, Ryder is back on the world stage in 2023 with a new ProTeam squad featuring 24 riders, world-class backers, and WorldTour ambitions.
In a sport when WorldTour demise usually means the end of a franchise, it's an impressive return.
"We never gave up," Ryder told VeloNews. "COVID was an anomaly and many big companies and corporations went into a panic. The sport was struggling across the board, and we didn't expect such a hard time.
"Taking a year off was not a bad thing," Ryder said. "It was complicated to fight back. But we had time to reflect, and we are able to build a bigger base to our pyramid."
Also read: Joey Rosskopf embraces new challenge
In many ways, the Ryder's new team is on an even stronger footing.
New title sponsor Q36.5 brings a fresh and ambitious vision to the squad, and Ryder's rustled up some impressive partners that include Scott bikes, Swiss bank UBS, and Breitling watches.
All are on long-term deals to give Ryder and the team runway to make a return to the top WorldTour league.
"Our vision is to get back to the WorldTour," Ryder said. "That's a three-year process. We're in the first phase, to solidify the foundation of the team and we want to become more consistent with the depth and quality of our performances in order to be able to rise again."
The long and winding road back to the peloton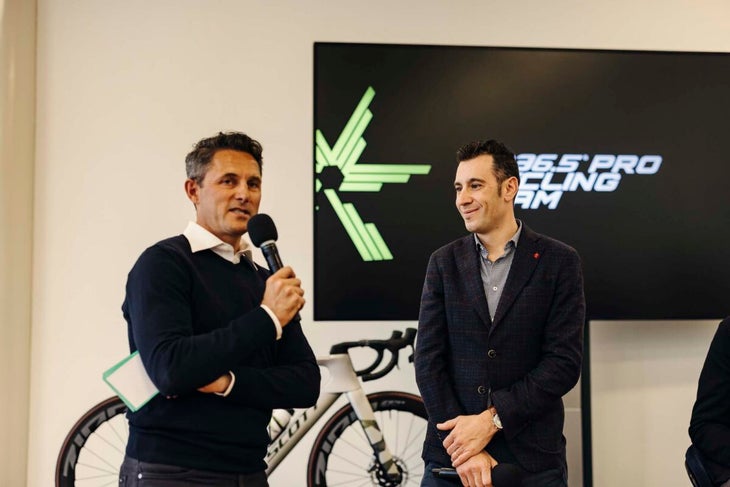 Three years ago, Ryder started knocking on the doors of dozens of major companies and corporations in a bid to keep his WorldTour team afloat, but the economic tides were pulling against him.
A merger with Bjarne Riis in 2020 flamed out, and then the world was engulfed by the coronavirus pandemic that shut everything down. Despite dozens of pitches, there was no final-hour salvation for the team.
By the winter of 2021, the team didn't have a signature on a contract, and the curtains came down on the WorldTour team.
"We kept together Qhubeka in 2022, and we stuck with the values we always believed in," Ryder said. "I never gave up, and the values, purpose and strong message that our team generated over the years, what created people's love for the team, that really helped with finding new partners. We always punched above our weight."
Also read: Q36.5 wins first race
Ryder kept together this Continental-level Qhubeka team in 2022, and continued to work the boardrooms and ply through his Rolodex to maintain contacts within the tight-knit cycling community.
Luck turned his way when he linked up with Q36.5, a Swiss-based clothing and equipment company that stepped in as title sponsor. Other partners soon followed, and Ryder said it was the team's long-running DNA that helped pushed the deal over the finish line. Italian superstar Vincenzo Nibali joined as a technical advisor.
The stars aligned, and Ryder was back.
"I was fortunate enough to be at the right place at the right time," Ryder said of the Q36.5 deal. "It was an amazing opportunity for them and for us.
"We used our story of helping African cycling to get into the C-suites," he said. "We've brought on significant partners. These are forward-looking brands, industry disruptors, companies that are always challenging the norm. That's good for cycling."
This Valentine's Day we're delighted to announce we have a date with @Amstelgoldrace this Spring 😍🚴

We're honoured to have been awarded a wildcard to this great @UCI_cycling WorldTour race and can't wait to race in the famous Limburg roads 🙌#RacingTheFuture pic.twitter.com/ulrQZ5bQEs

— Q36.5 Pro Cycling Team (@Q36_5ProCycling) February 14, 2023
Ryder's global search for backers confirmed what many other team owners and managers are discovering when they're shopping cycling as a marketing and partnership vehicle.
The traditional cycling sponsorship deal of publicity and return on investment are no longer what's driving would-be sponsors' interest, but rather it's front-line issues likes sustainability, inclusiveness, equality, and the environment that's moving the needle.
In many ways cycling, with its strong messaging on equality, sustainability, and green issues, is aligned perfectly for this new corporate partnership reality.
"A lot of organizations want to be associated with sports that are helping in making the world a better place, and cycling is perfectly positioned for that," Ryder said. "Gone are the days of looking good in Lycra and winning was enough.
"Winning helps tell your story, but being purpose-led and helping with mobility and access to community, that's the story people want to tell."
Delivering on the road in a WorldTour quest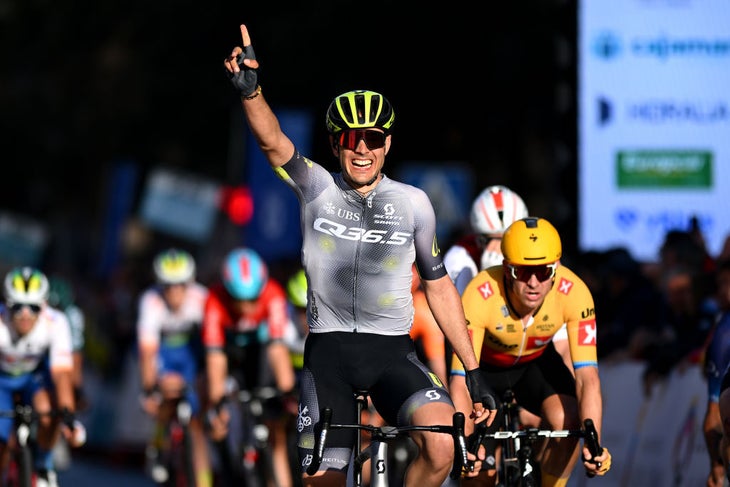 Now that Ryder has the base of the pyramid built out, the attention is turning toward translating that into performance on the road.
Like many ProTeam-level squads, Ryder's riders will be looking to earn race invitations to fight for their place in the peloton. A grand tour invite in its first year might be difficult, but there's still hope for the Vuelta a España later this season.
"We'd love to ride a grand tour this year. We want to be one of the most respected and strong Pro-Conti teams and be up there all the time fighting for the big race invitations," Ryder said. "The ultimate goal is to be up in the top-3 and be challenging for a return to the WorldTour within three years."
With such strong financial backing, Ryder was able to attract a mix of top-level WorldTour-caliber pros right out of the gate. Riders such Damien Howson, Jack Bauer, Gianluca Brambilla, Carl Fredrik Hagen, and Tobias Ludvigsson signed on from the WorldTour. Americans Joey Rosskopf and Corey Davis move across, as well as Canadian Nickolas Zukowsky.
"You wouldn't think that when we didn't announce anything until very late that we'd get the riders that we have," he said. "It's such a privilege. Riders wants to be associated with this project. It showed our legacy and what we built in the past showed through with the riders."
The team already won its first race with Matteo Moschetti at the Clásica de Almería in February.
The team's calendar includes such upcoming races as the Tour de Rwanda, Gran Camiño, Kuurne-Brussels-Kuurne, and La Samyn.
The UCI's new relegation/promotion system isn't without its critics, but for teams like Ryder's, it's a clear pathway back to the WorldTour.
"The fight for relegation, promotion is real, and it is still a big focus for opportunity for teams," Ryder said. "It depends on which side of the fence you're on. From our point of our it's a positive. There is an opportunity to fight back."
African dreams still burn bright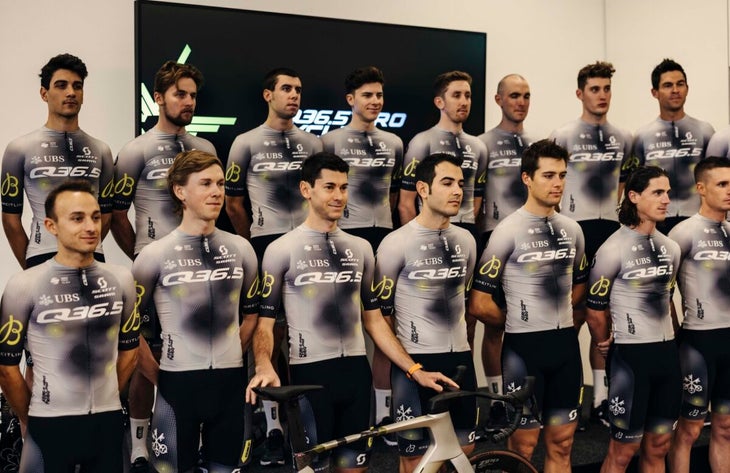 Deep in Ryder's DNA is his connection to Africa and the development of African cycling.
His original team was born out of South Africa, and Qhubeka and the team's messaging on mobility, sustainability, and development remain part of Q36.5's mission.
Right now, there is only one African on the ProTeam squad, with 22-year-old Negasi Haylu Abreha of Ethiopia. He graduated from the team's 2022 Qhubeka development squad, and Ryder promised there will be room for more African riders going forward.
"Negasi graduated from our Continental team, and we will have two or three riders a year who we can look at about moving up," he said. "Africa has always been a major focus for us.
"With the worlds in Rwanda in 2025, that gives Africa its best chance to at its best for the world championships," he said. "We are always looking to support African cycling."
Ryder said the Continental team will continue to develop young talent, but despite plenty of roadblocks for African cycling, he's optimistic about the future.
Issues of equipment, coaching, races, and visas continue to create hurdles, but the overall movement continues to grow.
"Having a rider like Biniam Girmay, who is absolutely flying, that will really help," Ryder said. "We've done a lot over the past 15 years, but Ineos has invested in Kenya, Israel Premier Tech is getting involved as well.
"It was never about us, it was always about how to get Africa cycling on the map," Ryder said. "To be a part of that and to see the opportunity that more African riders are having I am really proud of that. We will continue to work to see how African cycling can be transformed."