EF Education-EasyPost vows to chase wins not points: 'We're not going to play that game'
Powless, Van den Berg already come good on team boss Vaughters' mission to rise above the relegation dogfight in 2023.
Heading out the door? Read this article on the new Outside+ app available now on iOS devices for members! Download the app.
EF Education-EasyPost was dragged into the wild and wacky world of hunting UCI points last season. It's determined not to let it happen again.
"We're not going to play that game, as long as we can," team boss Jonathan Vaughters asserted. "We had to do it to some degree last year. It felt hollow."
Wins come first for EF Education-EasyPost in 2023.
The points are a byproduct.
"If it ends up in year three of the cycle that we have to start doing that bullshit with racing for points again, then then we will. But at least this year, we're going to operate as a team, we're going to operate to win races, and we're not going to worry about the points at all," Vaughters told VeloNews.
"Hopefully, racing 'normally' like that elevates us to the point that we just don't even have to worry about the points system."
Also read:
Vaughters and his pink-clad crew so far proved true to their word.
A stunner victory for Neilson Powless in Marseille, a debut pro win for Marijn van den Berg in Mallorca, and a KoM jersey for Mikkel Honoré in Australia sets the winning beat for 2023 – and gives the team an early pile of UCI points for the 2023-25 pot.
'We intend to race the way we should be racing'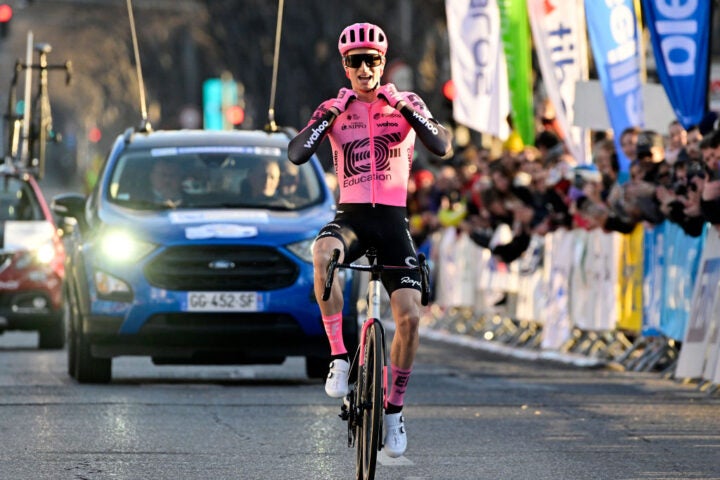 Vaughters' U.S.-based team was dragged into the depths of the dogfight for WorldTour survival last summer.
After a pandemic-enforced funding squeeze and a swathe of sickness through the spring, EF Education-EasyPost last summer found itself dangling dangerously close to the "drop zone" of the UCI points league.
The team secured its WorldTour future by doing what it, and many others, had to do – doggedly pursuing points, no matter how ugly it looked.
"I have a lot of disdain for changing the way a team races in order to chase for points. We did briefly do that in August and September 2022 and I really found it pretty distasteful," Vaughters said in a recent call.
Also read:
Traditional strategies and schedules got scrambled last summer as teams sought to escape the "death" of WorldTour demotion.
The quest to hit the top-18 squads in the UCI league saw troubled WorldTour teams and promotion-pushing ProTeams flood top-10 finishes and forgo victories in order to stack points into their three-year tally.
The crooked points allocation system saw a half-dozen squads – including EF Education-EasyPost – jetting to high-scoring, lower-tier races through Europe and Asia.
More competitive, prestigious events with relatively low kickbacks were cast out of race calendars.
"There were a number of races where we finished three guys in the top 10, and we didn't win the race. OK, it was a bunch of points, but in some of those cases, they were races we wouldn't have even really focused on before," Vaughters said.
"It really felt hollow, if I'm very honest."
The points battle is already creeping into the peloton after teams learned some tough lessons last fall.
Lotto-Dstny and TotalEnergies already turned down Giro d'Italia wildcards to focus on finding easier results elsewhere.
Intermarché-Circus-Wanty has stated its intention to race strategically after it lost a number of leaders in the winter, and the Tour Down Under saw even leading squads scramble for the smallest number of points.
Vaughters doesn't want to go back to that.
The arrival of grand tour ace Richard Carapaz and TDU mountains winner Honoré blows fresh wind into the team. A resurged funding stream gives the team freedom to pour cash into improving performance.
"We intend to race the way we should be racing. We're going to race hard in the races that our team is built to go well in. And we'll be racing to win those races," Vaughters said. "We're hoping that means the points system won't really concern us."
Powless and Van den Berg already set the tone. Vaughters will be hoping it sounds out all season.
The chase for points 'isn't the sport of cycling'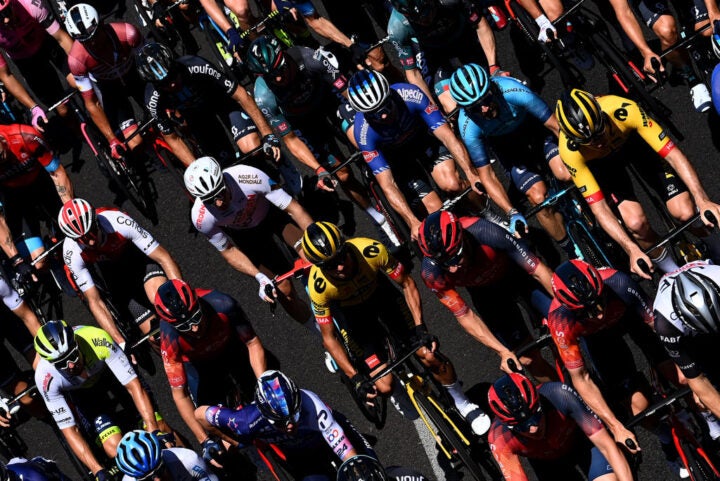 The UCI shuffled its points structure for 2023-25 to increase rewards for grand tours and monuments, and expand the number of riders contributing to a team's total.
But the points chasing inherent to a promotion/relegation system remains.
"I feel like the points and relegation system has a very negative impact on the quality of the races that fans get to see – there are more and more riders that are not racing as a team in order to win the event. They're racing as individuals to score points in 11th place, eighth place, and 13th place. That isn't the sport of cycling," Vaughters said.
"That's negative for the viewers of the sport, it's negative for the internal workings of teams, it's negative for the sociological aspect of the sport. I think ultimately, it's negative for the commercial side of the sport too because viewers aren't going to like it and they're not going to want to watch when there isn't a teamwork dynamic."
Love it or hate it, the promotion/relegation system isn't going away for the next three years at least.
EF Education-EasyPost will be looking to ignore it as long as possible.