Experimenting with the sport: A conversation with John Eustice
John Eustice is ready to experiment on cycling in the United States. The former 16-year pro, promoter of the 38-year-old Skyscraper Harlem Classic and Univest Grand Prix and USPRO board member will introduce high speed urban track racing to New York City this Sunday and hopes the model will expand across the country.
Heading out the door? Read this article on the new Outside+ app available now on iOS devices for members! Download the app.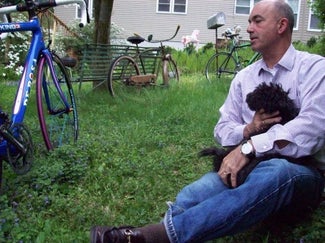 John Eustice is ready to experiment on cycling in the United States. The former 16-year pro, promoter of the 38-year-old Skyscraper Harlem Classic and Univest Grand Prix and USPRO board member will introduce high speed urban track racing to New York City this Sunday and hopes the model will expand across the country.
Never one to hold his tongue — or forget humor — Eustice spoke with VeloNews about the Skyscraper Classic, keeping the rubber down and taking his new race format to inner cities across the country.
Q.
Let's start with background. How did the Skyscraper Classic get to where it is now, with an interesting new track format for 2011?
A.
The race began 38 years ago and was founded by a New York City police officer named David Walker. He founded this as something to attract children to a children's safety program. It was the bike boom era. There were a lot of children riding bikes and getting hurt; he saw this need and developed it.
It's always had these great track riders. Danny Clark, the famed track rider, won it three times. The Harlem kids' race launched Nelson Vails into his career. Mike McCarthy rode the races. George Hincapie rode the races. Everybody rode this race; it used to be a really big race.
Q.
When Walker became ill a few years ago, you were brought in to run the event?
A.
The city asked us to make it bigger. They said they weren't going to put all the staff into the race if it wasn't big. They put up a mile-and-a-half of fence, for example. It's a beautiful race.
We had Rock Racing the first year and then they went away. That was quite an adventure, but they knew promotion, I'll tell you that. Then Rock Star came in to take a look and they loved it. We've made it better ever since.
Q.
This year you'll go from standard criterium racing to a track format with a points, elimination and keirin races. That's a very interesting change. Why?
A.
I wanted to change to a track format for a couple of reasons. First of all, and I do it with Univest, I think the cycling formats need to be tinkered with. It's time for some experimentation; things are too rigid.
You see all of the classic sports, whether it's cricket or squash or biathlon, figuring out more exciting, condensed forms and we're not doing that in cycling. So, what I'm doing is experimenting.
I think we need to develop an American brand and that's very important.
Q.
There is also the talk of building a velodrome in the city?
A.
I want to be able to show people what velodrome racing actually looks like, how cool these guys are. Just because they're not Alberto Contador doesn't mean they're not great bike racers. It's a different style, an American style of bike racing. I want to re-introduce that Madison Square Garden aura to the whole thing of fast guys chasing sprints and money, that fun part of it.
Q.
So, experimentation, showing off track racing. Is that it?
A.
No. The third part is the race has this nickname of the "skin scraper." There have been so many crashes and I'm sick of it. I'm sick of all these bike riders throwing themselves on the ground as fast as they can. It's terrible and there's no reason for it, there really isn't.
I brought over the six-day riders last year, the four of them, and they put 5.5 bars in their tires and not one of them crashed. There were all these crashes behind them and it was terrible. It's bad imagery for the sport.
I made the field smaller and better. We're opposite Nature Valley so we're not going to get those guys. We're also opposite USA CRITS in the Midwest. So the circuits moved out to the Midwest and we don't have the top riders, so we import the Euros and I'm finding all the track guys around.
You have Doug Rapacholi. He was a rider of the year and is good at this kind of stuff, that kid. The track riders, this is a chance to shine as well. Why not give them a showcase? That's the way I'm looking at it. We have this kid, Iggy Silva. We've got Bobby Lea.
Marty Nothstein's going to be doing TV commentary. It's the track world on display.
But it's not just track riders. Jamis-Sutter Home is sending a team with (Anibal) Borrajo, (Demis) Aleman, Jackie Simes and one other guy. Then you always have these guys in New York City that nobody knows about that go really, really well. They only race in New York City, guys from the Dominican Republic and places like that; they go and spank these guys.
When I was a kid it was the same thing. You always had a sub-culture in New York that was really good and never traveled much outside of the city. You come to New York and everybody knows they have a fight on their hands with these wily West Indies bike riders.
Q.
You've limited the Pro-1 field to 50 or 60 riders. How have you made the selection for a reduced elite field?
A.
I'm looking for guys that know how to ride their bikes. I want real skilled, beautiful racing where they don't fall down like bowling pins and they really show you how to ride your bike.
One of the political issues in New York right now is that there's a lot of conflict with bike riders and pedestrians, automobiles and buses. Half the reason is a lot of the bike riders don't ride very well, there's not a lot of skill. So, we want to put a lot of skill on display.
Q.
So you have a stronger field and a new format. What races are we looking at for Sunday afternoon?
A.
The competition's good and the format's designed to be exciting for the crowd. You're going to have a points race for 45 minutes and have strung-out action all the time. The faster the race is the safer it is, everybody knows that.
We'll have a kids' final — the fastest boy and girl in New York City — a one-mile ride on live TV. Kids get up there, isn't that good? They have to qualify in the morning. We made it a USA Cycling talent ID program; if a kid comes, qualifies in the morning, they could race live on VeloNews in the afternoon.
Maybe your kid could be on VeloNews somebody. I think you should book hotels and come to New York immediately. Come on, live in the Apple? It's aimed at local kids, ages 13-17. I don't want some carbon fiber freak kid coming in from Iowa winning this thing on custom-made Bont shoes. I don't want that.
The second race will be a double elimination. I think it'll be from the front, so I think a lot of guys will get dropped. We want a fast race. Elimination's hard because those guys ride hard at the front and don't sit up and look over their shoulder.
It's exciting and different. There are replays and arguments. There's gesticulating, screaming at the judges, "I got cheated! I got robbed!" It's great. It's everything you want and the people are always entertained.
For the final we're having a 15-rider keirin. It's going to be an exhibition. It won't count for the overall and will be a separate event. Apparently there's a war in Trexlertown for the selection for it. Sprinters, it's all about maneuvering, so everybody's maneuvering. I'm joking, but a lot of the sprinters are coming from Trexlertown to do it.
Q.
When you talk about needing to experiment with the racing format in the States, you're talking about expanding to other urban areas with this sort of event?
A.
You show up to the race. I even help some of the teams get to the race. They've got 60 chances to make some money in the race and they're on live TV. It's fun and cool and people will like it. I think it's a good model for the future — an urban racing model.
They used to have a lot of post-war races like this in France. They'd do derny races and all this stuff. Bobet, Anquetil and all these guys, they did a lot of fun races and not just grinder criteriums. I think you've got to bring that back. A lot of this has been lost in the rigid formatting that everyone's fallen into.
Did you see Philly? It was a good race. It was actually a great race. It doesn't matter if you've got Lance Armstrong or whoever. If you have a good race you've got a great product. We need good racing.
Q.
Where else do you want to take this type of racing?
A.
It's a pilot program and I'd like to see one in Detroit. I like Detroit. Detroit's OK. I think it would be a good place for it. There's real expert cycling culture in Detroit.
I used to race there. My father was from there. There was a great cycling culture there at one point. DeYoung and all those people, they were Detroit cycling culture. I bet some of those people are around and would come out the woodwork if you got that program going. I bet they would. I do.
Q.
Just Detroit?
A.
You go to Detroit and then Compton, L.A. South Central L.A. or something. Three places, inner city races that are really cool, develop this format, get kids on bikes, get them into coaching programs, it's not that complicated. It's really simple, relatively. Then you have three effective races; you televise a little series.
You have three nice recruitment centers for new talent for the sport. You get the city behind it. A lot of these programs are popping up on their own … these programs are here. The kids are out there and interested in bikes. You give them one more avenue here.
I think it would be a really good talent ID program for USA Cycling. You'd get a lot of kids out here and expand the possibilities for the sport?
Q.
Is this format easier or more challenging than your straight-ahead criterium from a promoter's standpoint and how do you convince other promoters to follow your lead?
A.
Completely difficult. I don't know why I do these things, but I do. Nobody knows why.
I'd do it. I'd like to go to Detroit and Compton. It's my little product. I know how to do them and I'd like to do them. If other people copy it, great. This is a 100-year-old format; there's nothing new about this.