Fans of hair, caffeine, Russian cycling cheer Katusha – Alpecin news
Alpecin co-sponsors Katusha team, which is a good thing for Russian cycling and an even better thing for Alexander Kristoff's hair.
Heading out the door? Read this article on the new Outside+ app available now on iOS devices for members! Download the app.
It's time for cycling fans to start learning new team names ahead of the 2017 season as fresh sponsors come onboard and old ones drop off. Some backers have products that are more recognizable to the average cyclist (Trek and Specialized), while others are a bit more opaque. (What's a Sunweb? Who's TJ?)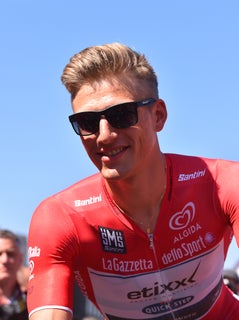 But one sponsor I've loved from day one is Alpecin, maker of caffeinated shampoo. Based on how awesome it feels to drink a bunch of coffee, surely, washing your gourd with a bottle of this stuff is actually the best part of waking up. Fear not, hair product/legal stimulant enthusiasts: Even though Giant is ditching Alpecin to become Sunweb – Giant in 2017, Alpecin will remain in cycling.
Russian team Katusha announced Tuesday that it will become Katusha – Alpecin. It's a great fit — just look at Alexander Kristoff's hair!
Will Alpecin give Kristoff the boost he needs to start beating Etixx – Quick-Step's Marcel Kittel in the bunch sprints? I'm no physiologist, but caffeine surely helps a bit. Can the Norwegian outdo the German when it comes to hair style (and note that Kittel was once an admitted Alpecin enthusiast)? Seems unlikely. Just look at the coif!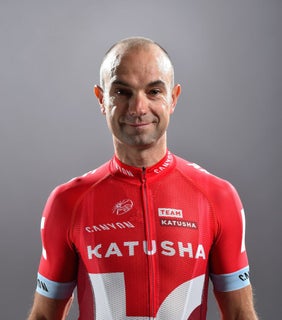 But we should spare a thought for Angel Vicioso, a Spanish journeyman in the twilight of his career — albeit with an awesome name — who will likely benefit the least from new sponsor Alpecin. Perhaps he could help the German company prototype some new scalp moisturizers for people who shave their heads?
Regardless of whether Vicioso takes a pass on his free crate of shampoo that likely comes with a spot on the 2017 team, I'd like to spare a thought for what remains the greatest cycling team sponsor of all time. This is really not based on its financial contribution or really anything tangible — mattress company Innergetic should be credited for giving us a library of comical photos of the 2013 Quick-Step team that will forever entertain, amuse, and befuddle.
Alpecin, the gauntlet has been thrown down.