For Burke Swindlehurst, the quiet American, the Tour of Utah may be a last hurrah
Burke Swindlehurst may be winding down his pro road racing career, but the 37-year-old is still a favorite to win Thursday's Mount Nemo stage.
Heading out the door? Read this article on the new Outside+ app available now on iOS devices for members! Download the app.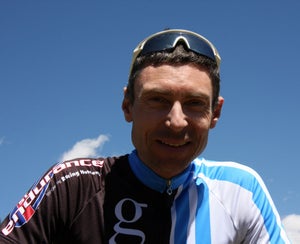 Burke Swindlehurst, 37, has a good chance of winning a mountain stage at the 2010 Tour of Utah, in what may be his last hurrah.
The six-day event kicked off Tuesday in Salt Lake City with a strong field of international riders including Tour de France stars George Hincapie and Levi Leipheimer, Swindlehurst's longtime friend and former teammate.
A gifted climber, Swindlehurst has narrowly missed the Tour of Utah podium for the final GC; he took second at last year's Snowbird Queen Stage.
2010 has been a banner year for a mix of road and mountain bike events. He set a new course record at Colorado's Iron Horse Bicycle Classic road race in May, winning it for the third time. He was one of two American men invited to the mountain bike marathon world championships in Germany. But after days of scheduling and budgetary deliberations, he decided not to go.
As the Tour of Utah's director of competition, Swindlehurst has worked behind the scenes helping design the courses and scouting climbs. He dog-eared Thursday's Mount Nebo stage as one he thinks he can win.
The grueling 78-mile course from Thanksgiving Point to the top of Mount Nebo suits his abilities perfectly. Ninety five percent of the stage's 4,500 vertical-foot elevation gain comes in the last 15 miles. The long, undulating high alpine climb has sections of sustained 12 percent gradient. It can take the best riders in the field almost an hour to reach the 9,300-foot summit.
Five-foot-eleven and 145 pounds, Burke has the quintessential long and lean climber's build. He sheepishly refers to his cardiovascular system as "voluminous".
Growing up in rural Utah, it wasn't exactly normal to dream of being a pro cyclist and ride around in lycra. Burke married his high school sweetheart and moved to Salt Lake City, trading organized religion for the Church of the Great Outdoors (cycling, fishing and, in his wife's case, marathon running).
Burke first met Levi Leipheimer at the 1991 Utah state time trial championships. They became fast friends. Leipheimer then went to Belgium to ride on an international amateur team while Swindlehurst raced stateside.
In 1996, the two friends rode together for the Rocky Mountain Cycling Club, sponsored by Einstein Brothers Bagels. Among their teammates were fellow amateurs Jeff Louder and David Zabriskie. The team had a modest budget but huge ambitions – and talent. Manager/rider Ryan Littlefield, who now owns Contender Bicycles in Salt Lake, drove the guys to races in a clunky Snowbird ski team van. Swindlehurst and Leipheimer once had to share a king-size bed with two other teammates. But on the road, they were beating pros.
Swindlehurst won the 1996 Tour of Gila, defeating rising star Chris Horner as well as established veterans Steve Hegg and Nate Reese. He won two more Gila titles (1998, 2005) and rode the race 16 times. (No wonder Leipheimer still calls him for course intel.) In 1997, Burke was a guest rider with Leipheimer and Jonathan Vaughters on the Comptel team. After turning pro in 1998, he signed with Team Saturn and raced there with Leipheimer the next season.
In 2000, he started a six-year tenure with the Navigators team. He raced in France, Italy, Switzerland and Holland against the likes of Tom Boonen, Danilo DiLuca and Frank Van Den Brooke. But he hated being way from his wife and so far from the sun-drenched Utah mountains. As one of few Americans in the predominantly European peloton, he felt like an outsider and made a conscious decision to stop racing overseas. For the Utah native, sense of place is paramount, which may explain why he's only won one race east of Colorado.
Burke is widely respected for his honesty and work ethic. "He is the consummate professional, and I think that comes from his heart," said friend Carla Hukee, brand manager for Niner Bikes. "He does right by everyone he works with and is constantly thinking of his sponsors, Twitter followers and everyone who has ever done him a good turn, long before he thinks of himself."
Winning the Mount Nebo or Snowbird stage at this year's Tour of Utah would be a well-deserved triumph in a remarkable career. "It would be great to have the fairy tale ending, but at the same time, I don't need it to be happy with all that I've accomplished," he said.