Garmin throws the dice on stage 7 breakaway, with mixed results
What exactly were Hesjedal and Talansky up to in Saturday's breakaway?
Heading out the door? Read this article on the new Outside+ app available now on iOS devices for members! Download the app.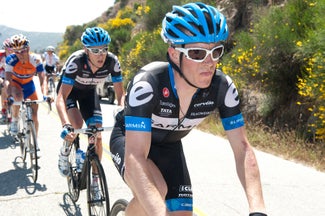 MOUNT BALDY, Calif. (VN) — One rider in the prime of his career, another at the beginning. Both teammates executed a team strategy by joining a long-shot breakaway Saturday.
Garmin-Cervelo's Andrew Talansky, 22, and Ryder Hesjedal, 30, joined a star-studded breakaway early on the queen stage of the Amgen Tour of California. And the break's composition was a bit different from the classic cast of non-GC contenders who are often allowed to roll away late in a stage race.
There were real GC threats and real stage win threats. And unlike most previous breaks at the California race (this year and prior years), most of the break's members came from ProTeam squads, rather than lower tier domestic teams.
This was a break that meant business.
Talansky started the day in 11th, just under three minutes behind race leader Chris Horner of RadioShack. Hesjedal at eighth, 2:27 back, was the best placed rider in the break. Other members included crowd favorite George Hincapie (BMC); Francesco Bellotti (Liquigas-Cannondale), Grischa Niermann (Rabobank) and Bissell's Rob Britton.
Team Type 1's Alexander Efimkin, the recent winner of the Tour of Turkey, was a real threat for the stage win. SpiderTech's Patrick McCarty was in the climber's jersey and motivated to increase his lead in that competition, or even secure a lock on the title.
Previous editions of the Tour of California have been decided by a handful of seconds, but this year the gaps are bigger, thanks mostly to the mountaintop finish on Sierra Road in stage 3. Stage 7 finished with 30km of climbing, the last five of which are beyond steep. Given Hesjedal's and Talansky's climbing abilities, RadioShack could not afford to let them build much of a lead.
On the other hand, Horner showed on stage 3 that he can outclimb anyone in this race, especially on the steeps. So what exactly were Hesjedal and Talansky up to? Did they really hope to win the stage?
"We said from the beginning we are here to race our bikes and try to win the race or a stage," Talansky said. "We are not racing to get top 10 on GC here. The thing that matters is the win or the stage win. The real idea was to put guys like me and Ryder, who are pretty close to GC, up there in the break to put some pressure on RadioShack and ideally make it to the (final) climb with a little bit of time."
To have any hope for a stage win, the break needed "a solid two minutes coming into the base," Talansky said. "And still we maybe would have been caught coming up, but maybe you can conserve a little and come into it."
Hesjedal's explanation for joining the break sounded a bit more spontaneous than his young teammate's.
The plan was "just get up there and make it hard, have a hard day," the Canadian said. "You never know. See what happens. It's going to be a hard stage no matter where you were on the course, and I figured I'd get up there and push and see what happens."
The break rode hard all day, but RadioShack kept the its advantage under two minutes.
"RadioShack is a strong team and a smart team," Hesjedal said. "They were never going to let us get that much time. We needed to force them to ride hard and that was the idea."
And ride hard they did. The team forced the pace at the front on all the day's climbs, but especially in the final 30km, when Jason McCartney, Ben King and Haimar Zubeldia led the charge, with Horner usually in third or fourth spot, Leipheimer behind him.
Leopard-Trek also put riders on the front, hoping to position Andy Schleck for the stage win.
The break's advantage was well under a minute entering the final 10k, and down to under 30 seconds with 8km of increasingly steep road left.
As the gap fell under 20 seconds, Talansky took one final haul at the front to help Hesjedal as much as he could before dropping back. But Hesjedal couldn't stay with Efimkin, who came alive as the gradient entered the double digits.
RadioShack's Matthew Busche was burying himself at the front of the chase, soon shedding everyone except Horner, Leipheimer and Rabobank's Laurens Ten Dam. They caught and passed Hesjedal and then Efimkin.
So were the day's long efforts by the two Garmin riders all for naught?
Not entirely. The team's Tom Danielson enjoyed a relatively stress-free day since his team had no chasing obligations. A specialist at high-altitude climbing, the Coloradan got stronger the higher he got up the finish climb. In the final two miles he outclimbed Efimkin, Tejay Van Garderen (HTC-Highroad) and Schleck, among others. He finished fourth and moved up from fifth to third on the GC.
Leopard-Trek's contribution to the chasing may have helped doom the break's chances, Garmin director Jonathan Vaughters told VeloNews.
""You know, I think Andy Schleck thought he was on a good day, and his team chased. That threw the wrench in our plan really," Vaughters said.
Talansky finished satisfied.
"We did everything we could and we raced," Talansky said. "It's nice to be out front like that and be out there with Ryder and George Hincapie and good riders, it's a good feeling."
Hesjedal figured the move was worthwhile, too.
"We put two guys up in the move and you don't know what's going to happen behind. For sure our guys are going to get a good sit and don't have to do anything; that's the way the race played out …
"Basically (the plan was) just go for it and see what happens. I'm looking forward more to July and the rest of the year, so it's good to test myself here and see where I'm at."
Horner, who was critical of Garmin's tactics at the news conference following Friday's stage, gave them credit after stage 7.
"They did what they had to do," said Horner. "That was a stellar performance from all those guys. Hats off to Garmin-Cervélo, they really put on a great show today."