Haussler makes it a race, wins stage and closes on Boonen
Tom Boonen said Monday that every year it gets a bit harder to win the Tour of Qatar, a race he's won three times.
Heading out the door? Read this article on the new Outside+ app available now on iOS devices for members! Download the app.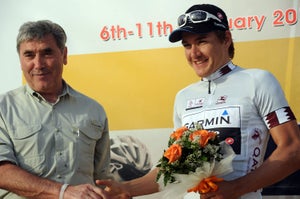 DOHA, Qatar (VN) — Tom Boonen said Monday that every year it gets a bit harder to win the Tour of Qatar, a race he's won three times. On Tuesday the Belgian's bid to collect a fourth title got more difficult when Heinrich Haussler won a hectic downwind field sprint and closed to within one second of Boonen's overall lead.
Boonen's team suffered two flats in the final 7km of the 135km stage, and he never really got into position to challenge for the stage win, coming in sixth.
Haussler's Garmin-Cervélo squad, however, was firing on all cylinders. Veteran strongman Roger Hammond delivered Haussler to near the front of the group with 1k to go. Haussler jumped on the wheel of Daniele Bennati (Leopard-Trek) and then came around him for the win. Bennati held on for second while Katusha's 23-year-old Russian, Denis Galimzyanov, crossed third.
Much like stage 1 winner Boonen, Haussler is making a comeback from a difficult 2010 season. Both riders went down and were injured in the controversial stage 4 crash at the Tour de Suisse.
Haussler said he was somewhat surprised to be so strong in the sprints as he hasn't done much high intensity work so far this season.
Racey start
The stage started at the Camel Race Track in central Qatar, in a somewhat dusty Middle Eastern circus atmosphere. Riders including FdJ's Dom Rollin and Astana's Simon Clarke amused photographers by taking rides on camels in their team kit, while packs of race camels trotted around the track and locals feasted in a VIP area.
The route looped north through the center of the country, joining some of the same roads used in stage 1, then headed south back to the stage headquarters in Doha. The route was nearly flat and alternated between potholed two-lane roads and brand-new six-lane divided highways.
Unlike stage 1, calm winds had many riders predicting a field sprint and using deep-section rims. A break of five was allowed to escape almost immediately, and built a three-minute lead in no time. The group contained no one who could challenge Boonen's lead; the best placed was Italian champion Giovanni Visconti (Farnese Vini-Neri Sottoli), who sat 12:49 behind Boonen.
The break and its members' GC position
Giovanni Visconti (Farnese Vini-Neri Sottoli), at 12:49
Niko Eeckhout (An Post-Sean Kelly), at 12:54
Manuel Quinziato (BMC), at 15:04
Jan Ghyselinck (HTC-Highroad), at 15:07
The five built a lead that maxed out at about six minutes. Early in the stage, Garmin-Cervélo worked the front along with Quick Step, keeping the lead within reason. It wasn't until the final 30k, when Rabobank and Sky took the front, that the quintet's lead began to plummet.
"We just wanted to bring the gap under three minutes;" Haussler said after the race. "We knew if we could keep it like that the other teams would step in (in the finale)."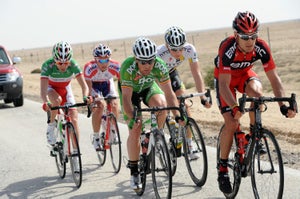 The gap closed rapidly in the final 20km, as a tired Eeckhout began to skip pulls. What little chance the group had of staying clear evaporated when Visconti looked back at the chasers, hit a bump, and fell. He sat on the shoulder, stunned for a minute and watched the pack zip by. He remounted with some road rash and tried to work his way back to the main peloton.
The remaining four breakaway riders were sucked up a few kilometers later as the pack prepared for the predicted field sprint.
Garmin-Cervélo delivers the goods
Quick Step's Boonen-delivery system fell apart when best young rider leader Nikolas Maes flatted with 7km remaining, and then Andreas Stauff flatted with 1.5km to go.
"(Stauff) was actually trying to lead me out with a flat," Boonen said. "With 200 meters to go my sprint was already finished. I had to do a lot of work to get to the front with 1 1/2 K (to go) and that was it."
Leopard Trek's Fabian Cancellara took a big dig with 3k to go, with several teammates on his wheel. He strung out the field coming into a 180-degree roundabout at the 2k mark. After the roundabout, the pack picked up a tailwind and many riders came surging around the Leopard Trek group, which sought to take control again with another big attack with about 1km to go. "They really did go fast, it was like one line coming past," Haussler said of the final Leopard surge.
But Garmin-Cervélo was able to keep Haussler in contention.
"The whole team, they put me up there and kept me out of the wind, and that's what you need in the sprint. Today was so fast, you need the team to get you up there so you can save energy so you can do that punch in the last 500 meters," Haussler told VeloNews after the race.
"I said to Roger and the other guys, 'just drop me off with a K to go and I'll do the rest.' "
Haussler managed to get on Bennati's wheel as the Leopard riders surged past, then squeezed by him against the right fencing to win the drag race to the line. Boonen had managed to work his way up as far as fourth with 100 meters to go, but that was as far as he got and he faded to sixth.
Wednesday's stage 3 is three laps of a circuit south of Doha, to total 150.5 km. The forecast is for higher winds again, something Haussler hopes will work to his advantage in gaining the one second he needs to get the lead.
"We are hoping there is a little more wind and we can maybe do something in the crosswind," Haussler said.
Race notes
Haussler took over the points jersey; Quick Step's Maes retained the Best Young Rider jersey and Leopard Trek leads the team GC.
Viscontini and his breakmate of about 120 km, Nico Eeckhout, finished together about four minutes behind the lead group.
Stage 2

1. Heinrich Haussler, Team Garmin – Cervelo, in 3:04:03
2. Daniele Bennati, Team Leopard-Trek, at s.t.
3. Denis Galimzyanov, Katusha Team, at s.t.
4. Théo Bos, Rabobank Cycling Team, at s.t.
5. Roger Kluge, Skil-Shimano, at s.t.
6. Tom Boonen, Quick Step Cycling Team, at s.t.
7. Mirco Lorenzetto, Pro Team Astana, at s.t.
8. Danilo Hondo, Lampre – Isd, at s.t.
9. Gert Steegmans, Quick Step Cycling Team, at s.t.
10. Wouter Weylandt, Team Leopard-Trek, at s.t.
11. Matteo Pelucchi, Geox – Tmc, at s.t.
12. Mark Cavendish, Htc – Highroad, at s.t.
13. Roger Hammond, Team Garmin – Cervelo, at s.t.
14. Mark Renshaw, Htc – Highroad, at s.t.
15. Francesco Chicchi, Quick Step Cycling Team, at s.t.
16. Greg Van Avermaet, Bmc Racing Team, at s.t.
17. Michael Van Staeyen, Topsport Vlaanderen-Mercator, at s.t.
18. Russel Downing, Sky Procycling, at s.t.
19. Fréderique Robert, Quick Step Cycling Team, at s.t.
20. Gediminas Bagdonas, An Post-Sean Kelly, at s.t.
21. Bernhard Eisel, Htc – Highroad, at s.t.
22. Kevin Claeys, An Post-Sean Kelly, at s.t.
23. Nikolay Trusov, Katusha Team, at s.t.
24. Dominique Rollin, Fdj, at s.t.
25. John Murphy, Bmc Racing Team, at s.t.
26. Ian Stannard, Sky Procycling, at s.t.
27. Tomas Vaitkus, Pro Team Astana, at s.t.
28. Sam Bennett, An Post-Sean Kelly, at s.t.
29. Marko Kump, Geox – Tmc, at s.t.
30. Alexander Kristoff, Bmc Racing Team, at s.t.
31. Jérémy Hunt, Sky Procycling, at s.t.
32. Valentin Iglinskiy, Pro Team Astana, at s.t.
33. Andrew Fenn, An Post-Sean Kelly, at s.t.
34. Andreas Klier, Team Garmin – Cervelo, at s.t.
35. Tom Veelers, Skil-Shimano, at s.t.
36. Kris Boeckmans, Topsport Vlaanderen-Mercator, at s.t.
37. Andrea Guardini, Farnese Vini – Neri Sottoli, at s.t.
38. Yoann Offredo, Fdj, at s.t.
39. Stuart O'grady, Team Leopard-Trek, at s.t.
40. Kenny Robert Van Hummel, Skil-Shimano, at s.t.
41. Juan Antonio Flecha Giannoni, Sky Procycling, at s.t.
42. Stijn Neirynck, Topsport Vlaanderen-Mercator, at s.t.
43. Dmytro Krivtsov, Lampre – Isd, at s.t.
44. Davide Vigano, Team Leopard-Trek, at s.t.
45. Gatis Smukulis, Htc – Highroad, at s.t.
46. William Bonnet, Fdj, at s.t.
47. Johan Van Summeren, Team Garmin – Cervelo, at s.t.
48. Maxim De Busschere, An Post-Sean Kelly, at s.t.
49. Koen De Kort, Skil-Shimano, at s.t.
50. Gabriel Rasch, Team Garmin – Cervelo, at s.t.
51. Marcus Burghardt, Bmc Racing Team, at s.t.
52. Aliaksandr Kuchynski, Katusha Team, at s.t.
53. Tomas Alberio, Geox – Tmc, at s.t.
54. Daniel Lloyd, Team Garmin – Cervelo, at s.t.
55. Luca Paolini, Katusha Team, at s.t.
56. Xavier Florencio Cabre, Geox – Tmc, at s.t.
57. Geert Steurs, Topsport Vlaanderen-Mercator, at s.t.
58. David Gutierrez, Geox – Tmc, at s.t.
59. Stijn Vandenbergh, Katusha Team, at s.t.
60. Bradley Wiggins, Sky Procycling, at s.t.
61. Tanel Kangert, Pro Team Astana, at s.t.
62. Jelle Wallays, Topsport Vlaanderen-Mercator, at s.t.
63. Andriy Grivko, Pro Team Astana, at s.t.
64. Michael SchÄr, Bmc Racing Team, at s.t.
65. Maarten Wynants, Rabobank Cycling Team, at s.t.
66. Maxim Gourov, Pro Team Astana, at s.t.
67. Simon Clarke, Pro Team Astana, at s.t.
68. Maarten Tjallingii, Rabobank Cycling Team, at s.t.
69. Oscar Gatto, Farnese Vini – Neri Sottoli, at s.t.
70. Fabian Cancellara, Team Leopard-Trek, at s.t.
71. Alex Dowsett, Sky Procycling, at s.t.
72. Danilo Wyss, Bmc Racing Team, at s.t.
73. Francesco Failli, Farnese Vini – Neri Sottoli, at s.t.
74. Tom Stamsnijder, Team Leopard-Trek, at s.t.
75. Grega Bole, Lampre – Isd, at s.t.
76. Manuele Mori, Lampre – Isd, at s.t.
77. Davide Ricci Bitti, Farnese Vini – Neri Sottoli, at s.t.
78. Adriano Malori, Lampre – Isd, at s.t.
79. Mark Mcnally, An Post-Sean Kelly, at s.t.
80. Leif Hoste, Katusha Team, at s.t.
81. Simon Geschke, Skil-Shimano, at s.t.
82. Graeme Brown, Rabobank Cycling Team, at s.t.
83. Patrick Gretsch, Htc – Highroad, at s.t.
84. Anthony Geslin, Fdj, at s.t.
85. Frédéric Guesdon, Fdj, at s.t.
86. Nikolas Maes, Quick Step Cycling Team, at s.t.
87. Lars Bak, Htc – Highroad, at s.t.
88. Pieter Serry, Topsport Vlaanderen-Mercator, at s.t.
89. Karsten Kroon, Bmc Racing Team, at s.t.
90. Filippo Pozzato, Katusha Team, at s.t.
91. Marco Bandiera, Quick Step Cycling Team, at s.t.
92. Patrik Sinkewitz, Farnese Vini – Neri Sottoli, at s.t.
93. Dmitry Kozontchuk, Geox – Tmc, at s.t.
94. Kurt-asle Arvesen, Sky Procycling, at s.t.
95. Matthieu Ladagnous, Fdj, at s.t.
96. Travis Meyer, Team Garmin – Cervelo, at s.t.
97. Kévin Van Impe, Quick Step Cycling Team, at s.t.
98. Vitaliy Kondrut, Lampre – Isd, at 3:04:22
99. Gregory Joseph, Topsport Vlaanderen-Mercator, at 3:04:22
100. Marco Corti, Geox – Tmc, at 3:04:24
101. Leonardo Giordani, Farnese Vini – Neri Sottoli, at 3:04:24
102. Manuel Quinziato, Bmc Racing Team, at 3:04:37
103. Andreas Stauff, Quick Step Cycling Team, at 3:04:42
104. Joost Posthuma, Team Leopard-Trek, at 3:04:44
105. Diego Caccia, Farnese Vini – Neri Sottoli, at 3:04:57
106. Matteo Bono, Lampre – Isd, at 3:05:05
107. Lars-peter Nordhaug, Sky Procycling, at 3:05:05
108. Matt Brammeier, Htc – Highroad, at 3:05:07
109. Mark Cassidy, An Post-Sean Kelly, at 3:05:07
110. Rick Flens, Rabobank Cycling Team, at 3:05:07
111. Preben Van Hecke, Topsport Vlaanderen-Mercator, at 3:05:07
112. Sandy Casar, Fdj, at 3:05:07
113. Dominic Klemme, Team Leopard-Trek, at 3:05:10
114. Mikhail Ignatyev, Katusha Team, at 3:05:23
115. Lars Boom, Rabobank Cycling Team, at 3:05:42
116. Daniele Ratto, Geox – Tmc, at 3:05:45
117. Jack Bobridge, Team Garmin – Cervelo, at 3:05:45
118. Ronan Van Zandbeek, Skil-Shimano, at 3:05:46
119. Dennis Van Winden, Rabobank Cycling Team, at 3:05:46
120. Bram Tankink, Rabobank Cycling Team, at 3:05:46
121. Albert Timmer, Skil-Shimano, at 3:06:42
122. Jan Ghyselinck, Htc – Highroad, at 3:06:56
123. Niko Eeckhout, An Post-Sean Kelly, at 3:07:53
124. Giovanni Visconti, Farnese Vini – Neri Sottoli, at 3:07:56

2011 Tour of Qatar stage 2, Alex Dowsett

2011 Tour of Qatar stage 2, Heinrich Haussler

2011 Tour of Qatar stage 2, Heinrich Haussler and Eddy Merckx

2011 Tour of Qatar stage 2, Tom Boonen

2011 Tour of Qatar stage 2, Tom Boonen

2011 Tour of Qatar stage 2, Tom Boonen

2011 Tour of Qatar stage 2, Manuel Quinziato

2011 Tour of Qatar, stage 2, Russell Downing

2011 Tour of Qatar, stage 2, camel

2011 Tour of Qatar, stage 2, Heinrich Haussler

2011 Tour of Qatar, stage 2, Giovanni Visconti

GC after stage 2

1. Tom Boonen, Quick Step Cycling Team, in 6:06:35
2. Heinrich Haussler, Team Garmin – Cervelo, in 6:06:36
3. Mark Renshaw, Htc – Highroad, in 6:06:39
4. Fabian Cancellara, Team Leopard-Trek, in 6:06:43
5. Juan Antonio Flecha Giannoni, Sky Procycling, in 6:06:44
6. Daniele Bennati, Team Leopard-Trek, in 6:06:45
7. Andreas Klier, Team Garmin – Cervelo, in 6:06:51
8. Gert Steegmans, Quick Step Cycling Team, in 6:06:52
9. Jérémy Hunt, Sky Procycling, in 6:06:54
10. Dominique Rollin, Fdj, in 6:06:54
11. Gabriel Rasch, Team Garmin – Cervelo, in 6:06:55
12. Stuart O'grady, Team Leopard-Trek, in 6:06:55
13. Roger Hammond, Team Garmin – Cervelo, in 6:06:56
14. Marcus Burghardt, Bmc Racing Team, in 6:07:03
15. Bernhard Eisel, Htc – Highroad, in 6:07:15
16. Graeme Brown, Rabobank Cycling Team, in 6:07:21
17. Nikolas Maes, Quick Step Cycling Team, in 6:07:28
18. Johan Van Summeren, Team Garmin – Cervelo, in 6:07:33
19. Maarten Wynants, Rabobank Cycling Team, in 6:11:48
20. Roger Kluge, Skil-Shimano, in 6:11:49
21. Tom Stamsnijder, Team Leopard-Trek, in 6:11:50
22. Maarten Tjallingii, Rabobank Cycling Team, in 6:11:52
23. Bradley Wiggins, Sky Procycling, in 6:11:53
24. Patrick Gretsch, Htc – Highroad, in 6:11:54
25. Stijn Vandenbergh, Katusha Team, in 6:11:55
26. Ian Stannard, Sky Procycling, in 6:11:55
27. Danilo Hondo, Lampre – Isd, in 6:11:56
28. Nikolay Trusov, Katusha Team, in 6:11:57
29. Stijn Neirynck, Topsport Vlaanderen-Mercator, in 6:11:57
30. Simon Clarke, Pro Team Astana, in 6:11:57
31. Davide Vigano, Team Leopard-Trek, in 6:11:58
32. Denis Galimzyanov, Katusha Team, in 6:11:58
33. Mirco Lorenzetto, Pro Team Astana, in 6:11:58
34. Filippo Pozzato, Katusha Team, in 6:12:00
35. Yoann Offredo, Fdj, in 6:12:00
36. Lars Bak, Htc – Highroad, in 6:12:02
37. Koen De Kort, Skil-Shimano, in 6:12:02
38. Luca Paolini, Katusha Team, in 6:12:04
39. Andreas Stauff, Quick Step Cycling Team, in 6:12:35
40. Rick Flens, Rabobank Cycling Team, in 6:13:02
41. Lars Boom, Rabobank Cycling Team, in 6:13:17
42. Tom Veelers, Skil-Shimano, in 6:19:14
43. Alex Dowsett, Sky Procycling, in 6:19:15
44. Tomas Vaitkus, Pro Team Astana, in 6:19:17
45. Grega Bole, Lampre – Isd, in 6:19:21
46. Russel Downing, Sky Procycling, in 6:19:21
47. John Murphy, Bmc Racing Team, in 6:19:22
48. Théo Bos, Rabobank Cycling Team, in 6:19:22
49. Daniel Lloyd, Team Garmin – Cervelo, in 6:19:22
50. William Bonnet, Fdj, in 6:19:23
51. Simon Geschke, Skil-Shimano, in 6:19:23
52. Matthieu Ladagnous, Fdj, in 6:19:24
53. Greg Van Avermaet, Bmc Racing Team, in 6:19:24
54. Patrik Sinkewitz, Farnese Vini – Neri Sottoli, in 6:19:24
55. Leif Hoste, Katusha Team, in 6:19:25
56. Gatis Smukulis, Htc – Highroad, in 6:19:25
57. Andrew Fenn, An Post-Sean Kelly, in 6:19:25
58. Kurt-asle Arvesen, Sky Procycling, in 6:19:25
59. Oscar Gatto, Farnese Vini – Neri Sottoli, in 6:19:25
60. Maxim De Busschere, An Post-Sean Kelly, in 6:19:25
61. Wouter Weylandt, Team Leopard-Trek, in 6:19:26
62. Manuele Mori, Lampre – Isd, in 6:19:26
63. Travis Meyer, Team Garmin – Cervelo, in 6:19:26
64. Davide Ricci Bitti, Farnese Vini – Neri Sottoli, in 6:19:26
65. Michael Van Staeyen, Topsport Vlaanderen-Mercator, in 6:19:27
66. Andriy Grivko, Pro Team Astana, in 6:19:28
67. Michael SchÄr, Bmc Racing Team, in 6:19:28
68. Francesco Failli, Farnese Vini – Neri Sottoli, in 6:19:28
69. Alexander Kristoff, Bmc Racing Team, in 6:19:29
70. Maxim Gourov, Pro Team Astana, in 6:19:30
71. Kenny Robert Van Hummel, Skil-Shimano, in 6:19:30
72. Mark Mcnally, An Post-Sean Kelly, in 6:19:30
73. Karsten Kroon, Bmc Racing Team, in 6:19:30
74. Marko Kump, Geox – Tmc, in 6:19:30
75. Danilo Wyss, Bmc Racing Team, in 6:19:31
76. Xavier Florencio Cabre, Geox – Tmc, in 6:19:31
77. Fréderique Robert, Quick Step Cycling Team, in 6:19:31
78. Francesco Chicchi, Quick Step Cycling Team, in 6:19:32
79. Marco Bandiera, Quick Step Cycling Team, in 6:19:32
80. Andrea Guardini, Farnese Vini – Neri Sottoli, in 6:19:32
81. Frédéric Guesdon, Fdj, in 6:19:32
82. Aliaksandr Kuchynski, Katusha Team, in 6:19:33
83. Dmytro Krivtsov, Lampre – Isd, in 6:19:34
84. Matteo Pelucchi, Geox – Tmc, in 6:19:36
85. Leonardo Giordani, Farnese Vini – Neri Sottoli, in 6:19:59
86. Matt Brammeier, Htc – Highroad, in 6:20:22
87. Mark Cavendish, Htc – Highroad, in 6:20:22
88. Diego Caccia, Farnese Vini – Neri Sottoli, in 6:20:28
89. Lars-peter Nordhaug, Sky Procycling, in 6:20:28
90. Dominic Klemme, Team Leopard-Trek, in 6:20:38
91. Jack Bobridge, Team Garmin – Cervelo, in 6:21:01
92. Dennis Van Winden, Rabobank Cycling Team, in 6:21:06
93. Bram Tankink, Rabobank Cycling Team, in 6:21:08
94. Tanel Kangert, Pro Team Astana, in 6:21:39
95. Gediminas Bagdonas, An Post-Sean Kelly, in 6:21:40
96. Valentin Iglinskiy, Pro Team Astana, in 6:21:57
97. Albert Timmer, Skil-Shimano, in 6:22:02
98. Manuel Quinziato, Bmc Racing Team, in 6:22:08
99. Matteo Bono, Lampre – Isd, in 6:22:58
100. Mikhail Ignatyev, Katusha Team, in 6:23:14
101. Giovanni Visconti, Farnese Vini – Neri Sottoli, in 6:23:16
102. Niko Eeckhout, An Post-Sean Kelly, in 6:23:18
103. Jelle Wallays, Topsport Vlaanderen-Mercator, in 6:24:26
104. Anthony Geslin, Fdj, in 6:24:28
105. Pieter Serry, Topsport Vlaanderen-Mercator, in 6:24:29
106. Jan Ghyselinck, Htc – Highroad, in 6:24:30
107. Tomas Alberio, Geox – Tmc, in 6:24:30
108. Sam Bennett, An Post-Sean Kelly, in 6:24:31
109. Kévin Van Impe, Quick Step Cycling Team, in 6:24:31
110. Kevin Claeys, An Post-Sean Kelly, in 6:24:32
111. Kris Boeckmans, Topsport Vlaanderen-Mercator, in 6:24:32
112. Adriano Malori, Lampre – Isd, in 6:24:36
113. Geert Steurs, Topsport Vlaanderen-Mercator, in 6:24:38
114. Dmitry Kozontchuk, Geox – Tmc, in 6:24:45
115. David Gutierrez, Geox – Tmc, in 6:24:49
116. Gregory Joseph, Topsport Vlaanderen-Mercator, in 6:24:50
117. Vitaliy Kondrut, Lampre – Isd, in 6:24:57
118. Joost Posthuma, Team Leopard-Trek, in 6:25:06
119. Marco Corti, Geox – Tmc, in 6:25:14
120. Sandy Casar, Fdj, in 6:25:37
121. Mark Cassidy, An Post-Sean Kelly, in 6:25:39
122. Preben Van Hecke, Topsport Vlaanderen-Mercator, in 6:25:43
123. Ronan Van Zandbeek, Skil-Shimano, in 6:26:16
124. Daniele Ratto, Geox – Tmc, in 6:26:17