Haussler wins another at Tour of Qatar, takes lead
Garmin-Cervélo's Heinrich Haussler won the third stage of the Tour of Qatar Wednesday to take the race leader's jersey from three-time winner Tom Boonen (Quick Step).
Heading out the door? Read this article on the new Outside+ app available now on iOS devices for members! Download the app.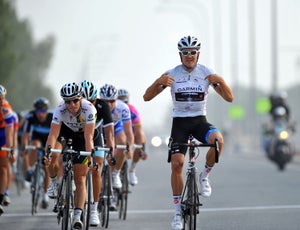 An untimely puncture cost Tom Boonen much more than the one-second lead he had over Heinrich Haussler before starting Wednesday's stage 3 of the Tour of Qatar.
In brutal winds that came from every direction on a circuit completed two and a half times, Boonen was unable to reconnect with the lead echelon after the flat.
He wound up losing more than three minutes to Haussler, who won both the stage and the overall lead.
It was the second consecutive stage win for Haussler. The Australian's results — he was also second to Boonen in stage 1 — signaled that he is back to form after a difficult 2010 and on track to challenge Boonen and others in the spring classics.
He's also happy with his half-new squad.
"We had a meeting this morning and we knew exactly what we wanted to do, which was to win the stage and the jersey, and we did it perfect," he told VeloNews.
Tough stage
On the map, stage 3 looked like any circuit race held in the U.S. Southwest: two and a half laps run clockwise around a big right triangle south of Doha, for a total of 151km. In reality, the race was buffeted by stiff winds and rattled by several road sections littered with big potholes. Some teams would have been better off had they used their Paris-Roubaix tires and wheels.
The race began with a neutral start from a causeway shared with fishing boats. The peloton picked up a tail wind once past Kilometer 0, and the attacks began immediately.
The first group to really get a gap came together on the headwind leg at about km36. Six riders got away and quickly built an enormous lead, hitting 12 minutes for a time. The best-placed rider in the group was TVM's Stijn Neirynck, at 5:22.
Meanwhile. the chase pack had exploded in the crosswinds, with Fabian Cancellara (Leopard Trek), Mark Cavendish (HTC-HighRoad) and Theo Bos (Rabobank) among those caught out. Haussler and Boonen remained with the lead chase group, however.
Cavendish managed to reconnect with the yellow jersey group with about 50km to go, just after the breakaway was reeled in. Cancellara, however, was not able to reconnect and the world time trial champion finished an astounding 27 minutes behind the winner, falling from fourth to 102nd on the GC.
Soon after the break was caught, a group of ten took off, whose best placed rider was FdJ's Canadian Dom Rollin. That effort built a 50-second lead but came back under pressure from Garmin and Rabobank.
Soon after entering the final crosswind section, Boonen flatted, as did Leopard Trek's Stuart O'Grady and Tom Stamsnijder.
Boonen chased hard to join the second chase group, but that group was unable to make up ground on the leaders.
"I tried to get back with the second group. Everybody was doing his best, but the guys are in the second group for a reason; it's not called the second group because they are really good," Boonen said.
In fact the second group steadily lost ground, with the gap hovering at about 45 seconds for a long while, and then ballooning to over three minutes in the final 10k.
Up front, Haussler had three teammates in the 26-man front group, which contained dangerous sprinters including Cavendish and his on-form teammate Mark Renshaw, Leopard Trek's Daniele Bennati, Rabobank's Lars Boom, Rollin and Sky's Juan Antonio Flecha and Jeremy Hunt.
Cavendish, however, lost contact in the final 10k and then Astana's Simon Clarke took a solo flyer with about 2k to go. Clarke dangled off the front into the final kilometer and was the first by about two bike lengths when the leaders came through a roundabout with 300 meters to go.
Haussler's team, as in stage 2, brought their speedman to the front in the final kilometer, and he came through the final corner in seventh, behind HTC's Bernhard Eisel and Rollin. Renshaw was first to kick out, blowing past Clarke. But Haussler again showed he's the fastest at the end, beating Renshaw and Bennati to the line with plenty of time to celebrate.
Stage 3

1. Heinrich Haussler, Team Garmin-Cervelo, 3h 28′ 04
2. Mark Renshaw, HTC-Highroad, at 00:00
3. Daniele Bennati, Team Leopard-Trek, at 00:00
4. Dominique Rollin, Fdj, s.t.
5. Lars Boom, Rabobank Cycling Team, s.t.
6. Danilo Hondo, Lampre-ISD, s.t.
7. Roger Hammond, Team Garmin-Cervelo, s.t.
8. Juan Antonio Flecha Giannoni, Sky Procycling, s.t.
9. Gert Steegmans, Quick Step Cycling Team, s.t.
10. Denis Galimzyanov, Katusha Team, s.t.
11. Mirco Lorenzetto, Pro Team Astana, s.t.
12. Jérémy Hunt, Sky Procycling, s.t.
13. Yoann Offredo, Fdj, s.t.
14. Maarten Wynants, Rabobank Cycling Team, s.t.
15. Roger Kluge, Skil-Shimano, at 00:05
16. Marcus Burghardt, BMC Racing Team, at 00:05
17. Bernhard Eisel, HTC-Highroad, at 00:07
18. Gabriel Rasch, Team Garmin-Cervelo, at 00:08
19. Davide Vigano, Team Leopard-Trek, at 00:19
20. Simon Clarke, Pro Team Astana, at 00:19
21. Johan Van Summeren, Team Garmin-Cervelo, at 00:22
22. Wouter Weylandt, Team Leopard-Trek, at 00:22
23. Nikolas Maes, Quick Step Cycling Team, at 00:28
24. Maarten Tjallingii, Rabobank Cycling Team, at 00:44
25. Mark Cavendish, HTC-Highroad, at 01:33
26. Luca Paolini, Katusha Team, at 01:33
27. Ian Stannard, Sky Procycling, at 02:07
28. Gediminas Bagdonas, An Post-Sean Kelly, at 03:02
29. Stijn Vandenbergh, Katusha Team, at 03:02
30. Matthieu Ladagnous, Fdj, at 03:02
31. Maxim Gourov, Pro Team Astana, at 03:02
32. Tom Stamsnijder, Team Leopard-Trek, at 03:02
33. Tanel Kangert, Pro Team Astana, at 03:02
34. Tom Veelers, Skil-Shimano, at 03:02
35. Ronan Van Zandbeek, Skil-Shimano, at 03:02
36. Alexander Kristoff, BMC Racing Team, at 03:02
37. Graeme Brown, Rabobank Cycling Team, at 03:02
38. Théo Bos, Rabobank Cycling Team, at 03:02
39. Oscar Gatto, Farnese Vini-Neri Sottoli, at 03:02
40. Filippo Pozzato, Katusha Team, at 03:02
41. Francesco Chicchi, Quick Step Cycling Team, at 03:02
42. Dennis Van Winden, Rabobank Cycling Team, at 03:02
43. Rick Flens, Rabobank Cycling Team, at 03:02
44. Stuart O'grady, Team Leopard-Trek, at 03:02
45. Stijn Neirynck, Topsport Vlaanderen-Mercator, at 03:02
46. Tom Boonen, Quick Step Cycling Team, at 03:02
47. Leif Hoste, Katusha Team, at 03:02
48. Fréderique Robert, Quick Step Cycling Team, at 03:02
49. Bradley Wiggins, Sky Procycling, at 03:02
50. William Bonnet, Fdj, at 03:02
51. Russel Downing, Sky Procycling, at 03:02
52. Bram Tankink, Rabobank Cycling Team, at 04:34
53. Andrew Fenn, An Post-Sean Kelly, at 14:41
54. Pieter Serry, Topsport Vlaanderen-Mercator, at 32:50
55. Kevin Claeys, An Post-Sean Kelly, at 32:50
56. Alex Dowsett, Sky Procycling, at 32:50
57. Maxim De Busschere, An Post-Sean Kelly, at 32:50
58. Kurt-asle Arvesen, Sky Procycling, at 32:50
59. Lars Bak, HTC-Highroad, at 32:50
60. Diego Caccia, Farnese Vini-Neri Sottoli, at 32:50
61. Kenny Robert Van Hummel, Skil-Shimano, at 32:50
62. Vitaliy Kondrut, Lampre-ISD, at 32:50
63. Aliaksandr Kuchynski, Katusha Team, at 32:50
64. Davide Ricci Bitti, Farnese Vini-Neri Sottoli, at 32:50
65. Matteo Bono, Lampre-ISD, at 32:50
66. Michael Van Staeyen, Topsport Vlaanderen-Mercator, at 32:50
67. Giovanni Visconti, Farnese Vini-Neri Sottoli, at 32:50
68. Valentin Iglinskiy, Pro Team Astana, at 32:50
69. Mark Cassidy, An Post-Sean Kelly, at 32:50
70. Patrick Gretsch, HTC-Highroad, at 32:50
71. Anthony Geslin, Fdj, at 32:50
72. Grega Bole, Lampre-ISD, at 32:50
73. Sandy Casar, Fdj, at 32:50
74. Dmytro Krivtsov, Lampre-ISD, at 32:50
75. Jan Ghyselinck, HTC-Highroad, at 32:50
76. Jelle Wallays, Topsport Vlaanderen-Mercator, at 32:50
77. Mark Mcnally, An Post-Sean Kelly, at 32:50
78. Marko Kump, Geox-Tmc, at 32:50
79. Gatis Smukulis, HTC-Highroad, at 32:50
80. David Gutierrez, Geox-Tmc, at 32:50
81. Preben Van Hecke, Topsport Vlaanderen-Mercator, at 32:50
82. Frédéric Guesdon, Fdj, at 32:50
83. Matt Brammeier, HTC-Highroad, at 32:50
84. Matteo Pelucchi, Geox-Tmc, at 32:50
85. Xavier Florencio Cabre, Geox-Tmc, at 32:50
86. Andrea Guardini, Farnese Vini-Neri Sottoli, at 32:50
87. Marco Corti, Geox-Tmc, at 32:50
88. Simon Geschke, Skil-Shimano, at 32:50
89. Manuel Quinziato, BMC Racing Team, at 32:50
90. Tomas Alberio, Geox-Tmc, at 32:50
91. Patrik Sinkewitz, Farnese Vini-Neri Sottoli, at 32:50
92. Manuele Mori, Lampre-ISD, at 32:50
93. Adriano Malori, Lampre-ISD, at 32:50
94. Daniele Ratto, Geox-Tmc, at 32:50
95. Leonardo Giordani, Farnese Vini-Neri Sottoli, at 32:50
96. Danilo Wyss, BMC Racing Team, at 32:50
97. John Murphy, BMC Racing Team, at 32:50
98. Michael SchÄr, BMC Racing Team, at 32:50
99. Nikolay Trusov, Katusha Team, at 32:50
100. Tomas Vaitkus, Pro Team Astana, at 32:50
101. Mikhail Ignatyev, Katusha Team, at 32:50
102. Fabian Cancellara, Team Leopard-Trek, at 32:50
103. Joost Posthuma, Team Leopard-Trek, at 32:50
104. Sam Bennett, An Post-Sean Kelly, at 32:50
105. Dmitry Kozontchuk, Geox-Tmc, at 32:50
106. Geert Steurs, Topsport Vlaanderen-Mercator, at 32:50
107. Greg Van Avermaet, BMC Racing Team, at 32:50
108. Andriy Grivko, Pro Team Astana, at 32:50
109. Koen De Kort, Skil-Shimano, at 32:50
110. Lars-peter Nordhaug, Sky Procycling, at 32:50
111. Karsten Kroon, BMC Racing Team, at 32:50
112. Travis Meyer, Team Garmin-Cervelo, at 32:50
113. Andreas Stauff, Quick Step Cycling Team, at 32:50
114. Dominic Klemme, Team Leopard-Trek, at 32:50
115. Niko Eeckhout, An Post-Sean Kelly, at 32:50
116. Daniel Lloyd, Team Garmin-Cervelo, at 32:50
117. Andreas Klier, Team Garmin-Cervelo, at 32:50
118. Kévin Van Impe, Quick Step Cycling Team, at 32:50

2011 Tour of Qatar, Stage 3: Wouter Wylandt and Juan Antonio Flecha drive the break.

2011 Tour of Qatar, Stage 3: The wind causes a big split in the field.

2011 Tour of Qatar, Stage 3: Bradley Wiggins and Danilo Hondo work out those early season kinks.

2011 Tour of Qatar, Stage 3: David Vigano leads a late split in the field.

2011 Tour of Qatar, Stage 3: Desert run.

2011 Tour of Qatar, Stage 3: Haussler stayed aggressive throughout the stage.

2011 Tour of Qatar, Stage 3: Hammond and Haussler keep the pressure on.

2011 Tour of Qatar, Stage 3: Downing and Fenn lead the break.

2011 Tour of Qatar, Stage 3: Cavendish is forced to chase after being guttered with six k to go.

2011 Tour of Qatar, Stage 3: Cancellara sets tempo in the chase.

2011 Tour of Qatar, Stage 3: Boonen was protecting his lead until that ill-timed flat.

2011 Tour of Qatar, Stage 3: Boonen tries to chase back.

2011 Tour of Qatar, Stage 3: Ian Stannard leads an escape on stage three of the 2011 Tour of Qatar

2011 Tour of Qatar, Stage 3: Ian Stannard leads an escape on stage three of the 2011 Tour of Qatar

2011 Tour of Qatar, Stage 3: Heinrich Haussler wins another stage.

2011 Tour of Qatar, Stage 3: Haussler takes over the yellow jersey.

2011 Tour of Qatar, Stage 3: Bennati leads.

Overall Standings.

1. Heinrich Haussler, Team Garmin-Cervelo, in 9:34:30
2. Mark Renshaw, HTC-Highroad, at 00:04
3. Daniele Bennati, Team Leopard-Trek, at 00:15
4. Juan Antonio Flecha Giannoni, Sky Procycling, at 00:18
5. Jérémy Hunt, Sky Procycling, at 00:28
6. Dominique Rollin, Fdj, at 00:28
7. Roger Hammond, Team Garmin-Cervelo, at 00:30
8. Gabriel Rasch, Team Garmin-Cervelo, at 00:37
9. Marcus Burghardt, BMC Racing Team, at 00:42
10. Gert Steegmans, Quick Step Cycling Team, at 00:46
11. Bernhard Eisel, HTC-Highroad, at 00:54
12. Johan Van Summeren, Team Garmin-Cervelo, at 01:29
13. Nikolas Maes, Quick Step Cycling Team, at 01:30
14. Tom Boonen, Quick Step Cycling Team, at 03:11
15. Stuart O'grady, Team Leopard-Trek, at 03:31
16. Graeme Brown, Rabobank Cycling Team, at 04:17
17. Maarten Wynants, Rabobank Cycling Team, at 05:22
18. Roger Kluge, Skil-Shimano, at 05:28
19. Danilo Hondo, Lampre-ISD, at 05:29
20. Denis Galimzyanov, Katusha Team, at 05:32
21. Mirco Lorenzetto, Pro Team Astana, at 05:32
22. Yoann Offredo, Fdj, at 05:34
23. Simon Clarke, Pro Team Astana, at 05:50
24. Davide Vigano, Team Leopard-Trek, at 05:51
25. Maarten Tjallingii, Rabobank Cycling Team, at 06:10
26. Lars Boom, Rabobank Cycling Team, at 06:51
27. Luca Paolini, Katusha Team, at 07:11
28. Ian Stannard, Sky Procycling, at 07:36
29. Tom Stamsnijder, Team Leopard-Trek, at 08:26
30. Bradley Wiggins, Sky Procycling, at 08:29
31. Stijn Vandenbergh, Katusha Team, at 08:31
32. Stijn Neirynck, Topsport Vlaanderen-Mercator, at 08:33
33. Filippo Pozzato, Katusha Team, at 08:36
34. Rick Flens, Rabobank Cycling Team, at 09:38
35. Wouter Weylandt, Team Leopard-Trek, at 13:22
36. Mark Cavendish, HTC-Highroad, at 15:29
37. Tom Veelers, Skil-Shimano, at 15:50
38. Russel Downing, Sky Procycling, at 15:54
39. Théo Bos, Rabobank Cycling Team, at 15:58
40. William Bonnet, Fdj, at 15:59
41. Matthieu Ladagnous, Fdj, at 16:00
42. Leif Hoste, Katusha Team, at 16:01
43. Oscar Gatto, Farnese Vini-Neri Sottoli, at 16:01
44. Alexander Kristoff, BMC Racing Team, at 16:03
45. Maxim Gourov, Pro Team Astana, at 16:06
46. Fréderique Robert, Quick Step Cycling Team, at 16:07
47. Francesco Chicchi, Quick Step Cycling Team, at 16:08
48. Dennis Van Winden, Rabobank Cycling Team, at 17:42
49. Tanel Kangert, Pro Team Astana, at 18:15
50. Gediminas Bagdonas, An Post-Sean Kelly, at 18:16
51. Bram Tankink, Rabobank Cycling Team, at 19:16
52. Ronan Van Zandbeek, Skil-Shimano, at 22:51
53. Andrew Fenn, An Post-Sean Kelly, at 27:40
54. Fabian Cancellara, Team Leopard-Trek, at 33:07
55. Andreas Klier, Team Garmin-Cervelo, at 33:15
56. Patrick Gretsch, HTC-Highroad, at 38:18
57. Nikolay Trusov, Katusha Team, at 38:21
58. Lars Bak, HTC-Highroad, at 38:26
59. Koen De Kort, Skil-Shimano, at 38:26
60. Andreas Stauff, Quick Step Cycling Team, at 38:59
61. Alex Dowsett, Sky Procycling, at 45:39
62. Tomas Vaitkus, Pro Team Astana, at 45:41
63. Grega Bole, Lampre-ISD, at 45:45
64. John Murphy, BMC Racing Team, at 45:46
65. Daniel Lloyd, Team Garmin-Cervelo, at 45:46
66. Simon Geschke, Skil-Shimano, at 45:47
67. Greg Van Avermaet, BMC Racing Team, at 45:48
68. Patrik Sinkewitz, Farnese Vini-Neri Sottoli, at 45:48
69. Gatis Smukulis, HTC-Highroad, at 45:49
70. Kurt-asle Arvesen, Sky Procycling, at 45:49
71. Maxim De Busschere, An Post-Sean Kelly, at 45:49
72. Manuele Mori, Lampre-ISD, at 45:50
73. Travis Meyer, Team Garmin-Cervelo, at 45:50
74. Davide Ricci Bitti, Farnese Vini-Neri Sottoli, at 45:50
75. Michael Van Staeyen, Topsport Vlaanderen-Mercator, at 45:51
76. Michael SchÄr, BMC Racing Team, at 45:52
77. Andriy Grivko, Pro Team Astana, at 45:52
78. Kenny Robert Van Hummel, Skil-Shimano, at 45:54
79. Mark Mcnally, An Post-Sean Kelly, at 45:54
80. Karsten Kroon, BMC Racing Team, at 45:54
81. Marko Kump, Geox-Tmc, at 45:54
82. Danilo Wyss, BMC Racing Team, at 45:55
83. Xavier Florencio Cabre, Geox-Tmc, at 45:55
84. Andrea Guardini, Farnese Vini-Neri Sottoli, at 45:56
85. Frédéric Guesdon, Fdj, at 45:56
86. Aliaksandr Kuchynski, Katusha Team, at 45:57
87. Dmytro Krivtsov, Lampre-ISD, at 45:58
88. Matteo Pelucchi, Geox-Tmc, at 46:00
89. Leonardo Giordani, Farnese Vini-Neri Sottoli, at 46:23
90. Matt Brammeier, HTC-Highroad, at 46:46
91. Diego Caccia, Farnese Vini-Neri Sottoli, at 46:52
92. Lars-peter Nordhaug, Sky Procycling, at 46:52
93. Dominic Klemme, Team Leopard-Trek, at 47:02
94. Valentin Iglinskiy, Pro Team Astana, at 48:21
95. Manuel Quinziato, BMC Racing Team, at 48:32
96. Matteo Bono, Lampre-ISD, at 49:22
97. Mikhail Ignatyev, Katusha Team, at 49:38
98. Giovanni Visconti, Farnese Vini-Neri Sottoli, at 49:40
99. Niko Eeckhout, An Post-Sean Kelly, at 49:42
100. Jelle Wallays, Topsport Vlaanderen-Mercator, at 50:50
101. Anthony Geslin, Fdj, at 50:52
102. Pieter Serry, Topsport Vlaanderen-Mercator, at 50:53
103. Jan Ghyselinck, HTC-Highroad, at 50:54
104. Tomas Alberio, Geox-Tmc, at 50:54
105. Sam Bennett, An Post-Sean Kelly, at 50:55
106. Kévin Van Impe, Quick Step Cycling Team, at 50:55
107. Kevin Claeys, An Post-Sean Kelly, at 50:56
108. Adriano Malori, Lampre-ISD, at 51:00
109. Geert Steurs, Topsport Vlaanderen-Mercator, at 51:02
110. Dmitry Kozontchuk, Geox-Tmc, at 51:09
111. David Gutierrez, Geox-Tmc, at 51:13
112. Vitaliy Kondrut, Lampre-ISD, at 51:21
113. Joost Posthuma, Team Leopard-Trek, at 51:30
114. Marco Corti, Geox-Tmc, at 51:38
115. Sandy Casar, Fdj, at 52:01
116. Mark Cassidy, An Post-Sean Kelly, at 52:03
117. Preben Van Hecke, Topsport Vlaanderen-Mercator, at 52:07
118. Daniele Ratto, Geox-Tmc, at 52:41