Here's Jonny: Stepping up a gear with Jonathan Cantwell
Cantwell at the U.S. pro criterium championships With a staggering 47 wins in two seasons to his credit, Australian sprinter Jonathan Cantwell is one of the "winningst" pro road racers around. Most of these victories were earned on U.S. roads, in NRC and other major races. But…
Heading out the door? Read this article on the new Outside+ app available now on iOS devices for members! Download the app.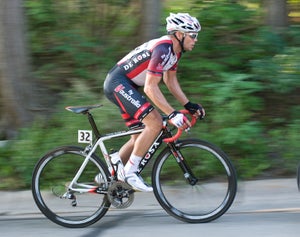 With a staggering 47 wins in two seasons to his credit, Australian sprinter Jonathan Cantwell is one of the "winningst" pro road racers around.
Most of these victories were earned on U.S. roads, in NRC and other major races. But Cantwell's racing teeth were cut in the heart of Italy's under-23 ranks, and this season his circle of development sees him head back to Europe in a different gear, and ready to sprint for the big time.
Now 28 and riding for the Fly V Australia-Pegasus Racing Pro Continental squad, Cantwell seems to have well and truly found his racing spurs, and has risen progressively towards the top in recent years. Back in 2000-2003 he was a member of the young AIS U23 program, which spends its seasons racing in Italy, which is renown as the toughest and fastest university of bike racing in the world.
The AIS system has produced most of today's current crop of top Aussie pros, and Jonny (as he's known) looked set to be another in this long line of cycling success stories, but it didn't quite pan out that way, as he tells VeloNews.
"I got a place on the Italian U23 amateur Permac/Brisot team. I spent 2004-5 there, and was getting decent results, but not quite enough to cut it and get a pro contract. They wanted me to stay with them, but it just wasn't "coming about" for me. I wasn't comfortable or happy with the way things were and so went back to Australia."
This transitional time in akin to setting a fledgling orphaned bear cub into the wilds on his own, and tends to kill off as many careers as it makes, and from the outside it looked set to be the same for Cantwell.
"I decided to stay in Australia, just racing for myself in domestic races. I got married, and started to really think about what I wanted, and it made me hungry and focussed to race again — but not back in Europe."
The following season (2007) was a make or break chance for him, and he headed the opposite away across the ocean, and based himself in the U.S.
"Even when I was in Europe I knew that U.S.-style racing and the culture suited me well. I'm kind of a crit or kermesse specialist, and so decided to do it all by myself, and put a lot of pressure on myself to make it work. The great thing about the U.S. is that you can pretty well just go and base yourself somewhere and do things off your own back, without a team. In Europe you can't really do that. Plus my wife could come too, and there was no language barrier to contend with, so I took the chance."
A string of good performances earned him a ride with Jittery Joe's, but the team was soon to lose its sponsorship; "Thankfully, Fly V put faith in me, and in 2009 we went all out to win whatever we could."
The long-term aim of the Fly V-Pegasus team has always been to step up, via the U.S., to the ProTour, and this year the team, and Cantwell in particular, had an amazing run of success in the U.S.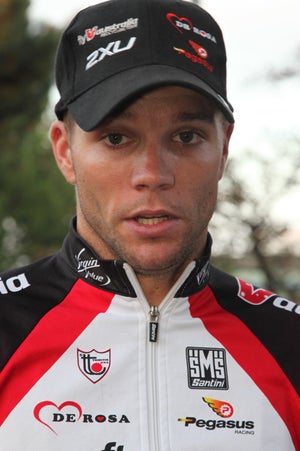 "I changed my approach this year; I decided to focus on the NRC, and nothing much else — and it really paid off. Winning Elk Grove was the real highlight for me. I managed to win the crit, the road race, and had a decent time trial too — which is not something I'm known for! It's not often that I get the chance to ride away with a yellow jersey."
His run of success was a great inspiration to the team, as team owner Chris White assesses: "Some riders really flourished on the team, especially under the guidance of Henk (Vogels). Jonny was one of them. In (the Tour of) California he was up there with the best sprinters in the world; I think he can learn and perform very well and very fast in Europe."
Unfortunately Pegasus was one of several major teams to fall short in the 2011 ProTeam (formerly ProTour) selection process; but its long-term goal remains the same, and in 2011 the team will be primarily based in Europe as a Pro Continental squad. It's not a bad leg up for the Aussies.
"We fell just short on points, and so the real goal will be to earn enough points next year to make the step up. It's a good stepping stone for the team — and for me personally," reflected Cantwell.
With a whole bunch of high-profile new signings to complement the team's 2010 roster graduates, there's high hopes for the Pegasus boys, not least their other two prized and highly accomplished sprinters: Robbie McEwen and Robbie Hunter. But with such big guns ready to fire in the sprints where does that leave Jonny?
"It will come down to the day, the race and how we're feeling as to who is the rider for the sprint; but I have absolutely no problem leading these guys out. It should be a great learning experience for me. Obviously at 10 years older than me, Robbie (McEwen) has so much experience, and it's his last year so he will really be out to make his mark."
Right now the team is just rounding off its first get together-training camp in Noosa Springs, Queensland, Australia.
"It's been a hectic week of training, team building, trying new equipment … We've been doing stuff like beach relay surf rescue; it really helps with team building, and my early season is pretty much in place."
The team will start its international campaign in the Middle East, and the hopefully the Tour Down Under.
"The Tour of Qatar and Tour of Oman will be my first international races — and then hopefully the Tour Down Under. Robbie (McEwen) is negotiating with the organisers (of TDU), and we hope to know in a week or so if we'll be riding — obviously it's very important for me and the team."
Meantime a Fly V development squad will pick up where the 2011 team left off, splitting its season between Australia and the U.S. NRC.
As the frost begins to thaw in northern Europe, the team will head north, guided by the likes of Vogels, Henrik Redant and captained by Robbie McEwen, all veterans of the harsh Flandrian racing scene. With Hunter out for a while with a broken ankle, the early season could yield more opportunities than anticipated for Cantwell.
"I'm hoping for some good rides in classics like Kuurne-Brussels-Kuurne and shorter stage races, like the 4 Days of Dunkirk; they should really suit me. I hope to learn a lot from Robbie too — especially how to ride the cobbles and position myself well."
A late-spring hiatus will see more life changes for the young sprinter. "I'll return to Australia for a while, as my wife is due to have a baby. After that it's the Tour of California, Philly, and then back to Europe."
With such marked progression it will be interesting to see if the next rung on the ladder will provide another high for Cantwell; it certainly looks promising.