Inside Cycling with John Wilcockson: Armstrong's 25-year journey is over
Finally, more than 25 years after he first put a leg over a bike in a racing environment, Lance Armstrong says his competitive cycling days are over.
Heading out the door? Read this article on the new Outside+ app available now on iOS devices for members! Download the app.
Finally, more than 25 years after he first put a leg over a bike in a racing environment, Lance Armstrong says his competitive cycling days are over. The Texan, 39, won't do another Tour of California or ride the first edition of the Quiznos Pro Challenge, the Colorado race he helped get off the ground. And, logically, his retirement notice probably means he won't return to triathlon, the swim-bike-run sport where his athletic career began with an Ironkids qualifying race in Dallas when he was 13 years old.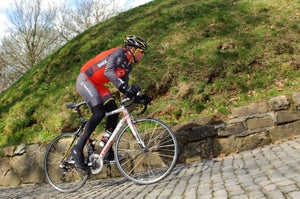 Armstrong still remembers the bike he raced on that day, a middle-range, French-built Mercier 10-speed with "toe clips, thin plastic handlebar tape, Campy [gears], big looping brake cables and down-tube shifters." He won the race, but officials screwed up the timing and so he had to enter another qualifier, in Houston, in which he finished first officially.
Typically, what he remembers most about that 1985 Ironkids competition, he told me during a series of interviews for my 2009 book about his life, is that he was only the runner-up at the national finals in Orlando, Florida. "I was pretty bummed out to get beat," he said.
Within a year of that athletic debut Armstrong had stepped up to real triathlons, turning pro at age 15 when he was already 5-foot-10 and 150 pounds. He did remarkably well, holding his own with the sport's top names like Dave Scott and Mark Allen, but a training trip to California in the summer of 1988 made him see that his future didn't lie in triathlon.
Armstrong wanted to go to the Olympics, but triathlon wouldn't be his ticket (it didn't become an Olympic sport until 2000), so he set his sights on the Barcelona Games of 1992 — in cycling, even though he had yet to enter a bike race. That finally happened in a Tuesday night crit shortly before his 17th birthday.
He'd been issued a Cat. 4 junior license, but the commissaires allowed him to start the seniors race — but told him he'd be sanctioned if he won. Lance being Lance, he broke clear with local Cat. 1 Kevin Cameron, lapped the field, and won! His meteoric ride through the cycling ranks was underway.
From the start, Armstrong knew what he wanted. He didn't write down his goals like Greg LeMond, who listed on a high school legal pad when he would win the worlds and the Tour de France. No, Armstrong simply tried to win every race he started.
As a junior, the Texan startled the cycling cognoscenti by smashing the national 20km time trial record and being selected for the 1989 junior worlds in Moscow, where he placed fifth in the 70km team time trial (with Chann McRae, Bobby Julich and Kevin Moncrief) before attacking with a Russian in the road race and getting caught on the final lap after a 100km-long breakaway.
Those performances, along with his winning the junior nationals TT, earned Armstrong an amateur contract on the Subaru-Montgomery team. Before signing him, team manager Eddie Borysewicz, asked the young Texan about his health. Any sickness? "No, never." Any flu? "No." Any headaches? "No." Dental problems? "Perfect teeth." To which Eddie B replied, "Man, that's impossible."
The very healthy Armstrong heeded some of Eddie B's coaching advice, but he continued to plow his own furrow when it came to tactics. Even so, a year after his international debut in Russia, he made a huge impact at the amateur worlds in Japan. After making the TTT squad with the much more experienced Jim Copeland, Nate Reiss and Nathan Sheafor, the 18-year-old Texan helped pull them to fastest time at half-distance in the 100km TTT before two mechanicals dropped them to seventh at the end.
Two days later, he couldn't contain his aggressive instinct and went with the early break in the very hilly elite men's road race. "Lance should have won that race," says Dede Demet, who was also on the U.S. national team that year. "He was clearly the strongest rider but … gave too much too soon … and still finished 11th. That was the best any American had done at the worlds in years."
The following year, Armstrong went to Italy with the national team to compete in the Settimana Bergamasca, a prestigious weeklong pro-am stage race that featured several strong pro teams. Most riders take years to acclimate to the tougher racing, harsher climate and bigger challenges of Europe; but Armstrong simply brushed off the cold, wet weather, fought through the antibiotics taken to combat a virus, and dug deep in the culminating time trial to win the race.
That was the week he first bonded with then national coach Chris Carmichael and first met Massimo Testa, the Italian sports doctor who'd become his trainer when he turned pro with Jim Ochowicz's Motorola team after making his initial goal of racing at the 1992 Olympics.
Rookie phenom
In his first 12 months as a professional. Armstrong won the USPRO Championship in Philadelphia, won a stage of his debut Tour de France, and then scored his solo win at the 1993 world pro road race championship in Oslo, Norway.
No one has ever achieved such a trio of victories in their first year of pro racing or at such a young age (21). Today's commentators on the sport seem to have forgotten Armstrong's early accomplishments, which would also include his becoming the first American to win European classics (the Clasicá San Sebastian in 1995 and Flèche Wallonne in '96), twice finishing second at Liège-Bastogne-Liège and, in four editions of the 10-day Tour DuPont, placing second twice before two dominant victories (defeating such major stars as Tony Rominger).
Who knows where Armstrong's career would have headed after the Motorola team folded at the end of the 1996 season and he signed for the French team, Cofidis, shortly before his 25th birthday. We'll never know because on October 2, 1996, Armstrong was diagnosed with testicular cancer that had already spread to his lungs and abdomen (and would later be found in his brain). When I visited with Dr. Jim Reeves, the urologist who diagnosed Armstrong that day, he told me about a conversation he had with Dr. Dudley Youman, an Austin oncologist.
"We found mostly embryonal cells," Reeves said, "and those at that time were essentially not curable. They're blood-borne … and they'd spread everywhere. More surgery wasn't good, and radiation's not good, not for that kind of cell. So I spoke with Dudley and we were saying, this is what we've got, and what should I tell him? And he said, 'Well, tell him 20 percent,' I said, 'Okay.' But in my view, the chances [of survival] were zero, or almost zero … this thing was incurable."
A few days after Reeves had removed the malignant testicle, Armstrong held a press conference with his agent Bill Stapleton, saying that the chances of a cure were 60 to 65 percent. They didn't mention the assessment by Youman and Reeves. "We told Lance 20 percent," Reeves said. "But he wasn't happy with 20 percent. I don't think he ever accepted any percentage of cure short of 100 percent — in his mind, that is."
That optimistic, determined attitude was pure Armstrong. It no doubt helped him survive, along with the brain surgery and special chemotherapy he underwent at the Indiana University Hospital in Indianapolis. The treatment was finished before Christmas that year and he even attended a pre-season training camp with Cofidis in early 1997.
Armstrong briefly entertained thoughts of returning to racing that year, fearful that his contract would be cancelled. The French team did eventually do that, and Stapleton started looking for a new team for Armstrong to begin his comeback in 1998. It turned out that no European teams believed he could come back; a few offered a beginner's salary.
Stapleton eventually secured a deal with the nascent U.S. Postal Service squad, but only after team owner Thom Weisel agreed to cover Armstrong's potential bonus payments of $1,000 for every UCI world ranking point he scored in 1998.
Comeback 1.0
Armstrong began his comeback too quickly. He started it at Spain's Ruta del Sol in February 1998, and finished that race in a remarkable 15th overall. He then headed to Paris-Nice, but terrible weather on the first stage saw him abandon the weeklong race. His Postal teammates thought that would be the last time they'd see him racing in Europe; and he did head home to Austin, and didn't unpack his bike bag for weeks.
His friend John "College" Korioth, who was running the year-old Lance Armstrong Foundation, related his first encounter with Armstrong after the Paris-Nice debacle. Preparations were being made for the foundation's big fund-raiser, the Ride for the Roses, still two months away.
"I found him in the mailroom stuffing envelopes for the ride entries," Korioth said about Armstrong. "And I said, 'Dude, what in the fuck are you doing here?' He said, 'I'm stuffing envelopes. I'm helping.' And I said, 'We don't need your help. Go get back on your bike.' And he said, "That's the very last thing in the world I want to do now.'"
It took the persuasive powers of Armstrong's future wife Kristin Richard and coach Carmichael to get him on his bike, and then the now-famous training camp with Bob Roll in the Appalachians before Armstrong returned to racing. He won his second race, the criterium the night before the Ride for the Roses, where the prizes were presented by five-time Tour winner Miguel Induráin.
Perhaps the Spanish legend's presence inspired Armstrong because on his return to Europe in June 1998 he won two stage races: the Tour of Luxembourg and Germany's Rheinland Pfalz Rundfahrt. Back in the U.S., Armstrong took the Cascade Classic before returning to Europe for a series of major races. He came in fourth at the Ronde van Nederland, fourth at the Vuelta a España (his best-yet finish in a grand tour) and was fourth again in both the time trial and road race at the worlds in the Netherlands
That series of results earned him 1,024 UCI points, and a million-dollar bonus from team boss Weisel. But money wasn't the only motivational factor in Armstrong's successful post-cancer comeback. As his friend Korioth pointed out: "I don't think that guy counted anything except his money prior to cancer. But once he learned how to count red and white blood cells, he learned how to count calories, watts and all the scientific things he needed to apply to his sport."
Toward the Tour
Eating smarter were definitely part of his being able to stay with the best climbers in the mountains of the '98 Vuelta, but Armstrong also was getting expert advice on nutrition, power-based training and high-cadence climbing technique from his advisor, Dr. Michele Ferrari. They had been working together since late-1995 after an introduction by Eddy Merckx, who always told Armstrong he should lose weight if he wanted to win the Tour one day.
Ferrari has been labeled a doping doctor by the general world of cycling, and that reputation may not be erroneous, but the studious, reclusive Italian trainer is one of the brightest brains in sport. Analyzing Armstrong's physical capabilities during the 1998 season, Ferrari informed me that his anaerobic threshold (AT) "was back to the values he had before cancer, around 460 watts, but his lower weight (163 pounds compared with 176 pounds) brought the watts per kilogram up to 6.21. Lance was now riding faster uphill than before the illness."
Armstrong's journey toward being a Tour contender had been boosted in a physical sense by his fourth-place finish at the Vuelta, but the mental part of wanting to win the Tour didn't come until he called the just-retired Johan Bruyneel to meet him at the '98 worlds to discuss his becoming the Postal team man sports director.
"I told Lance I was going to accept the job," Bruyneel told me. "And one of the first things I said to him was that we should focus on the Tour de France and that I thought he could be a contender. He thought I was crazy."
For that to happen, besides Bruyneel having to get the whole team behind the new goal, Armstrong had to continue improving his climbing technique. To this end, Ferrari said his client's training "included lots of long climbs at medium pace with pedal cadences of between 60 an 90 rpm, as well as workouts around the anaerobic threshold at 90 to 100 rpm."
This training improved both Armstrong's speed on the climbs and in the time trials. In a gradual build up to July's Tour, Armstrong finished second at the Amstel Gold Race classic, won two time trials (at the Circuit de la Sarthe in April and the Dauphiné prologue in June) and took his first-ever win on a mountaintop finish in Europe (on the Plateau de Beille in June's Route du Sud).
The following week in training at his then French base in Nice, Armstrong broke the record for climbing the 13km, 7.7-percent Col de la Madone, previously held by an earlier Ferrari client, Tony Rominger (who won the Giro d'Italia and three Vueltas). "Lance did that ride on a standard bike with a bike pump and spare tire included," Ferrari said. "His AT was 490 watts, his weight 74 kilos (162.8 pounds), and his watts per kilo 6.72." That was on par with Induráin.
The weekend after that training coup, Armstrong won the Tour prologue and pulled on his first-ever yellow jersey. He also won that 1999 Tour's two other time trials and the first mountaintop finish at Sestriere before running out the overall winner by 7:37 over runner-up Alex Zülle.
For the mainstream media, the Armstrong story didn't really start until that first Tour success. They continued to chronicle the former cancer patient's immense Tour career in which he scored 22 individual stage wins (and four team time trials), amassed 83 yellow jerseys and took a record seven overall victories. It's a phenomenal legacy.
Comeback 2.0
Armstrong has been criticized by some for his comeback to the sport in 2009 after a three-and-a-half-year absence, and though he failed to achieve his goal of winning the Tour for an eighth time, his third place did show his children that his success came from hard work and dedication and not from doping; and his aim to publicize and globalize the work of his cancer foundation was fully realized. Livestrong says it has raised some $120 million during the last two years. His comeback also gave a massive boost to cycling in Australia (at the Tour Down Under) and America (Tour of California), and it restored Americans' interest in the Tour de France.
On the morning of the 2009 Tour's final day, after Armstrong had finished the penultimate stage on the summit of Mont Ventoux with his young rivals Alberto Contador and Andy Schleck, the French daily L'Équipe (which persistently connected Armstrong with doping during his glory years) made the ultimate mea culpa by choosing him as the subject of its front-page headline, "Chapeau, le Texan."
That "hats off" compliment echoed the changed feelings of European spectators, who now see the American as a more likeable underdog rather than a cold, dominant robot. They welcomed him again at his second comeback Tour, and without the high-speed crash he suffered on the first alpine stage it can be argued that he was again strong enough to finish on the podium.
Since the Tour, his name has been constantly in the headlines because of the ongoing federal inquiry into the doping claims made by Floyd Landis last spring against Armstrong and his former U.S. Postal teammates. Privately, he's said that he's been upset by the media's obsession with repeating allegations first made by various individuals five or more years ago. That's what he intimated in his interview published Wednesday by the Associated Press.
"I can't control what goes on in regards to the investigation," he said. "I know what I do and I know what I did. That's not going to change." He said the investigation has nothing to do with his decision to quit pro cycling; he genuinely wants to spend more time with his family, including his two sons and three daughters, and devote more energy to his work for Livestrong.
When I asked by e-mail Wednesday if that was the real reason, he replied: "What I said to AP was the whole truth. Simply time to move on. And when I say move on I mean move way on." He was intimating that he no longer had the time to combine constant training with the demands of his foundation and the joys of helping raise five children.
The physical demands had accentuated since he damaged his left knee: He told the Austin American Statesman that he first noticed his torn meniscus on his son Luke's 11th birthday last October. The pain returned when Armstrong was training in December in Hawaii for his last race, the 2011 Tour Down Under. He'd also planned to make his return to triathlon in New Zealand after the Australian WorldTour race.
Asked about this, he e-mailed: "The left knee has been giving me problems which led to the tri pullout in NZ but also the fact that I couldn't swim or run for two weeks before (while I was at the TDU) was a big factor."
So bike racing is over. But should his knee injury clear up it's possible we'll see Armstrong running a marathon or two in the future, helping to raise more money to fight cancer. But for now he has a right to sit back, relax and reflect on an athletic career in which he was constantly winning races for a quarter century.
It's been a remarkable journey, one that can be summed up in these words spoken by his former national teammate Dede Demet, who said, "What he would achieve in his career was because he was so mentally strong … had so much confidence … and was able to work really hard. [Those characteristics] never changed and he never let anything get in his way."