Inside Nibali's Sanremo solo win: 'Vincenzo threw out the textbook'
The first monument of 2018 was a signature victory for Nibali, but his team manager says it was unplanned — he won with guile not form.
Heading out the door? Read this article on the new Outside+ app available now on iOS devices for members! Download the app.
FLORENCE, Italy (VN) — An under-form Vincenzo Nibali did not expect much in Italy's big Milano-Sanremo classic last March. The Sicilian seized an opportunity, however, to surprise everyone.
"Vincenzo threw out the textbook," Bahrain-Merida team manager Brent Copeland told VeloNews.
"He seized the opportunity, and that's what makes him such a special rider. He's able to do something that's not from the textbook. That's what makes that Milano-Sanremo win special, that's what makes it exciting and why everyone appreciates it so much."
Copeland went to the start that March 17 morning in Milan to see off Nibali and the rest of his team and then returned home to Como. Later, he called his sport directors and turned on the television to watch the finale of one of cycling's five monuments with his wife and friends.
Nothing seemed to be happening in the group as it sped along Italy's Ligurian coast. The attackers — riders like Peter Sagan, Julian Alaphilippe, Greg Van Avermaet — had not done anything on the climbs. It appeared a sprinter could celebrate in Sanremo. Instead of Nibali, Team Bahrain-Merida looked to be counting on Sonny Colbrelli.
Nibali, a GC rider with victories in all three grand tours, jostled for position among the attackers and sprinters. Copeland leaned closer to his television as the riders neared the top of the final Poggio climb. Nibali, known as 'The Shark,' attacked.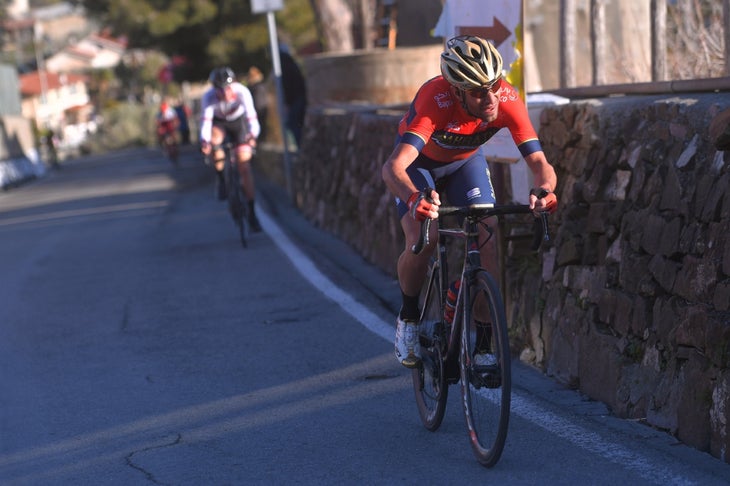 His rider passed through the small Poggio village at the top of the hill with a razor-thin advantage, 10 seconds with 5.4 kilometers to race. It was a seemingly impossible task to hold off the group behind. Fortunately, Nibali is one of the peloton's most fearless descenders. He used his bike-handling skills to fly down the Poggio's switchbacks to the final run along the Meditteranean coast.
He held on all the way to the Via Roma finish. It was a solo win not seen in over 10 years.
Despite his rider's natural gifts of excellent endurance (Milano-Sanremo is an epic 294km long) and his tactical nous, Copeland said Nibali had not prepared for the race specifically, not at all.
"To be honest, his condition wasn't the condition for a win in a classic like that," Copeland said. "Remember Tirreno-Adriatico the week before? That was planned with his coach Paolo Slongo, increasing his condition, not with him to be on top in Milano-Sanremo. So for him to win like that, not 100 percent, makes the win even more special."
Nibali had the potential to win considering his record in the monuments. He had won Il Lombardia the year before and came close in Milano-Sanremo in 2012, placing third. He also placed second in Liège-Bastogne-Liège in 2012.
The odds of a solo attack succeeding were slim, especially with Nibali not at peak fitness and with sprinters and classics riders tuned specially for the near 300-kilometer race. In its pre-race five-star ranking system, Italian newspaper La Gazzetta dello Sport marked Nibali with one star.
"To win in that fashion is already difficult unless you are a Fabian Cancellara- or Peter Sagan-type rider," Copeland continued.
"With the headwind like it was and to get that kind of gap with such a big group behind you, and keep it all the way to the finish, it's incredible. That's not going to happen for a good number of years in that kind of classic.
"I hadn't seen something like that before from Nibali, not in that type of race or in that fashion. That was really special."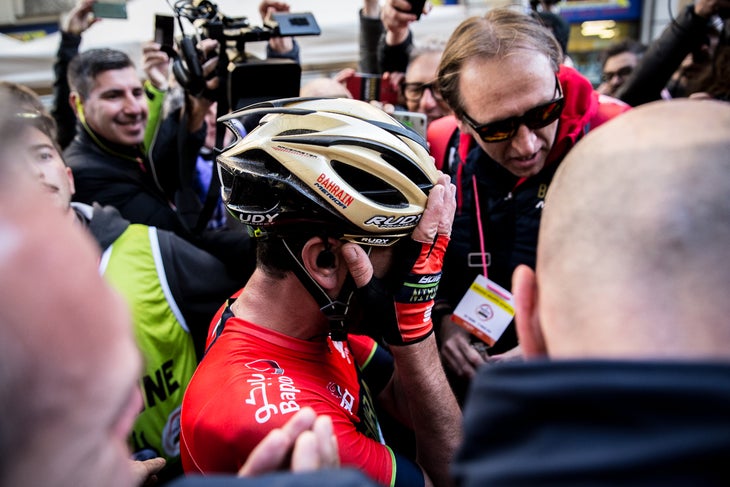 Copeland's television took a beating. He yelled and celebrated with his wife and friends. Nibali received hugs from his agent, soigneur, and teammates, several hundred miles away in Sanremo.
The next day when Nibali was at his home in Lugano, Copeland delivered him a new Merida bicycle to use in his lead-up to the Tour de France.
"He was super-relaxed about the win. I said, 'Congratulations on behalf of the team, thanks for what you are doing and what you did.'"
Nibali shrugged as if it was just something that happened in the course of him doing his job.
"He said, 'Ah, don't even mention it. It's nothing.' He was more interested in speaking about the new bike I dropped off and the technical parts. He loves that."