Jan Ullrich rediscovers love of cycling ahead of CAS decision
Jan Ullrich is back on the bike and enjoying life as a recreational cyclist — and he's not particularly interested in how the Court of Arbitration for Sport rules on his years-old case.
Heading out the door? Read this article on the new Outside+ app available now on iOS devices for members! Download the app.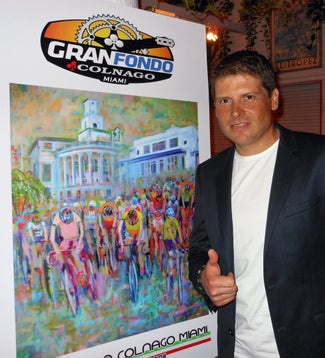 With the threat of a lifetime ban hanging over his head, a healthy and upbeat Jan Ullrich said he looks forward to the final resolution of doping allegations linked to 2006's Operación Puerto, adding that a sanction would have little practical effect on his life as a retired racer or newfound happiness as a recreational cyclist.
In the United States to participate in Miami's Gran Fondo Colnago, a smiling Ullrich signed autographs and posed for pictures with several hundred fans at Saturday's pre-ride expo at Miami's City Hall.
In a wide-ranging interview conducted in English and German (translated by his manager, Falk Nier), Ullrich spoke about his plans, including a newly announced connection to a Dubai-based company marketing low-oxygen chambers designed to mimic the physiological effects of training at altitude.
The Union Cycliste Internationale (UCI) has doggedly pursued sanctions against the retired rider, who was forbidden to start the 2006 Tour de France after allegations connecting him to the doping network of Dr. Eufemiano Fuentes. The Court of Arbitration for Sport (CAS) is expected to rule in Ullrich's case before the end of the month, bringing its formal conclusion some five years after his departure from the sport.
Nier explained that Ullrich is puzzled by the lengthy timeline involved, but most of all "wants to have a final decision, because then it's over."
Questioned about the body's unusual pursuit of a rider long since removed from the sport, the UCI has maintained that retirement does not preclude punishment and that absent formal action there would be nothing to prevent an unsanctioned retiree from returning to the sport. Independent of the verdict, Ullrich put those fears to rest on Saturday.
"There is no chance of (me) getting back to race something," explained Ullrich, who likewise denies any desire to enter team management at a competitive level. Instead, Ullrich attributes recreational cycling to his victory over burnout syndrome, with which he was diagnosed in 2010.
The rider has signed on as an ambassador for Gran Fondo USA, the organizer of the Miami event, and has plans to participate in a number of upcoming rides for the company. His return to the bike has brought Ullrich such joy that he may soon bring his experience to bear as a mentor to younger riders. Nier reports the two have had early discussions with a number of organizations interested in tapping the former champion's expertise (in ways unlikely to be influenced by any potential sanctions he may face).
Asked why he felt the UCI had been so persistent in its pursuit, Ullrich speculated that media pressure had forced the body to "be hardline." And hardline it may yet be. While other riders implicated in the scandal have served and returned from standard two-year bans, a lifetime sanction may not be out of the question, according to Nier. Ullrich previously served a six-month suspension after popping amphetamines at a nightclub in 2002.
Whatever comes his way, Ullrich sees little influence in the ruling. Retired, healthy and happy, he has returned to the spotlight in recent weeks, re-launching his personal website and establishing a Facebook page and YouTube channel to coincide with his Miami appearance and the announcement of his new business venture.
"The rest is over for him right now," explained Nier, "so, you know, he wants to start a new part of his life."
More of Dan Wuori's exclusive interview with Jan Ullrich will appear in an upcoming issue of Velo magazine.