Kevin Vermaerke looking to build on breakout 2022 season
US pro on Team DSM is carrying some hard-earned lessons into 2023.
Photo: Stuart Franklin/Getty Images
Heading out the door? Read this article on the new Outside+ app available now on iOS devices for members! Download the app.
Kevin Vermaerke is hoping his sometimes bumpy but rewarding 2022 season will pay dividends in the future.
The Team DSM rider punched his ticket to the Tour de France in a season that was also riddled with illness and injury.
"For me, 2022 was a year with ups and downs," Vermaerke said in a team blog. "The highs were pretty high, and the lows were also quite low."
Vermaerke sketched out a sophomore season in the WorldTour marred by an early COVID-19 infection and a case of the flu at Paris-Nice before a strong Critérium du Dauphiné capped by a rewarding spot on the team's Tour de France squad.
Also read:
The 22-year-old was among the North American contingent at the 2022 Tour, something he called a culmination of a lifelong dream.
"To have the opportunity to go to the Tour was a lifelong dream for me," Vermaerke said. "It was a real career-changing moment to go there for the first time, and hopefully it's the first of many, but the first time is always special.
"The race was going really well with the team we had there, how I was feeling in the race and how I was able to help the team. Feeling comfortable in the biggest race in the world gave me a real confidence boost."
Vermaerke crashed out in stage 8, something he said served as a reminder of "how brutal this sport can be."
"It was definitely hard for me to then go home, have surgery and watch the rest of the world race on TV and not make it to Paris," he said. "On one hand, it was hard to watch it, but it also left me with a lot of motivation and fire to come back there and maybe make it next year and use that as my motivation for the off-season."
A return to racing in August saw him crash again and re-injure his collarbone. More lessons learned.
"It was for sure not the way I wanted the season to go," he said. "I think there were quite a few glimpses of success though and I was close to getting a big result and that really showed me that even if it's not going 100 percent as I hoped, I am getting closer and closer to that level, and know that I can compete at the highest races."
Rebuilding for a big season in 2023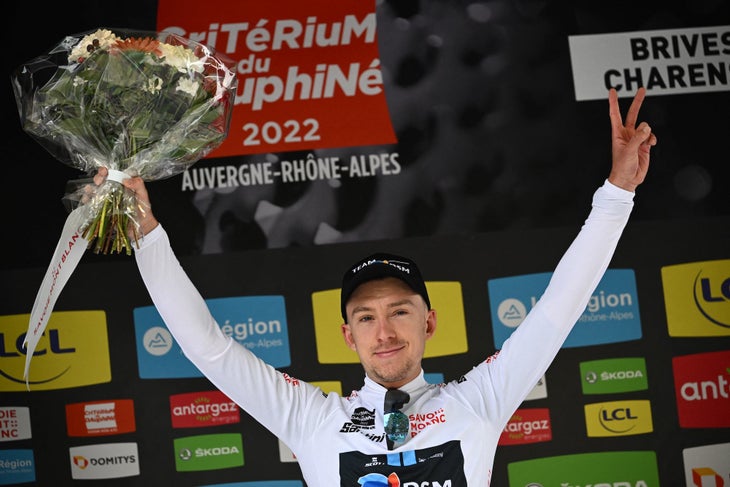 Vermaerke is hoping to turn those setbacks into forward progress in 2023 and beyond.
"I learned a lot from those setbacks," he said. "It kind of forced me to look inside and reassess how I deal with it and how to approach everything.
"Being able to then learn how to handle that disappointment and turn it around to use that as motivation for the comeback," he said. "Cycling is a sport where a lot can go wrong and even if you are a really good rider, you're not going to win every race. Learning all those big lessons this year will really set me up for the rest of my career."
Under contract with Team DSM through 2025, Vermaerke sees the future as a road full of opportunities.
Vermaerke said he's used the off-season to fully recover his health, as well as traveled to Mexico and California to unplug a bit before beginning preparations for 2023.
A December camp in Spain provided a chance to meet all the riders and staffers before the start of what will be a busy racing season in what will be his third campaign in the WorldTour.
"I have the feeling it is going to be a good year. I know that I am at the level now, where I believe I can compete for top results in the biggest races," he said. "I think if I can be deep in the finals with the right shape, I have the confidence now that I can really go for those big results.
"I also have some unfinished business with the Tour, but we will see where it goes during the season."