King to stay on with Leopard-Shack merger
While several riders from both teams will be squeezed out as the two squads reduce their roster, King said his future is secure next season.
Heading out the door? Read this article on the new Outside+ app available now on iOS devices for members! Download the app.
Ben King will stay with the new-look RadioShack-Leopard-Trek merger going into 2012.
While several riders from both teams will be squeezed out as the two squads reduce their roster, King said his future is secure next season.
"I am lucky to be one of the Americans and to be a espoirs and I signed a two-year contract last year," King told VeloNews.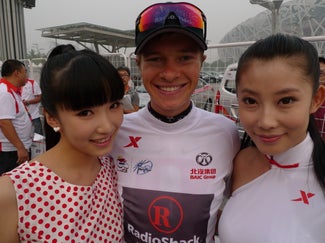 "A lot of the guys going to the team are the same ones I've raced with this year and I have complete trust in them. I am young, looking to improve and I am looking forward to working to help guys, so this is the best place for me right now."
The American rookie capped a fine debut season by winning the best young rider's jersey at the Tour of Beijing in his first WorldTour event of a busy campaign to close out his first season among the elite pro ranks.
"It's very exciting to win this jersey in my last race of the year, it's a nice way to go out," he continued. "It makes me to look forward going into next year and it confirms that I belong in the WorldTour and I made the right choice to move up this year. There were so many highlights this year. Supporting the team during the Tour of California, being the U.S. champion, helping the team ride to first and second place overall and dominating that race with RadioShack, that was pretty special."
King got a good taste of European racing with RadioShack this year, racing in a handful of shorter stage races like the Giro di Sardegna, Criterium International and the Tour of Austria as well as domestic racing with the tours of California, Utah and Colorado to round out his full race schedule. He also proved his durability by finishing Paris-Roubaix.
King said he was like a sponge hanging around the experienced pros on RadioShack this season.
"It would be hard to summarize the most important lesson, but with guys like Leipheimer, Kloden and Horner, I've been able to ride in support of them. Other guys have given me direction on the road. From racing with them, to rooming with them, you cannot help but absorb some of their professionalism, it rubs off," he said. "I am really happy with the team. I hope next year we can maintain the atmosphere on the team and the positive attitude at all the races."
A few years down the road, King says his ultimate goal will be to earn a ticket to the Tour de France.
"If I can continue to improve at the rate I have over the last couple of years, I think I can be pretty good," King said. "I am more of an all-rounder. I want to ride in the Tour de France one day. In the next couple of years, if I continue to improve, I have a chance to be part of a winning Tour de France with the Schlecks. That's a long-term goal, as well as the Olympics. Maybe not next year, but somewhere in the future."
Right now, he's looking forward to some downtime at his home in Virginia.