L'Eroica vintage sportive: Riding into cycling history on the strade bianche
GAOILE, Italy (VN) — If asked to describe an iconic photo from the early days of cycling, we would all come up with different images, but there would be an underlying theme: There would be a black-and-white image of a cyclist on a bike that looked…
Heading out the door? Read this article on the new Outside+ app available now on iOS devices for members! Download the app.

GAOILE, Italy (VN) — If asked to describe an iconic photo from the early days of cycling, we would all come up with different images, but there would be an underlying theme: There would be a black-and-white image of a cyclist on a bike that looked a little too large for him. He would be wearing a loose-fitting woolen jersey and shorts, with a cycling cap and goggles. His bike would be a basic machine, with few gears, and shifters on the frame. Finally there would be a certain look to the rider; if racing there would be suffering eyes firmly fixed on the road ahead; if posing he would have a proud, neutral look on his face. No carbon fiber, aero profiles or race radios would be seen, just the uncomplicated image of bike and rider.
Every year on the first weekend of October there is the opportunity for us all to have a small slice of this history. L'Eroica or "The Heroic" is the event, and Italy is the location.
"Gaiole in Chianti" is a small town in the Chianti region of Tuscany. Fifteen kilometers from Siena, this small town is famous not only for the wine produced in the region and being named by Forbes Magazine as the "Most idyllic place in Europe" to live, but also for L'Eroica.
L'Eroica is a unique bike event that celebrates the glorious days of the pioneers of cycling. It is a vintage sportive where riders have to ride bikes built pre-1989 following three strictly enforced rules: NO clipless pedals, NO internal cables and ONLY downtube shifters.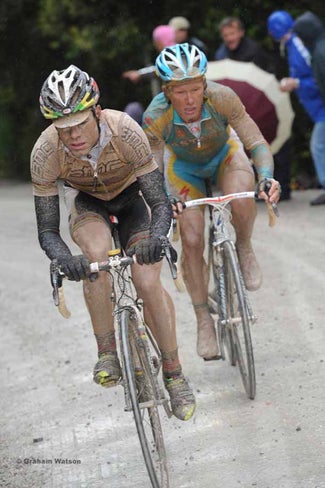 The event is the brainchild of Gaiole in Chianti native, Giancarlo Brocci. In 1997, with his passion for the history of cycling and his region, he started the event. Brocci explains "This is not a race, but a ride. It celebrates the pioneers of modern cycling and also my beautiful region. I wanted to save the historic Strade Bianche from being paved."
The strade bianche or "white roads" are Chianti's version of Flandrian cobbles. Made out of white gravel, they are a central feature of L'Eroica.
If you look back to the old photos of cycling, strade bianche is the surface that many of the races took place on.
"It is the strade bianche which gives L'Eroica is unique flair," Brocci explains. "We include sections of it in all the four different length events to allow the riders to experience the hardships that riders such as Coppi and Bartali (a Chianti native) faced. There is definitely a technique needed to ride it. The extra dimension that the strade bianche adds to L'Eroica makes it much harder and more rewarding to finish."
This surface is so tough that Brocci also organises a professional race which follows in the footsteps of the L'Eroica. In April every year, since 2006, the world's top pros race the strade bianche. Additionally, the strade bianche was used during the 2010 Giro d'Italia, which saw Cadel Evans win the stage, while Vincent Nibali lost his pink jersey. That day the white roads did not glimmer in the Italian sun, but were turned to a silty mud by a heavy downpour.
This year's vintage sportive saw a field-limited 4,090 riders from 28 different countries descend on Gaiole in Chianti for L'Eroica, with 61 riders making the trek from America to take part.
Riders chose one of four circuits from as long as 205 kilometers to as short as 38km. Each of the circuits has sections of strade bianche and numerous feed stations. The feed stations are a central part of the event, each offering local food, Italian ham, local grapes, regional stew and of course plenty of Chianti. There's not an energy bar in sight.
These are social places where riders take the opportunity to look at each other's bikes, making for a warm atmosphere with the backing soundtrack of musical Italian conversation.
Evan Hu, one of the 15 Canadian riders, was riding to celebrate his 50th birthday.
"I heard about the event while in Tuscany on a cycling holiday a couple of years ago," Hu said. "It was supposed to be the event to do, so I decided to come here to celebrate my 50th birthday. What a birthday present — shame I could not be 50 every year."
Like the pavé of Paris-Roubaix, riding fast on the strade bianche requires a certain technique. The gravel of the white roads makes grip an issue.
"We were put to shame by the local riders," Hu said. (Hu was riding with fellow Canadian and friend Fred Wright). "We ended up leap frogging with a 75 year old Italian, him passing us on the climbs and descents, us re-passing him on the flat. He seemed to have a lot more confidence to let the bike choose its own path on the strade bianche descents. These guys really know how to ride, and I felt like a young fraud at 50!"
Ben Stott and Ian West were two British riders who were each doing L'Eroica for the sixth time. Having never had a mechanical issue perviously, 2011 saw them have an interesting time.
"We started early, planning on doing the 135km event. Unfortunately I snapped a spoke in my rear wheel after 15km and had to get a lift back to the start to get it fixed," Stott explained. "When I gave my wheel to the Italian mechanic he clapped his hands on his head, cried "Mama Mia!" and then went to work at a speed which almost blurred his motion. A couple of minutes later I was ready to ride again with a wheel which was better than new. I was tempted to ask him to work his magic on the rest of my bike!"
West continued the story. "While Ben was getting his bike fixed I was riding back, getting interesting looks from the riders going out: they thought I had already finished. We then decided to ride the 75km event."
This was not the end of their eventful day. Stott finished his story: "Not only did I end up getting my first puncture in six years, but also fell off while we were on a descent on the strade bianche. It does not make any difference; it was still a great day and as normal one of my favorite weekends of the year. You cannot compare this event to anything else in the world."
When asked if he will be back next year Ben answered "YES! The first time I was here sealed the deal for me. The first section of strade bianche is lined with candles, because you get there when it is dark. I still remember being blown away by this. Then a couple of kilometers after that I was riding across a ridge, which over looked the amazing Tuscan country side. On my left, the sun was just coming up and on my right the moon was just setting, a stunning sight that keeps me coming back. Even after six years this event does not cease to make me happy, I'll definitely be back!"
L'Eroica is a true celebration of cycling and its rich history. This well-organized event allows riders to both test themselves and enjoy Chianti at its best. With riders still coming in after dark, the central piazza was still buzzing with the party atmosphere of the event. Everyone left the idyllic town of Gaiole in Chianti and L'Eroica with fond memories of their day on the strade bianche, each one truly "Heroic."

The Faces of L'Eroica: A Gallery by Philip Gale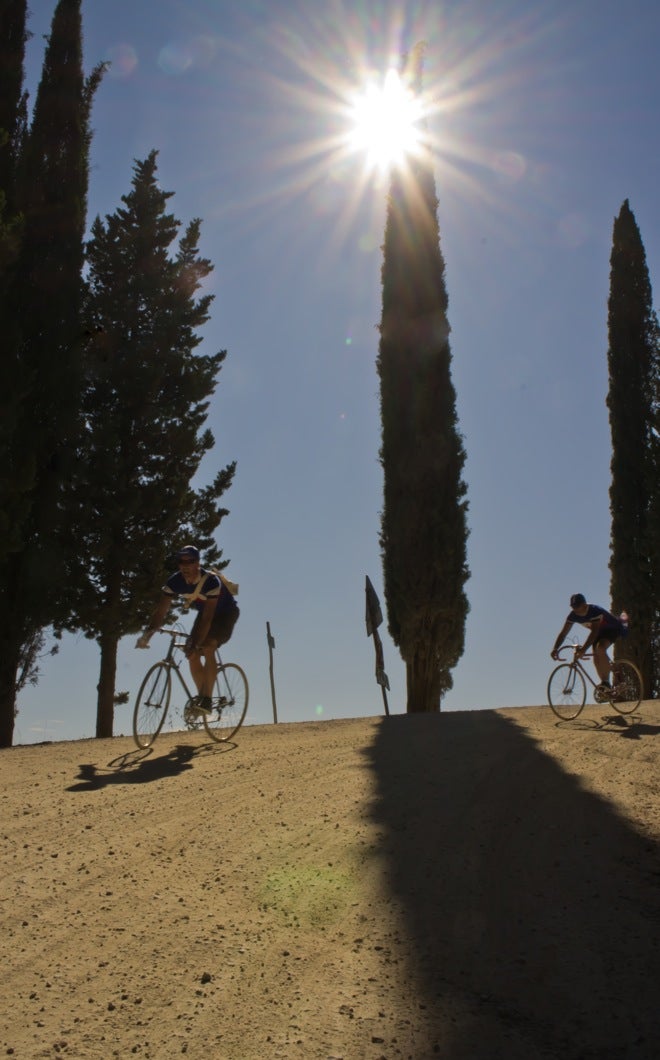 What would the UCI think? A look at the bikes of L'Eroica
If You Go … How to do L'Eroica
• Registration: Registration for the event is through the L'Eroica website. It opens at the start of February and closes at the start of September. Depending on when you enter there is a sliding scale of fees, starting at 30 Euros ($41) in February and increasing to 100 Euros ($138) on the weekend of the event for the final 100 places. Note the field is limited to 4,000 riders.
• Requirements: A bike which fits the following rules:
1. Downtube shifters
2. No internal cables
3. No clipless pedals
Pre-1989 for the bike is preferred. All bikes are checked and rules are hotly enforced, if you break them you can do the circuit but not partake in the event. If you leave before 6:30am (start is when you wish between 5am and 7am for the two longest distances) you have to have lights.
• Training: With four different routes (203km, 203km, 135km and 38km) there is something for all levels. Expect to be out all day for the longest two distances (203 and 135 km). If doing the longer events prepare with riding. Remember the bikes are heavier and the terrain with the strade bianche is hard. (The 203km event has over 3,000 meters (9,942 feet) of climbing in it).
• Travel: There are two major airports close, Florence is 50 kilometer (31 miles) away and Pisa is a two-hour drive. Each have international flights arriving at them. Other major airports: Milan (five-hour drive) and Rome (three-hour drive). It is recommended to travel with your bike as luggage; Italy is not renowned for its shipping services with some riders still waiting for their bikes on the day of the event.
• Family – Giaole in Chianti has been named by Forbes magazine as "Europe's most idyllic place to live." There is plenty to do for the whole family with entertainment taking place all day long in the town. The Chianti region, famous for its wine, has many tours to keep everyone entertained. With Siena and Florence nearby there is much non-cycling related culture to absorb.
• Lodgings: Tuscany and Chianti have a wide range of hotels to suit all budgets. There are also many self-catering apartments and bed & breakfasts in the area. The L'Eroica website has a list of them all, and links to the Chianti Tourism website.
• Package: There are a couple of Bike Tour Companies which run packages to the event. They will sort out everything for you, leaving you to enjoy the event. One English speaking tour company is La Fuga Travel.
• Strade Bianche: For those not wishing to do L'Eroica, the 203 kilometer circuit is opened and sign-posted to all who wish to ride it year round. You can either ride it in one day as the "Heroic" of the event, or take 3 to 5 days to ride the circuit at a more leisurely pace, as recommend by the tourist guide.
• Further information: L'Eroica have staff dedicated to help you in whatever is your native language. More information can be found at:
Event website
Giaole in Chianti website –
Tuscany tourism website –
Package option –
L'Eroica permanent route
Editor's Note: UK journalist Phillip Gale started to race when he was 12 years old as a mountain biker. After nine seasons on fat tires Phil went over to the road. He spent the last six years suffering in the gutter as a full time Elite Amateur bike racer in Brittany, France. He started moving into journalism in January 2011 looking for something to do after bike racing and wanting to work in the field that he loves. He is now writing with the perspective of an ex-racer and also racing for the Italian Gran Fondo team, Piton ASD.