Landis and Baker convicted in France in hacking case
The 2006 Tour de France podium A French court on Thursday convicted Floyd Landis and his former advisor Arnie Baker of benefitting from the use of documents that were fraudulently obtained. The court cleared the pair of actually hacking the computers of the French lab that reported Landis'…
Heading out the door? Read this article on the new Outside+ app available now on iOS devices for members! Download the app.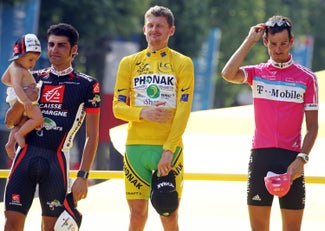 A French court on Thursday convicted Floyd Landis and his former advisor Arnie Baker of benefitting from the use of documents that were fraudulently obtained.
The court cleared the pair of actually hacking the computers of the French lab that reported Landis' doping positive from the 2006 Tour de France. But the two were given 12-month suspended sentences for knowingly receiving the hacked documents.
In a statement sent to VeloNews, Baker denied doing anything wrong and noted that he was found not guilty of the hacking charge.
"The charges were not true — I had nothing to do with any hacking and as far as I knew, the lab documents I received while serving as an expert consultant to the legal team for Floyd Landis were obtained legally," Baker said.
Prosecutors had sought an 18-month suspended sentence against the pair, who were tried in absentia.
Landis did not immediately respond to an email sent by VeloNews.com asking for his reaction. A legal advisor told The Associated Press that he would advise the retired cyclist to appeal.
"If he doesn't appeal, it amounts to an admission that he lied about his knowledge of the fraudulent origin of these documents that he used for his defense," Emmanuel Daoud, told the AP.
Baker said the legal process was flawed.
"Rather than interview me locally, following established protocols between the U.S. and France, investigators short-circuited the rules. They summoned me to appear in France, at my own expense, and then threatened my arrest if I set foot there.
"The French court used legal theories contrary to principles of U.S. justice and law. They tried me in absentia in an inquisitorial system where there is a presumption of guilt, rather than of innocence. No evidence of wrongdoing was presented; they relied on false assumptions, including my absence from the court.
"This case against me appears to be a deeply flawed process from start to finish, designed to protect a national French institution and cover up its apparent sloppy work and incompetence.
"Now that this saga is over, it is important to reflect that the sport of cycling needs reliable, competent, transparent, and high-quality testing."