Mark Cavendish on move to Astana-Qazaqstan: 'Life taught me to move on'
Cavendish speaks with L'Equipe of no-pressure negotiations with Vinokourov, chasing the Tour de France record, his mission 'to inspire.'
Heading out the door? Read this article on the new Outside+ app available now on iOS devices for members! Download the app.
Mark Cavendish spoke with l'Equipe this weekend of the dramas and divots that led to his high-profile landing at Astana-Qazaqstan, and his long-running relationship with the Tour de France.
The off-season saga over the Manx sprinter's future marked another chapter in Cavendish's rollercoaster career of dramatic highs and doom-laden lows.
"The Paris project wasn't what we hoped for, but you can't just sit back and feel sorry for yourself," Cavendish told l'Equipe.
"Life taught me to just get back to it and move on. The call from 'Vino' was a little unexpected, but it was a wonderful surprise."
Cavendish booked in with the team of Alexander Vinokourov this week to put a stop on a long-churning rumor mill of speculation regarding his future.
Reports of a near-done deal with the doomed B&B Hotels / "Paris Cycling" project and rumors over links to Israel Premier Tech, Trek Segafredo and Human Powered Health buzzed around the off-season in the latest dramatic episode of the 37-year-old's career.
Also read:
After seeing the past half-decade stalked by Tour de France snubs, bouts with mononucleosis, and the shadow of him leveling and then bettering the so-called Merckx stage-win record, Cavendish said Vinokourov's no-pressure approach to contract talks made the difference when a number of teams came knocking at his door.
"Vino called me in December, once the Paris project was over. I had a few options in the autumn, but obviously some weren't necessarily relevant anymore because I had signed up with Paris," Cavendish said.
"Most important was the way Vino spoke to me, in a really positive way. That was also the case with other teams, but there was nothing to negotiate, it was super easy. I wouldn't have to prove myself or 'qualify' for anything.
"The hardest thing for me in the past few years has been not winning, or not having the opportunity to race. He set goals with me and that was really refreshing. We agreed."
Cavendish hailed Astana-Qazaqstan's "softly-softly" approach to sealing the signing of the season after recent court trials forced him to relive the brutal knifepoint robbery he and his family suffered last winter.
"A lot has happened in my private life lately, I'm worried about the safety of my family and I'm grateful to Vino and the Astana team for giving me the time to focus on this, to be able to be sure that my family is well," Cavendish said.
"That alone shows the atmosphere and the mentality in this team. It's beautiful. Now I'm super happy, the team welcomed me so well. It's good that it's all starting again, I'm really excited."
Number 35 and life beyond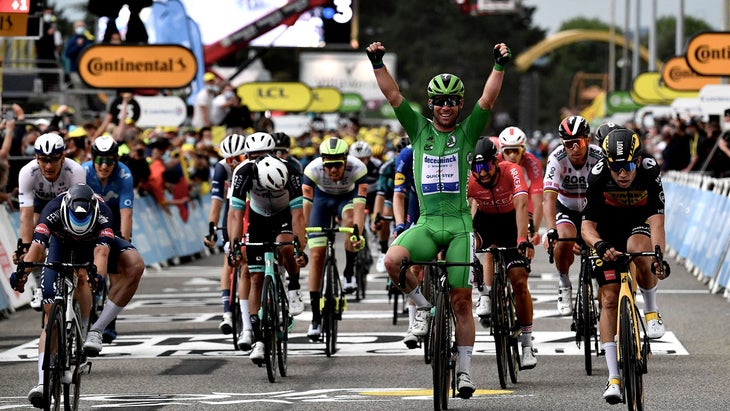 This summer should see Cavendish return to the Tour de France for the 14th time in his long career.
The Tour's sprint supremo only missed the French race three times since his debut in 2007, and last year was left sidelined when Quick-Step chose the younger, rawer talent of Fabio Jakobsen.
Cavendish said the objectives he outlined with Vinokourov pivoted around a return to the Tour this July.
"Everyone knows it, I based my whole career on the Tour, it gave me the magnificent career that I have," he said. "I love racing it so if I can be there again … "
Cavendish went on to reinforce his devotion to the sport and his commitment to the racing rather than the pay packets.
And despite entering the twilight of his career, he played down the notion of retiring if he kicked for a record-topping 35th Tour stage victory this summer.
"All these stories about the record, they're not mine, it's outside speculation. I've had a long career, for which I'm very lucky," Cavendish told l'Equipe. "I grew a lot as a person in that time, I had children, and with all that, I realized that my goal was also to inspire.
"My children don't just look at my results, but they also admire what other riders are doing, so if I can play a role so that other children experience the same things as mine, I will continue as long as I can."
Cavendish races with Astana-Qazaqstan for the first time at February's Oman and UAE Tours.