Matteo Jorgenson: 'At times I didn't believe I deserved to be a professional'
The US rider overwhelmed with emotion following his first professional victory at the Tour of Oman.
Photo: Thomas Samson/AFP via Getty Images
Heading out the door? Read this article on the new Outside+ app available now on iOS devices for members! Download the app.
JABAL HAAT, Oman (VN) — Matteo Jorgenson (Movistar) was in disbelief after he raced away to his maiden professional victory Monday atop Jabal Haat on stage 3 of the Tour of Oman.
The U.S. star marked 2023 as his year for wins after three seasons of trying in the professional ranks. He placed the Tour of Oman among his goals but didn't dare to imagine that he might finally get to step onto the winner's rostrum.
After a big winter of hard work, Jorgenson revealed he was in good form with a fourth-place finish in Qurayyat. He was able to build on that with a well-timed move to the line on the first of two mountaintop finishes in Oman.
"Since the first year I joined, this team was trying to convince me that I was going to win races and when I first turned pro, I didn't believe it," Jorgenson said after crossing the line with his arms aloft for the first time.
"I didn't even believe I deserved to be professional. It was a process of convincing myself and doing races and being up there enough to believe it. Today, finally my dream came through."
Also read:
"This winter, I didn't expect to do it here. Until the last few weeks, when I began to come into good form in training, I started to believe that it was possible," he said.
"When I was at training camp in Spain, I just went alone and focused myself and I started to see good numbers and I was doing the training perfect. There were no setbacks so yeah I started to believe that I could do it here and to be honest a stage race really suits me well, I'm realizing that now, and I kind of convinced myself in the last week or so now."
Jorgenson made it into a small group of climbers on the 4.6km climb, using the steep ramp inside the final two kilometers to see how his rivals were holding up.
While he was reeled back in, he knew he had it in the tank when they hit the last meters before the climb.
"I wanted to try them on the steep section because I knew there wouldn't be a draft there and see how everybody was," he said. "People responded but it wasn't straight away and nobody countered over the top so then I thought I had a chance for the win and I just had to wait. Lutsenko had a teammate to help over the top and I went at 200 and didn't look back. Maybe I looked back once, but I could barely see I was so bollocksed."
Piling on the pressure: 'I wanted to win'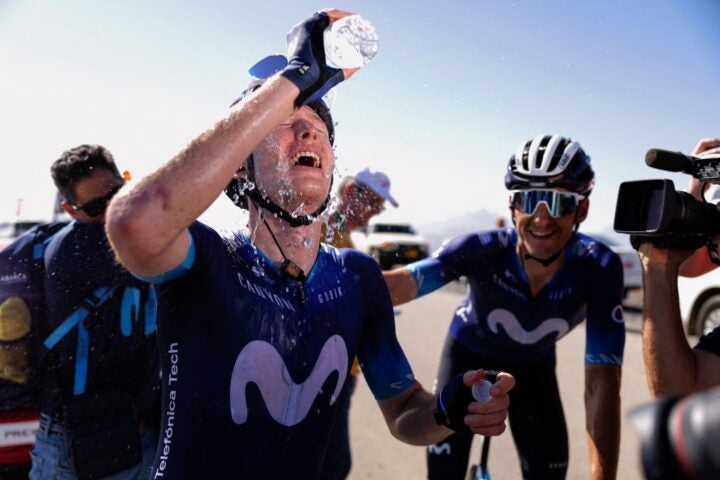 As the seasons have moved on, Jorgenson has piled more pressure on himself to deliver his first win.
Last season, he had several close shaves with victory, particularly at his debut Tour de France where he made it into three successful breakaways.
He was able to use the disappointment from last season and learn from those who beat him in 2022 to play his cards right Monday.
"The team obviously wants a return on their investment but, for me, I needed to do it myself to justify all of work that I put in," he said. "I feel like I've trained as a leader the last three years, and I've trained as much as the best guys and as hard and as focused and sacrificed all the same. I wanted to win.
"I learn something every bike race I do, or I try to. Last year at the Tour I was pretty close a few times and I was learning how to manage those small group situations. I think I managed it badly at the Tour, for the record, but from those bad experiences I learned how to do it and just see the guys who won and see how they did it. Today was just all about patience and good legs in the end."
'

An impressive display from @MatteoJorg on the slopes of Jabal Haat sees the young American claim the Blues' 5️⃣th victory of the year + the GC lead in @tourofoman #RodamosJuntos | @Telefonica pic.twitter.com/GXfEUNwSuX

— Movistar Team (@Movistar_Team) February 13, 2023
Thanks to the bonus points on the line and the gap that he managed to pull out, Jorgenson now has a six-second lead over Mauri Vansevenant (Soudal Quick-Step).
One major test for the GC riders remains with Jabal Al Akhdhar on stage 5, but Jorgenson is ready to take it on.
"I feel really confident, I'm in super good form and I think we saw that today. I felt I was the strongest in the group on the climb today," Jorgenson said. "Wednesday is a different challenge, it's a very steep climb, it's longer but I think I can manage it well and I tomorrow we'll be back working for Max and, hopefully, he'll get his first pro win and we're just going to try and take it and win this race."