McQuaid: USA Cycling has been 'hijacked' by special interests, cries foul over radio rule
UCI president Pat McQuaid cried foul over USA Cycling's recent decision to allow race radios in its sanctioned events this season and said the federation has been "hijacked" by special interests.
Heading out the door? Read this article on the new Outside+ app available now on iOS devices for members! Download the app.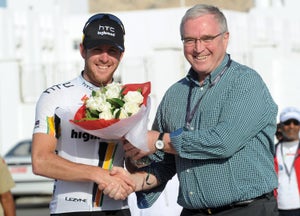 UCI president Pat McQuaid cried foul over USA Cycling's recent decision to allow race radios in its sanctioned events this season and said the federation has been "hijacked" by special interests.
Earlier this month, USA Cycling snubbed its nose at the UCI's call to phase out race radio by next season and decided that two-way radio communication would be reintroduced at National Racing Calendar (NRC) competition and at the USA Cycling professional and elite road national championship events.
USA Cycling said the rule applies to races it controls, but McQuaid insisted that is still contrary to the UCI decision to do away with the controversial ear-pieces.
"They cannot do that, they must follow the UCI rules," McQuaid told VeloNews. "This has been driven by a couple of people involved there, like Bob Stapleton, Jonathan Vaughters and Johan Bruyneel. They're driving that decision. It's unfortunate that USA Cycling has been hijacked by the personal interests of the big teams."
USA Cycling officials were not immediately available for comment on McQuaid's latest charges. Vaughters told VeloNews McQuaid's charges was "ridiculous."
"I haven't spoken to anyone at USAC in about a year. I don't even know who's on their board of directors," the Garmin-Cervelo boss said. "But I think (USA Cycling) made a good decision."
McQuaid said that a strongly worded letter has been sent to the USA Cycling to urge them to reverse its decision. He suggested that the federation ultimately could be kicked out of the UCI, but said he expects the Americans to toe the line.
A few years ago, the French cycling federation was in open rebellion against the UCI and was threatened to be removed from the international governing body. That would have meant that French cyclists would not have been allowed to compete in the Olympic Games and other international events.
"USA Cycling cannot do what they said and they've been informed," McQuaid continued. "There could ultimately be some action taken, but I don't see it going that far. I don't see it as a repeat of what happened with the French federation, but there could be actions the UCI could take that are short of that. There are a whole load of measures we can take, but I expect an understanding on the issue."
Short of an outright expulsion, McQuaid suggested there are other actions the UCI could do, such as remove American representatives from the UCI's working groups and commission or refuse to run UCI events on U.S. soil.
The decision by USA Cycling to reintroduce race radios to its national calendar – last year races were held without race radio – is the latest salvo in rising tensions over the contentious race radio issue.
USA Cycling officials said it reached its decision after talking to all the major players involved in their races. The overall consensus was that nearly everyone wanted the race radios back, USA Cycling officials said.
"The decision was made because we believe race radios bring a unique level of strategy that is good for cycling, provide for innovation opportunities with our broadcast partners, and gives everyone in the peloton an additional safety measure," USA Cycling board of directors President and USPRO representative Bill Peterson said in a press release when the decision was announced. "We have spent considerable time discussing this issue with many experienced racers, team managers, and race organizers; we have yet to find anyone make a convincing case to eliminate race radios. Therefore we are allowing radios within the races we control, and I suspect many countries around the world will follow our lead."
Whether that happens remains to be seen. McQuaid, for one, insists that the race radio ban is good for cycling and flat out stated that the rules must be followed.
"USA Cycling must be in line with UCI rules. They can claim ignorance and say it only applies to their races, but the UCI rules apply to all races. You cannot have a situation where a national federation makes its own rules. What if someone said they wanted to race without helmets? Or race without brakes?" McQuaid said. "USA Cycling simply cannot do what they have said and they have been informed."