Moving to the road: A conversation with Shelley Evans
Shelley Evans (Peanut Butter & Co/2012) is known for her prowess on the track, racking up three World Cup podium finishes and her second scratch race National Championship in 2009 alone, but is having a break through season on the road this year.
Heading out the door? Read this article on the new Outside+ app available now on iOS devices for members! Download the app.
By Caley Fretz
Shelley Evans (Peanut Butter & Co/2012) is known for her prowess on the track, racking up three World Cup podium finishes and her second scratch race National Championship in 2009 alone, but is having a break through season on the road this year.
Evans snatched up four stage victories and the overall at the Tour of New Zealand earlier this year, a win in the Tour of the Gila's stage 4 criterium, and took home gold and bronze in the Pan Am Games road race and time trial. As a member of the Peanut Butter & Co/2012 professional cycling team, as well as the US National Team, she has her focus set on the London Olympics in 2012.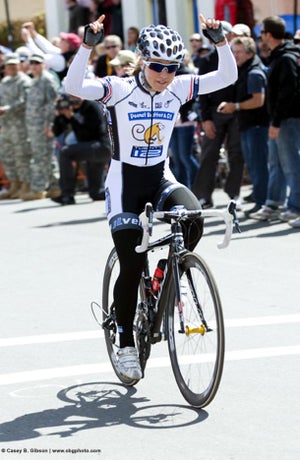 VeloNews caught up with Shelley to find out more about 2012's five-foot assassin, and how she plans to get to London.
VN: Can you tell us a little about your athletic background and how you got into cycling?
SE: I didn't start cycling until I was 25 years old. I grew up on Massachusetts and went to school in Virginia, where I played soccer all through college. Then I moved to California, where I met my husband and he introduced me to cycling. He told me I should try every discipline of cycling, and he introduced me to track, road and mountain. I really liked the idea of racing in the 2012 Olympics on the track in the points race, so that's the direction I headed.
VN: You have spent much of your time in the last few years on the track, but seem to be spending more and more time on the road. What was the motivation behind the switch?
SE: Just recently, in December, they changed the Olympic program and took the points race out, so I wondered what I was going to do now that there was no event for me. The team has grown, it's one of the best road teams in the country now, and since I have really taking a liking to the road, and have had some success on the road, I changed focus.
VN: Do you think that track racing has prepared you to be a better road racer?
SE: Absolutely, I think the two go hand in hand. You see a lot of successful road athletes having a background in track. They are moving away from it, just like me, because the program has changed.
I think it's a great supplement, and it will always be a great supplement because it's just such good quality, high intensity racing. The bike handling skills and instincts that you learn from the track translate really well to racing on the road, particularly sprinting ability. On the track you can't hesitate. On the road, you have enough time to make up for a hesitation, but on the track it's a split second and if you miss it, you're gone.
VN: You've been some amazing results this spring; did you change anything from last season?
SE: I sacrificed all of my winters since 2007, when I started racing on the track, due to the international track season. So I started doing what normal road riders do in the winter, which is build… take a long break and build from the bottom up. Without that base I was limited to what I could do during road season. I found that out at the Giro last year, doing a ten-day stage race, one of the hardest stage races in the world. I got through it, but when I got home I lost a month of training because I just never recovered. So the importance of doing a base, and taking time to recover from the whole season, that's where I'm finding success now.
VN: Your overall win in New Zealand was a breakthrough international result for you. What did that win mean for you?
SE: It was a breakthrough performance for me, for sure. It was an amazing experience just being a part of the National team and having us all come together for real total team victory. I had some of the best riders in the world all around me. It was an honor, and I was really proud to be a part of the National team. It just came together so well; they put the pressure on me and I was able to deliver, and it was just a very positive experience for me.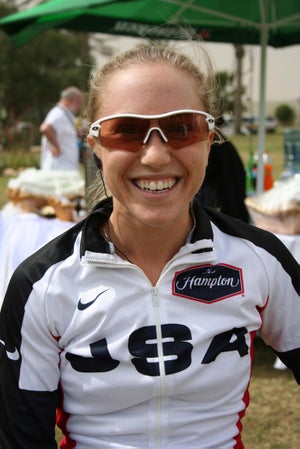 VN: After your win in New Zealand, VeloNews ran a headline "Evans Triumphant in New Zealand," which inspired a reader to write us expressing frustration that he had wasted time reading about women's racing. How would you respond to that reader?
SE: I really don't waste my time with people like that. There are always people who are going to be negative, and there's going to be criticism. I saw that there was a lot of reaction to it and it was positive reaction. In the end, his stirring up stuff drew attention to women's racing, so I guess it was a positive.
VN: What does your schedule look like for the next few weeks?
SE: I'm home for two weeks, which is pretty unusual. My next block is two and a half weeks from now, and I go to Philly for the Liberty Classic then to Minnesota for the Nature Valley Grand Prix, which is a nice stage race. After that I go to Nationals, where I'll do the road race, time trial and criterium. Hopefully I'll go right from there to the Giro d'Italia.
VN: And a few years down the line?
SE: The 2012 Olympics on the road is the primary goal.
SE: Everything leads up to that. The World Championships this year and next year, and the Pan Am's as well. We work from 2012 back and figure out what we need to do to get there.
After the Olympics, I might make a bid for cyclocross worlds. I used to do cross a lot, but it became too hard to balance track and cross since the seasons overlapped. But now that the track is changing, cyclocross looks better, especially with worlds here in the U.S. in 2013.