Movistar workhorse Sutherland opens restaurant in Girona
Movistar's Rory Sutherland knows what it's like to work long hours. As one of the peloton's hardest-working "gregarios," the veteran Australian pulls the hard yards at the front of the pack day-in and day-out for Nairo Quintana and Alejandro Valverde. Last week, Sutherland opened…
Heading out the door? Read this article on the new Outside+ app available now on iOS devices for members! Download the app.
Movistar's Rory Sutherland knows what it's like to work long hours. As one of the peloton's hardest-working "gregarios," the veteran Australian pulls the hard yards at the front of the pack day-in and day-out for Nairo Quintana and Alejandro Valverde.
Last week, Sutherland opened the doors to a new venture that's very different than the peloton, but he may be working just as hard. Sutherland, along with his wife and other partners, proudly debuted the Federal Café of Girona.
"We just opened, and so far, people seem to be liking it," Sutherland said. "We've hit the ground running. It's not just a café, but a full restaurant. We've got 12 employees. We're excited."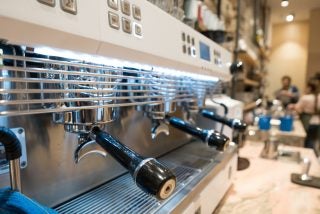 This won't be his full-time job, at least not yet. Sutherland, 34, certainly isn't done racing. After perhaps his best season since returning to Europe in 2013 with Tinkoff – Saxo, Sutherland re-upped with Movistar for at least the 2017 season. This year, he raced both the Giro d'Italia and Vuelta a España on the front lines, helping Valverde reach third in the Giro and Quintana win the Vuelta.
"I was joking with Imanol [Erviti], and I think we calculated we did 800km to 900km at the front of the Vuelta between the two of us," Sutherland said. "That's our job, and I love it. It gives me purpose, and I am very happy on this team."
Although he's not putting a firm closing date on his racing career, he's already looking ahead to a life beyond the bike.
Since returning to Europe in 2013 after racing six years on the North American scene, he's settled into Girona, with its thriving bicycle community and attractive historic center in Spain's Catalunya region. It's quickly become home, and he wanted to find something to help him transition from bike racer to a mere mortal. The idea of a restaurant captured his imagination after a visit to a spot in nearby Barcelona.
"Two Australian guys opened up a restaurant in Barcelona, and it has a great vibe," Sutherland said. "I checked it out, and with some partners, we decided it made sense. It's a perfect fit for Girona."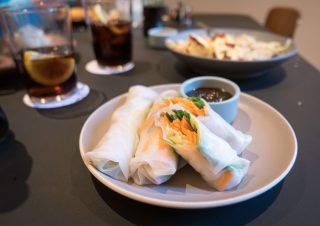 The menu is a mix of Australian, English, and Spanish offerings, with a laid-back relaxed setting. Sutherland said anyone can stop by for a coffee or sample a full-service menu for breakfast, lunch and dinner. Located right in the heart of Girona's bustling "casco antiguo" (Carrer de la Forca, 9 17004 Girona), Sutherland and his partners spent nearly a year remodeling the location.
Following some Movistar team meetings in Pamplona last week to plot the 2017 season, Sutherland hurried back to Girona. He was keen to take advantage of the waning days of his "off-season" to make sure everything was running smoothly at the restaurant.
Check back soon to VeloNews for a full interview with Sutherland.