No conflict: Tour of Utah and Quiznos Pro Challenge plan to work together
While at first glance Colorado's stage race appears to tread on Utah's, officials from both races say there is no problem.
Heading out the door? Read this article on the new Outside+ app available now on iOS devices for members! Download the app.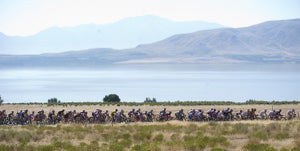 The United States' newest top-flight stage race, the Quiznos Pro Challenge, launched Wednesday on the steps of the Colorado State Capitol. The UCI 2.1 event is preliminarily scheduled for August 22-28, 2011, dates that have observers questioning the potential calendar conflict with the six-year-old Tour of Utah. The five-stage, National Racing Calendar event runs August 17-22 this year.
Medalist Sports managing partner Jim Birrell dismissed the likelihood of conflict, pointing to the differences in the events' sanctioning status and their resulting fields. And a date shift for one or the other is possible, officials said.
"I think the bigger issue is if Tour of Utah goes to UCI, then there will be conflict," Birrell told VeloNews. "If they continue to stay NRC, I don't think we'll have much of a conflict."
If the Quiznos event finds itself on the UCI calendar as a 2.1 level race, it should attract a mix of top international squads and the elite teams of the U.S. peloton, similar to the Tour of California. In that case, there would likely be overlap in the invitations to each event — U.S. Continental programs like Bissell, Jelly Belly-Kenda and Kelly Benefit Strategies would likely field offers from both races.
Applications for UCI events were due from event promoters on June 1 this year. When the QPC team submitted their inscription they did, as is required, file primary and secondary date requests, though Birrell said that the late August timeframe is their preferred option.
"For the Quiznos Pro Challenge, we've had discussions on where it might fit best in relation to the ProTour races in Canada," USA Cycling chief operating officer Sean Petty to VeloNews. "We kept the folks at Utah in the loop and in fact, I'll be out there for the start of that race next week and am going to meet with (Tour of Utah CEO) Karen Weiss and the folks and look at the options and what's going to work best because obviously we want to keep that race in an excellent position in the calendar and support them, as they've done such a terrific job."
Tour of Utah president Steve Miller was excited by the news of the new Colorado event and his team hoped to collaborate with Medalist and USA Cycling to build an August 2011 calendar that benefits both races.
"We are excited to hear that there is a new race joining the professional cycling calendar in the U.S.," said Miller. "The caliber of riders who will participate in the Quiznos Pro Challenge speaks to the professionalism of cycling in the western United States as well as the challenging terrain. We look forward to working with USA Cycling on the August calendar to ensure that both races are a success."
Petty also hoped for collaboration between the organizers. "I think the two can work well together," he said. "It's a good opportunity to have the teams out here (in the western U.S.) and Utah will continue to be very important, at least domestically, and that's really important because we need more stage races domestically."
Petty also said that the Tour of Utah's place in the U.S. calendar is up for negotiation and that it will largely be up to Weiss and company as to whether their events coincides with or directly precedes the Quiznos event, or positions itself entirely differently.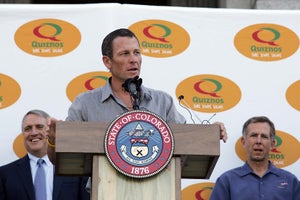 According to Utah media coordinator Chip Smith, race management recently conducted a feasibility study to determine when and if to apply for UCI sanctioning for their event, which has quickly become one of the most challenging events on the NRC schedule.
"The University of Utah helped us do a study on whether it would be worth it to move to the UCI level and with the level of spectators we can get here in the state, it didn't make sense right now," said Smith. "Of course, more spectators mean more sponsorship and advertisers."
Smith did, however, confirm that Tour of Utah management would like to make the UCI leap soon. "We're probably five years off from that, based on the discussions we've had," he said. "I'd say we're looking at three-to-five years."
Race scheduling for 2011 got underway at the UCI Road Commission meeting in April, where the group reviewed the first version of a preliminary calendar. The Commission, of which Petty is a member, will meet again August 26-27 in Geneva, Switzerland and will recommend next year's calendar to the Management Committee. Applications for NRC status are due to USA Cycling mid-August. When the final UCI schedule is announced at the world road championships September 29 – October 3, USA Cycling will put finishing touches on the NRC and should release those dates two weeks later.