Philadelphia International & Liberty Classic open to new winners
PHILADELPHIA (VN) —It may not be the national championship anymore, but Sunday's TD Bank Philadelphia International Championship is still America's biggest — and most prestigious — single-day race. And at 27 years old this year, it is now older than many of the men favored to add its title to their palmares. With a field lacking past winners and a number of young riders showing promising results in recent weeks, Philadelphia could be ripe for a youth movement in the men's race.
Heading out the door? Read this article on the new Outside+ app available now on iOS devices for members! Download the app.
PHILADELPHIA (VN) —It may not be the national championship anymore, but Sunday's TD Bank Philadelphia International Championship is still America's biggest — and most prestigious — single-day race. And at 27 years old this year, it is now older than many of the men favored to add its title to their palmares. With a field lacking past winners and a number of young riders showing promising results in recent weeks, Philadelphia could be ripe for a youth movement in the men's race.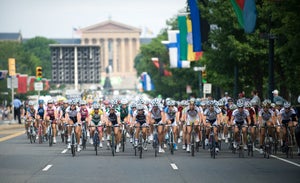 The women's Liberty Classic, now in its 18th year, could also see the start of a new era, with four-time winner Ina-Yoko Teutenberg (HTC-Highroad) giving the race a miss and opening the door for new faces atop the podium.
As always, both titles will be fought out primarily over laps of a 14.4-mile long circuit between Logan Circle and the 17 percent, half-mile ascent of the famed Manayunk Wall climb. The men's race will complete 10 laps of the circuit before finishing with three laps of an abbreviated 3-mile finishing circuit running between Logan Circle and Lemon Hill. Three initial 1-mile parade laps bring the total men's race distance to 156 miles. The women's race will take in four laps of the long circuit for a total distance of 57.6 miles.
Young guns and fastmen
The 20 team men's field is headlined by the HTC-Highroad team of 2010 winner Matt Goss, which returns without the defending champion and 2011 Milan-San Remo winner but stacked with young talents who excel in long, hard races. Should the race come down to a bunch sprint, 26-year-old Danish sprinter Alex Rasmussen will likely aim to follow in the footsteps of Goss and 2009 winner Andre Greipel in delivering an HTC win on the Ben Franklin Parkway. Supporting Rasmussen and making their own chances in the breaks will be a corp of up-and-coming talents, including Irish national champion Matt Brammeier (25), Aussie Leigh Howard (21), and American Caleb Fairly (23).
HTC-Highroad is likely to face its biggest challenge from another young gun, 21 year old rising Liquigas star Peter Sagan. Taking his second crack at Philly after finishing second to Goss last year, the Slovakian phenom clearly has the qualities to pull off big results. A complete rider capable of withstanding the attacks over the Wall and still sprinting with the best, Sagan is one of the few riders who could get equal odds in a full bunch sprint or from a small group. Fresh off a sprint win in stage 5 of this year's Tour of California, Sagan has already faced many of the rivals he will meet on Sunday. He'll have the support of his older brother Juraj, as well as under-rated worker Valero Agnoli, and Liquigas's 2011 American signings, Timmy Duggan and Ted King. King's strong third-place performance at the national championships last weekend points to rising form that could make him a threat should this year's race buck the trend and see a break hang on to the finish.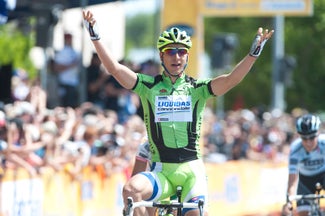 Peter and Juraj Sagan aren't the only brother combination threatening to take the spoils in the City of Brotherly Love. U.S. Continental outfit Jamis-Sutter Home will put its hopes on the powerful combination of Argentinean sprinters Alejandro and Anibal Borrajo. Alejandro, the elder of the two, finished just off the Philadelphia podium in fourth place last year, improving on his seventh place in 2009 and establishing him as one of the most likely domestic riders to unseat the ProTeam competition.
Similarly, if no escapes stick on Sunday, Pro Continental UnitedHealthcare will place its sprint hopes on Australians Hilton and Jonathan Clarke. The squad should also have ample horsepower to draw on should the race split, with all-rounders Rory Sutherland, Davide Frattini, and Karl Menzies all capable either driving or pulling back a break. Philadelphia local Scott Zwizanski could up the team's chances in the breaks even more, but is recovering from a fractured hand suffered at the Vuelta Asturias on April 28. The injury has so far cost him rides in the Tour of California and the national championships, and a start in Philly is likely to be a near game-time decision.
Like UHC, Team Type 1 has vastly expanded its European program this year, as well as its roster of international riders. The Pro Continental squad will hope to capitalize on those hard race miles abroad to launch Italian sprinter Alessandro Bazzana to victory in the sprint, while relying on experienced strongmen like Rubens Bertogliati and Laszlo Bodrogi for the longer moves.
The Continental team ranks are also ripe with outsiders ready to pounce if the big names fail to execute. With the domestic schedule heavy with criteriums, it's no surprise that many of the U.S.-focused teams find their biggest chances with sprinters. Kelly Benefit Strategies-Optum Health brings an experienced team of veterans who know the Philadelphia race inside and out, including sprinter Alex Candelario. Bissell brings the fast finishing combination of Frank Pipp and Kyle Wamsley, while V Australia could feature with Jonathan Cantwell and Kenda-5-Hour Energy will look to fastmen Luca Damiani and Shawn Milne.
Noticeably absent from the mix are three of the United States' biggest teams, ProTeam outfits BMC, RadioShack, and Garmin-Cervelo. A spokesman for the BMC squad noted that the team intended to send at least the minimum four-man squad, but illness, injury and the need to field teams for both the Criterium du Dauphine and the Tour de Suisse ultimately scrapped the team's Philly plans.
The Dauphine, which starts with a prologue on Sunday in Saint-Jean-de-Maurienne, France, also affected RadioShack's participation, as team members who were in the United States for the Tour of California and last weekend's national championships, including newly-crowned U.S. champion Matt Busche, have returned to Europe for a mountain training camp ahead of the race.
Garmin, too, was marshalling its forces for the Dauphine, flying U.S. time trial champion Dave Zabriskie back to Europe almost immediately after he pulled on his new stars and stripes. Instead of its ProTeam formation, the argyle armada will be represented by its Continental U23 arm, the Chipotle Development Team.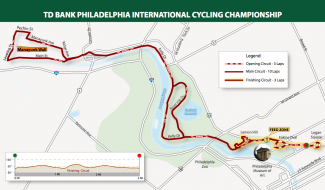 Absence of some of the top U.S. teams has opened the door to some lesser-known outfits. The newly minted Champion System squad will bring an out-of-retirement Jan Kirsipuu, a crafty sprinter who despite his 41 years is well schooled in the circuit race format after years on the French Cup circuit with teams like Chazal, Casino, and Ag2r. Pro Continental squad Geox-TMC is also making the trip Stateside with a seasoned squad of grand tour climbers, including Spaniards David de la Fuente, David Gutierrez, and Xavier Florencio.
Looking to impress bike sponsor Fuji, whose U.S. operations are headquartered in Philadelphia, expect Geox to try for the King of the Mountains title by collecting points on each ascent of the Wall and Lemon Hill. To do so, they'll likely face challenges from fellow Spaniard Francesco Mancebo and Colombian Cesar Grajales, both formidable climbers racing for the domestic Realcyclist.com squad.
Liberty Classic: Big teams, small teams, and a ringer
As in the men's field, HTC-Highroad returns to defend its title, but will do so without its 2010 winner, Ina-Yoko Teutenberg. With the squad split between Philadelphia and Spain, HTC will rely on the experience of American Amber Neben and Dutchwoman Adrie Visser to keep control of the Liberty Classic. Nineteen-year-old sprinter Chloe Hosking will hope to emulate her teammate Teutenberg with a Liberty win.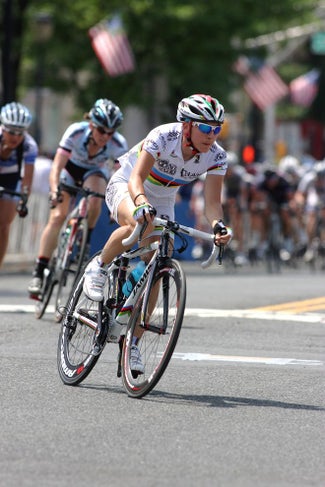 Principal challenges to HTC will come from the Colavita-Forno d'Asolo team, which has flown in women's road race world champion Giorgia Bronzini from its European arm to supplement its already powerful domestic team. Since landing in North America, Bronzini has already won the GP Cicliste Gatineau and helped launch the team's U.S. sprinter Theresa Cliff-Ryan to a Tour of Somerville win on Memorial Day. The pair could team up again to carry off the Liberty title.
The Italian Diadora Pasta Zara team should also play a role in shaping the race. Though more known for her stage race prowess, the Manayunk climb and indecision in the field could be enough to spring the team's U.S. champion Mara Abbott to victory. If the race is together at the line, the team can count on Shelley Olds, who was second to Teutenberg last year.
The international squads will face competition from domestic Team Tibco, which brings 2009 U.S. national champion Meredith Miller and current Canadian national champion, sprinter Joelle Numainville.
Competitors will also be on the lookout for perennial Liberty challenger Laura Van Gilder, riding for the regional Mellow Mushroom team. Local Philadelphia squad Human Zoom, sponsored by a Manayunk bike and snowboard shop, hasn't left anything to chance for its hometown race. The team's signed up Jeannie Longo, the ageless wonder from France, to fly the team's colors for the day. Though the 52-year old, 13-time world champion (5 road, 4 time trial, 3 pursuit, 1 points race) has never come away a winner in Philadelphia, she never fails to make an impression.
Former winners in Philadelphia:
Philadelphia International Championship:
2010 Matthew Goss (AUT) HTC
2009 André Greipel (GER) HTC
2008 Matti Breschel (DEN) CSC
2007 Juan-Jose Haedo (ARG) CSC
2006 Greg Henderson (NZL) Health Net – Maxxis
USPRO Championships:
2005 Chris Wherry (USA) Health Net – Maxxis
2004 Francisco Jose Ventoso (SPA) Saunier Duval
2003 Stefano Zanini (ITA) Saeco
2002 Mark Walters (CAN) Navigators
2001 Fred Rodriguez (USA) Domo-Farm Frites
2000 Henk Vogels (AUS) Mercury-Viatel
1999 Jacob Piil (DEN) Acceptcard
1998 George Hincapie (USA) US Postal
1997 Massimiliano Lelli (ITA)
1996 Eddy Gragus (USA)
1995 Norm Alvis (USA)
1994 Sean Yates (GBR)
1993 Lance Armstrong (USA)
1992 Bart Bowen (USA)
1991 Michel Zanoli (NED)
1990 Paolo Cimini (ITA)
1989 Greg Oravetz (USA)
1988 Robert Gaggioli (ITA)
1987 Tom Schuler (USA)
1986 Thomas Prehn (USA)
1985 Eric Heiden (USA)
Liberty Classic
2010 Ina-Yoko Teutenberg (GER) HTC
2009 Ina-Yoko Teutenberg (GER) HTC
2008 Chantal Beltman (NED) Team High Road
2007 Ina-Yoko Teutenberg (GER) T-Mobile Pro Cycling Team
2006 Regina Schleicher (GER) Nürnberger
2005 Ina-Yoko Teutenberg (GER) T-Mobile Pro Cycling Team
2004 Petra Rossner (GER) Nürnberger
2003 Lyne Bessette (CAN) Saturn Cycling Team
2002 Petra Rossner (GER) Saturn Cycling Team
2001 Petra Rossner (GER) Saturn Cycling Team
2000 Petra Rossner (GER) Saturn Cycling Team
1999 Petra Rossner (GER) German National Team
1998 Petra Rossner (GER)
1997 Clara Hughes (CAN)
1996 Petra Rossner (GER)