Power analysis: Rory Sutherland's Vail time trial
Power analysis: Rory Sutherland's Vail time trial
Heading out the door? Read this article on the new Outside+ app available now on iOS devices for members! Download the app.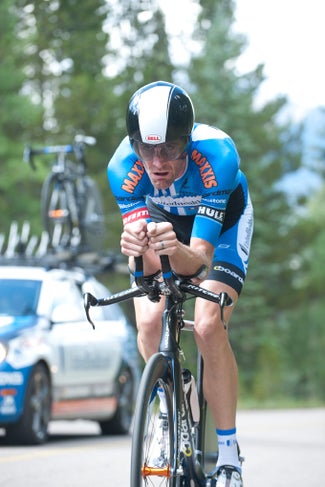 Editor's Note: Throughout the 2011 USA Pro Cycling Challenge, VeloNews will be publishing and analyzing SRM power data from UnitedHealthcare's general classification star Rory Sutherland, who was seventh at the AMGEN Tour of California earlier this year. TrainingPeaks is providing the race data to us, as well as making Sutherland's interactive race file available to the public.
The profile of Thursday's stage 3 time trial made proper pacing even more vital than the average race against the clock. With the relatively flat start gradually ramping up to a difficult final few kilometers, any rider going too far into the red early certainly paid for it later. UnithedHealthcare's Rory Sutherland's SRM power profile for the day is a lesson in pacing technique.
Sutherland averaged 379 watts (5.0 watts/kilogram) for the entire 27:02 effort, good enough for 13th place. His cadence was smooth, almost always between 97 and 100 rpm, which TrainingPeaks' Hunter Allen said "allowed him reduce the strain on his muscles and allow his highly developed cardiovascular system to handle the effort." Allen added that Sutherland's threshold power at sea level is 440 watts, but at elevation it's closer to 400 watts and then when he's on the time trial bike it's between 385 and 390 watts.
Sutherland's stage 3 data
Total time: 27:02
KiloJoules: 614
Average power: 379 watts (385 normalized)
Max 1-minute power: 532 watts
Max 5-minute power: 405 watts
Max 20-minute power: 380 watts
Average heart rate: 170bpm
Max heart rate: 181bpm
Average speed: 21.8mph
Sutherland stayed within spitting distance of 380 watts for the first 14.5 minutes, at which point the road ramped up to 8.1 percent for 400 meters. Knowing that there was time to be gained on this steep section, he held 484 watts for its entire length before settling back into his threshold power as the road leveled out. He held about 390 watts from that point until the about 300 meters to go, when he ramped it up again, sustaining 545 watts until the finish.
"I just tried to find a good rhythm without over-gearing it," Sutherland said after the stage. "I wasn't really shooting for any target power, just consistency. The body just kind of settles in. That's all you can do with the altitude, and after a hard day yesterday."
Sutherland's best 20-minute average power was extraordinarily close to the same figure from Wednesday's stage — 371 watts Wednesday and 380 Thursday — despite the fact that Wednesday's peak came over 100 miles into the stage. Part of that can be put down to the time trial bike, which saps about 15 watts in the name of aerodynamics.
The rest, Sutherland says, was simply tired legs.
"I was missing a bit of that top-end power, but I was expecting the power to be a little on the low side today," he said after the stage. "I wasn't bad, but just feeling that general fatigue you get after a few days. Levi and Christian apparently weren't feeling it, but year after year of grand tours are an advantage there."
Related: All Colorado tour power articles