Reaching for the Sky: A conversation with Dave Brailsford
Dave Brailsford had a full plate in 2010 as he created Great Britain's first major professional cycling team. After steering the British track team to dominance in the 2008 Beijing Olympic Games, Brailsford turned his attention to the road.
Heading out the door? Read this article on the new Outside+ app available now on iOS devices for members! Download the app.
Dave Brailsford had a full plate in 2010 as he created Great Britain's first major professional cycling team. After steering the British track team to dominance in the 2008 Beijing Olympic Games, Brailsford turned his attention to the road.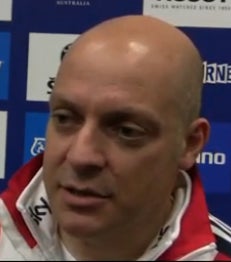 The team generated huge media buzz, and along with it, huge expectations. Team Sky won 23 races, fifth among the ProTeam hierarchy, not a bad start at all. But the team got its fair share of flack from pundits who scoffed at Brailsford's lofty goals and new world way of doing things.
VeloNews European correspondent Andrew Hood caught up with Brailsford to talk about last season's highs and lows, what they team learned and whether or not Mark Cavendish will be wearing a Team Sky jersey in 2012.
VeloNews: How do you reflect on your debut season in 2010? Some suggest the team didn't live up to expectations, how do you measure the team's first year?
Dave Brailsford: I have had some time to reflect on the first year, and the bottom line is, this time last year we didn't have a team, so it's been an amazing journey to create the first British pro team. We learned a huge amount, we won over 20 races along the way, and most importantly, we won over a lot of fans.
VN: Do you think the team set too high of a bar last year?
DB: Traditionally over the years, our approach has been to underplay our expectations and then plan to over-deliver. Last year, it was a tricky situation. Brad had run fourth the year before, so there was no reason that he could not perform to the same level. You've got to be ambitious, but you've equally got to try to manage your expectations. That was a fairly big learning curve for us last year.
VN: Wiggins couldn't match his fourth place from 2009, do you still believe that he can finish on the Tour podium?
DB: Every year is a new year, so in that sense, Brad's very determined to get in the absolute best shape and be at his absolute best for July. What happened last year or the year before really doesn't matter. Maybe last year was all about one rider and one race, this year we've changed our view. We will make sure we will compete across the season, and though the Tour's a huge race and it's very, very important, we'd like to be protagonists in all the season.
VN: The team came on strong last year with a stated goal of winning the Tour de France within five years with a British rider, after your experience of last year, does that remain realistic?
DB: We've got to be careful on that one. Like anything else in life, you create an inspirational goal, and ask yourself, what is the absolute pinnacle of what we can achieve? Shall we aim for a top-10 or try to win? We've always set high goals (at British cycling), so the ideal goal was to try to get a British rider to perform in the Tour de France. That's as good as it gets, so let's go for it. If we do that, we might get somewhere close, so in terms of an inspirational goal, that still rings true. Is it a realistic strategy as we stand here today, that's another question.
VN: There's some buzz that Geraint Thomas could be the guy who could become the first British winner of the Tour de France, but do you think that's a pressure you want to put on him?
DB: I don't think we should throw that on his shoulders. He's improving in all facets, his time trialing, his climbing, his numbers are world-class. Whether he continues to develop in that direction, who knows? He's certainly progressing in the right way and he's got a lot of work to look forward to. If he applies himself, we don't know how far he could go. It's a journey of discovery.
VN: You brought Bobby Julich on as a coach, what interested you about him to bring him into the squad?
DB: Bobby is someone we had on the radar. We've watched him work over the years; we met him and discussed his thoughts. He's made a tremendous start and he's fitted in well into our model. Bobby will be working with the younger riders, the developing riders. He will also have a lot of input on our team time trial and time trial efforts.
VN: The team also has a very strong anti-doping message, what did the team learn last year on that front?
DB: One of the key things to the team was to perform and race clean. We proved that you can win 20-plus races clean, it can be done. In fact, it's quite encouraging, quite exciting. Our thoughts have been on how we use other areas of knowledge, science and training, to get performance-enhancement other than doping. The anti-doping scenario is critical to our team. The ethical stance we take is robust and strong and it's becoming more the norm. There are other teams who are doing a terrific job.
VN: Last year, you had a sensitive issue with Michael Barry and accusations made against him by Floyd Landis, but the team stuck by him. How did you deal with that?
DB: With all these kinds of situation, you have to stand back and establish the facts, and look at what's considered to be fair and just. First, let's establish the facts; is there a case to answer to? Then we'll make appropriate decisions based on the facts. We'll stand by anybody until the facts are established and prove otherwise. In this case, we did what was fair and just.
VN: There's some evidence that cycling is cleaning up, but do you see some way to measure that, either through anecdotal or quantifiable evidence?
DB: The testing protocols that exist in cycling are there for valid reasons. They're absolutely essential to make sure that we can maintain and clean up the sport even further. That testing gives us a good measure of what's going on. The more that are caught, it can be argued the more that the sport is cleaning up. While it's counter-productive in the short-term, it's productive in the long-term. How else can you measure? You can look at the speed, how they race, if there's more signs of fatigue, if there's some sort of indication that they look human after all. The style of racing has changed. I haven't been involved at an intimate level for a long time, but certainly speaking to colleagues who've been in the sport awhile, they're convinced that the style of racing has changed, because the sport is cleaning up. It's a tricky thing to measure, but if something seems to be too incredible, it's probably just that – too incredible.
VN: And finally, Mark Cavendish is ending his contract this year, your team must be the leading candidate to try to sign him, how bad would you like to sign Cavendish?
DB: The bottom line is Mark is a phenomenal talent. We've been with him since he was a young guy. He's on a great team at the moment, a team that works for him, so it's not our place to speculate about riders on other teams. Out of respect of my colleagues at HTC, he's a rider who's contracted with them, so it's not my place to discuss it right now.