Rivera on worlds attack: 'I tried to hang on as long as I could'
Although she's suited for sprint finishes, Coryn Rivera attacks early at worlds in an effort to set up Team USA's climbers.
Photo: BrakeThrough Media
Heading out the door? Read this article on the new Outside+ app available now on iOS devices for members! Download the app.
There's a story behind Coryn Rivera's 31st place at Saturday's UCI World Road Race Championships.
In case you missed it, Rivera, one of the world's best sprinters, went on a daring solo attack for the early part of the race. Rivera attacked on the first of three ascents of the Igls climb, and spent more than 20km riding solo, eventually being joined by Amanda Spratt, Emilia Fahlin, Ellen van Dijk, and Tatiana Guderzo. Rivera's early move was tactical; she hoped to force other national teams to chase, thus removing pressure from her American squad's climbers Ruth Winder, Megan Guarnier, and Katie Hall.
"Normally my strength is sprinting but of course on this course it's not going to come down to a sprint," Rivera told VeloNews. "So there's no reason for me to sit around and wait. I need to be ahead of the race to support [my teammates] any way I can."
Rivera chugged along in the breakaway while behind, Anna van der Breggen attacked out of the main filed and began her victorious ride to the front of the race. As Rivera and her breakaway companions pedaled up the Iglis climb, van der Breggen quickly ate into their advantage.
With more than 3km remaining Rivera looked back and saw an orange figure approaching quickly. It came at the worst possible time.
"I was actually eating a bar before she was coming across. I saw her coming across and was trying to eat it as fast as I could," Rivera said. "I actually spit the bar out of my mouth, took a big swig out of my water bottle and then tossed it. She attacked us immediately and I was like, 'This is not a good time to be eating.'"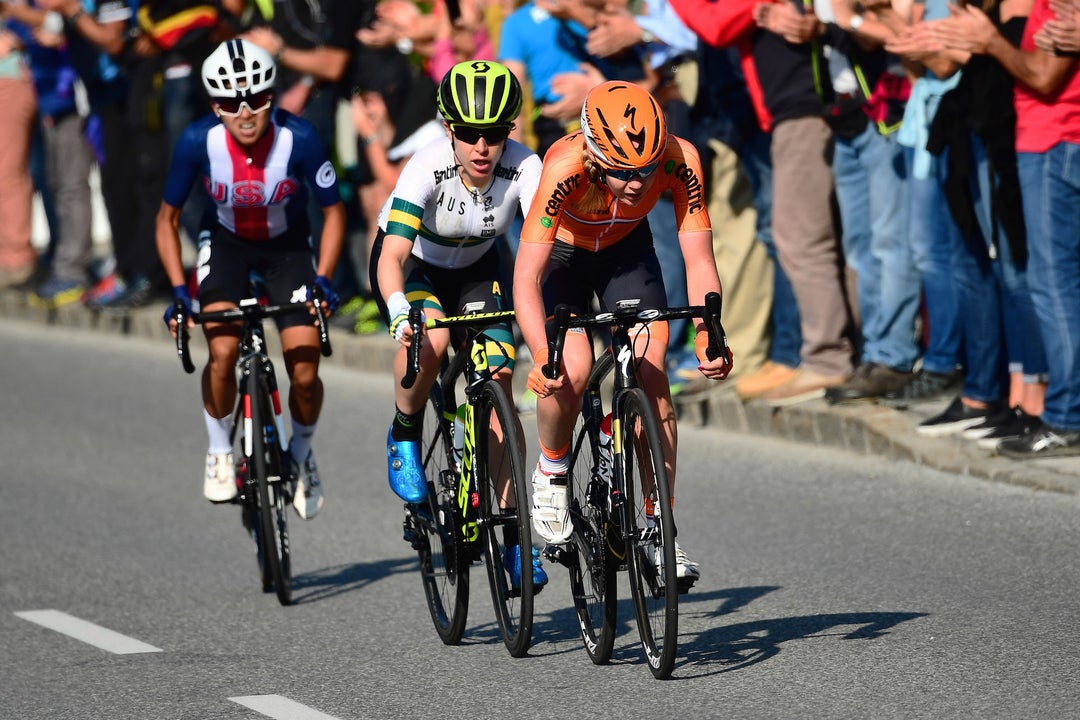 Rivera tried to match van der Breggen's pedal strokes and hung on for several minutes. But the Dutch rider's powerful climbing legs quickly wore down the group. Fahlin dropped away, as did Guderzo and then Rivera. Only Spratt managed to stay with van der Breggen for another kilometer or so before she too was dropped.
"I tried to hold on as long as I could — I don't know how long it was," Rivera said. "I suffered as long as I could and then I really had to pace myself or else I was going to explode."
Van der Breggen soloed in for her first elite world title. Behind, Rivera and the American team rode on to the finish. Winder was the top American finisher in 10th place, more than seven minutes down.
The U.S. team traveled to the Netherlands after the race to discuss the result and plan for 2018. There will be more opportunities, of course. Next year's worlds in Yorkshire may suit Rivera and her sprinting skills. For 2018, the U.S. team did not collect a medal for the first time in many years. The women's team was blanked — a rare occurrence given the squad's depth at both the individual time trial and road race. That was always a possibility on the mountainous course, given the strength of the Dutch squad.
And the strength of van der Breggen.
Rivera said that the strongest rider simply won on Saturday.
"She's definitely a worthy champion and it's pretty incredible how strong she really is and how effortless it is for her," Rivera said.
"Everyone tried to do their best on Saturday and she just rode away."