Romain Bardet is France's most unlikely cycling star
Romain Bardet is cycling's most unlikely star, and he could end France's Tour de France drought after finishing second in 2016.
Heading out the door? Read this article on the new Outside+ app available now on iOS devices for members! Download the app.
Romain Bardet is not your typical world-class cyclist.
When VeloNews sits down for an hour-long interview with Bardet in mid-December, we assume he wants to talk about his other-worldly performances in 2016; most notably his stage victory and runner-up finish at the Tour de France. Instead, the 26-year-old prefers to chat about world affairs and history. After greeting us, Bardet quickly interrogates us about Donald Trump and the American presidential election.
[related title="More on Romain Bardet" align="right" tag="Romain-Bardet"]
"After the Tour, I gave too many interviews to count, but you are the first American," Bardet says in his polite, soft-spoken tone. "I am always listening to the radio, reading books and magazines. I followed the election in the U.S. closely. Anything can happen in politics."
Perhaps we should have expected this from Bardet, who is unlike any Tour de France challenger of his generation. Standing 6-foot-1, Bardet looks like Benedict Cumberbatch on a bicycle, and his command of the English language rivals that of the acclaimed English actor. That's because Bardet is both a scholar and an athlete. Since 2012 Bardet has balanced his cycling ambitions with his aspirations in the classroom, where he has studied business management. In fact, Bardet recently earned his MBA in business administration from the Grenoble Graduate School of Business. As part of his studies, Bardet worked as a public relations agent for a French rugby club.
The advanced degree gives Bardet a level of education and depth that you don't often find in the pro peloton, especially not amongst the best grand tour riders. But make no mistake: Bardet is a bike racer of the highest order.
In just five years as a professional, he's clashed with the likes of Chris Froome and Nairo Quintana, and has single-handedly raised the hopes of an entire nation. On the skinny (and aerodynamic) shoulders of Bardet, the French believe they might have finally — finally! — found someone who can bring them back to the top of the sport.
Bardet is taking a pragmatic view of his situation. Six years ago he was struggling to become a professional, and now, he's the darling of the entire nation. The progression in ability, however, is part of the sport.
"I am not a dreamer. I know what I am capable of, and what I am not," Bardet says. "There is a saying in France: 'Your appetite grows based on what you are eating.' In each race, you are discovering your limits and your potential. I have not reached my limit yet."
In Bardet's politesse, that means he is ready to gorge at the plate of the Tour de France. Is he a worthy successor to the Badger, the iconic Bernard Hinault, last Frenchman to win the Tour? Maybe, albeit with a lithe, modern twist. In any case, Bardet possesses the kind of panache and esprit combatif that's been missing from the French peloton for decades.
For a proud nation that once dominated the peloton, France has been suffering since Hinault last won the Tour in 1985. A new generation of French riders is unburdened by the complexes of the 1990s and 2000s. Bardet was an eight-year-old when the Festina scandal broke. They're young, audacious, and determined. The lean, intellectual figure of Bardet is leading the charge.
"Romain is a smart fellow," says Ag2r La Mondiale manager Vincent Lavenu. "He's very mature for his age, and is a rider who is full of ambition, but also with the work ethic to achieve things. It's one thing to have the natural ability, but to be at the very top, you must also work very hard. Romain has both of those qualities."
WHEN VELONEWS VISITS THE Ag2r La Mondiale winter training camp along Spain's Mediterranean coast in mid-December, the entire team is in high spirits. Rightly so, given their wildly successful 2016 season, punctuated by Bardet's Tour success.
"It was very special to be between Froome and Quintana on the podium," Bardet says. "They are the best grand tour riders today. My goal was to reach the Tour podium in my career, and perhaps it came sooner than I expected. Now I know I will have to work even harder to improve."
French cycling has been revitalized, and riders like Bardet and Thibaut Pinot are the leading lights. A decade ago, the idea of a French rider reaching the Tour podium was laughable. In the past three editions of the race, however, French riders have finished second on two occasions, and third once. Gone are the days when the French would race against each other to be the top rider on GC. Now they're racing for yellow.
[pullquote align="right" attrib="Romain Bardet"]"I am not a dreamer. I know what I am capable of, and what I am not."[/pullquote]
No team manager understands this plight better than Lavenu, whose career in team management arcs back to the 1990s. Having seen French cycling's darkest days — the Festina Affair followed by a decade of anonymity — Lavenu sees incredible promise in the new crop.
"Before, we had a complex in French cycling. We suffered through many bad years, and I think French cycling lost its way," Lavenu says. "Now there are many young riders, like Bardet, Pinot, [Julian] Alaphilippe, who have come up in a different generation and are unburdened by the past, who are at the highest level of the sport. There has been a renewal from the bottom up."
A natural-born climber, Bardet is France's best Tour hope in a generation. As was written in L'Equipe in 2014, "He has the lungs and the legs to win the Tour de France someday." His fearless, analytical style has drawn comparisons to Fignon.
Ask Bardet the question of who will be the next French winner of the Tour, though, and his relaxed demeanor tenses noticeably.
"Ah, I have been asked that question many times," he says, half laughing, but clearly annoyed. Perhaps Bardet remembers his public relations seminar, or perhaps he simply understands the gravity of the question. There are 30 years of pressure packed into that inquiry, after all.
"The next French rider who wins the Tour should retire right there on the Champs-Élysées!" he says. "There would be no way you could live the life of a professional cyclist with all the attention and pressure that would come with it. You need to be relaxed to be a bike racer, but how could a French rider ever hope to go back to try to win again? Some day some French rider will win the Tour again. It's the big dream."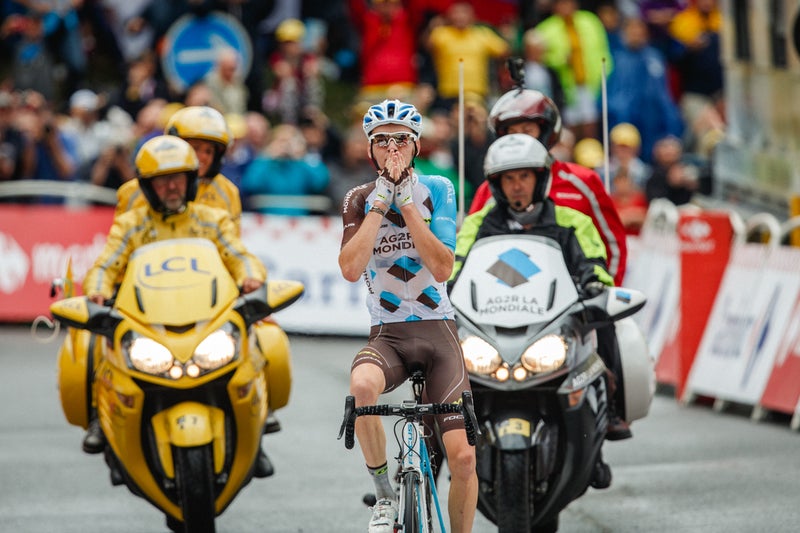 BARDET IS THE DARLING of French media these days. His easygoing style, his natural curiosity about the world beyond cycling — he once said the highlight of his Tour debut was shaking hands with the French president — and his cycling chops give him marquee status.
Bardet's quiet demeanor at the team's December camp sharply contrasts with his attacking style in the heat of the race. His exploits on the bike reveal a ambitious athletic charisma. A product of the French cycling federation, he was one of the top juniors before graduating to the under-23 ranks. As a member of the famed "Class of 1990," Bardet has sparred with the likes of Tejay van Garderen and Quintana since they were espoirs. As the captain of the French national team, he was the big favorite for the 2010 Tour de l'Avenir. He was surprised by the then-unknown Quintana, and ended up winning the green points jersey. All the while he stuck to his college studies, unconvinced he would turn pro. That changed when his now-boss Lavenu persuaded him to train with the team, and he entered the professional ranks at 21 in 2012.
He quickly impressed, riding to fifth place at the Tour of Turkey in his rookie season. He followed that performance with the overall win at the Tour de l'Ain in 2013. Bardet also shines in one-day races, and dreams of winning a monument. He boasts top-10s in Liège-Bastogne-Liège and Il Lombardia. The first big surprise came with his sensational Tour debut in 2013, when he placed 15th overall at the age of 23. He was sixth in 2014, a result that was overshadowed by those of his former teammate Jean-Christophe Péraud, who finished second, and the equally young Pinot, in third. In 2015, he won his first career Tour stage at St-Jean-de-Maurienne in stage 18, deep in the Alps en route to ninth overall.
"I like the third week," he says with a smile. "The harder the third week, the better for me. That's why I am good in grand tours. My body can take the load of work, and I still have something left. That's what happened this summer. I was getting stronger as the others were starting to weaken."
Of course, Bardet's true confirmation came last summer. After riding discreetly in the top-10 through two time trials, the lissome climber came to life on the final mountain stage to Saint-Gervais Mont Blanc. On wet roads, second-place rider Bauke Mollema (Trek – Segafredo) crashed hard. Later, Bardet attacked on a descent, dropping the GC challengers. He won the stage and moved to second overall.
[pullquote align="right" attrib="Vincent Lavenu"]"We cannot obsess with the Tour, and we cannot put that pressure on him."[/pullquote]
"Romain had a truly great Tour de France," Lavenu says. "The way he raced was very intelligent, and he never stopped fighting. He delivered a beautiful stage win, and his podium placing has filled the hearts of cycling fans. We cannot obsess with the Tour, and we cannot put that pressure on him. Yes, he is capable of winning the Tour, and that is important because it has been many years since a Frenchman had real chances. Now, will he win it? That's another story."
BARDET INSISTS HE'S NOT letting the pressure get to him. He's slowly growing comfortable in the spotlight and he's learning what it takes to lead a major team.
"He really lifts everyone up," says teammate Domenico Pozzovivo. "We had a big meeting during the Tour rest day, and he urged everyone to really push hard in the final week. He said it was the critical part of the race, and he was right."
Bardet also pushes the team to embrace new technology and training programs. He brought on his personal coach, Jean-Baptiste Quiclet, and insisted the team conduct wind tunnel testing and altitude training.
"There is much to learn in cycling, and every Tour I have learned new things, how to handle situations," Bardet says. "I am very interested in material, training, and diet. You learn to keep fighting. You learn to take each day as a challenge. More than anything, you need to be aware, and be ready to race when a situation arises."
With Froome, Quintana, and a host of others as rivals for the foreseeable future, Bardet is keenly aware of the challenges he faces. "I know I am not as good as Froome or Quintana, but I can challenge them," he says.
"They also saw from the last Tour that when I am at my level, they cannot let me go. Froome is at the top of his game, and will be around for a few more years. Nairo is my age, and there is also Pinot, [Fabio] Aru, and [Esteban] Chaves, so to win any grand tour will not be easy. We are part of a big generation of great riders. It gives you motivation, but you also know that you cannot win with ease. The best years are to come, and for sure we will see some big battles. That's why every win is so special, because of all the self-sacrifice that goes into it."