Roubaix Roundtable: Sagan rewrites story of 2018 classics
How does this edition of Paris-Roubaix stack up to previous thrillers? Why couldn't Quick-Step chase Sagan?
Heading out the door? Read this article on the new Outside+ app available now on iOS devices for members! Download the app.
The cobbled northern classics wrapped up with Peter Sagan winning his first Paris-Roubaix in epic fashion. He rode away from the bunch with 50 kilometers left, hooked up with the early breakaway, and sprinted to victory in the velodrome. We've got to do a roundtable about this convincing win. However, we must also remember Michael Goolaerts, who died Sunday after suffering heart failure at Roubaix. Amid the drama of the race, this tragedy should not be forgotten, and VeloNews extends its sincere condolences to everyone affected by his passing.
Sagan defeated the Quick-Step machine. How do we rate the 2018 Paris-Roubaix (out of five stars), and how do we compare it to recent editions?
Fred Dreier @freddreier: We must mention the Michael Goolaerts tragedy and the pall it cast on the race. From a pure viewership perspective, I give it three stars. Sagan boosted the rating through his own star power and the historical element of watching him win his first cobblestone. But yes, once the gap got to one minute, I felt that it was over. Boonen vs. Hushovd in 2009 was the last five-star Roubaix.
Dane Cash @danecash: The news that Michael Goolaerts passed away left a tragic cloud over the experience. Purely rating Roubaix on the racing aspects, however, I'd give it 3.5 stars. I would have preferred more action in the final 20 kilometers. Sagan was just too much better on the pavé than his rivals for there to be much excitement in the finale. The last several Roubaix finishes have thrilled me more: "Sprinter" John Degenkolb bridging a hefty gap to make into the lead group for the finale, Mat Hayman stunning Tom Boonen, and Greg Van Avermaet finally winning a monument after years and years of close calls. Sagan besting Quick-Step was impressive, it just wasn't a five-star show.
Andrew Hood @eurohoody: I would rate it a solid four cobblestones. Roubaix is always a grueling race. It's pure grit vs luck. Compared to recent editions, it was a solid race. To reach full five-cobble rating, it needed a colossal battle between two favorites — think Terpstra and Sagan swapping blows across the Carrefour. It had plenty of drama (unfortunately too much of the wrong kind #RIPMichael — everyone is still reeling from this). Having a marquee winner like Sagan gave it an extra cobble. Roubaix never fails to deliver.
Spencer Powlison @spino_powerlegs: It's always entertaining to watch Sagan win — he manhandles the bike, does mid-race stem adjustments on the roll, and looks generally superhuman. But strictly on merit, the 2018 Roubaix didn't offer a lot of true blow-for-blow action. It wasn't even close to the thrilling finish in 2016 when Mathew Hayman defeated Tom Boonen. With that in mind, I give this Roubaix 3.5 stars. It's a bit harsh, I know, but we wouldn't be so ga-ga over it if someone other than Sagan won.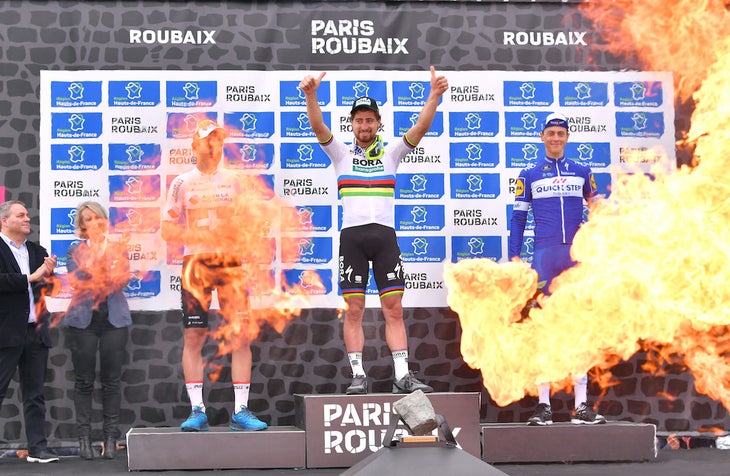 What were the keys to Sagan's victory?
Fred: He waited for Quick-Step to fire its guns early, and then attacked right at the moment when Terpstra should have gone. Sagan rode strongly with the breakaway riders and did not drop them, instead using them to conserve energy.
Dane: Sagan seemed to key into a massive engine that he has not often shown in the past en route to his Roubaix victory. He's always been powerful, punchy, and a great bike handler, but he's not some time trialing specialist you expect to see drilling it solo for an hour. Finding that big engine just in time for the final race of the cobbled classics campaign was his path to victory.
Andy: Sagan jumped when Quick-Step was a bit disorganized. Gilbert and Stybar had both just come off big attacks. Key helpers were missing and the team was a bit frazzled. Sagan pulled clear when Quick-Step was out of position to smother on the move. Tactically, it was the right time to pounce. Quick-Step was outmaneuvered and the chasers were all looking at Terpstra and co. to lead the chase. By then it was too late. Of course, no punctures or crashes helped.
Spencer: It was all about the timing of that attack. He went far from the finish, so I don't think the guys in the front group took it all that seriously at first. Plus, he snuck away right after Greg Van Avermaet had tested the group with an attack and Wout Van Aert had shut it down — legs were feeling tired. They gave Sagan just enough leash and then he held that gap of about one minute to the end with a bit of help from Sylvan Dillier.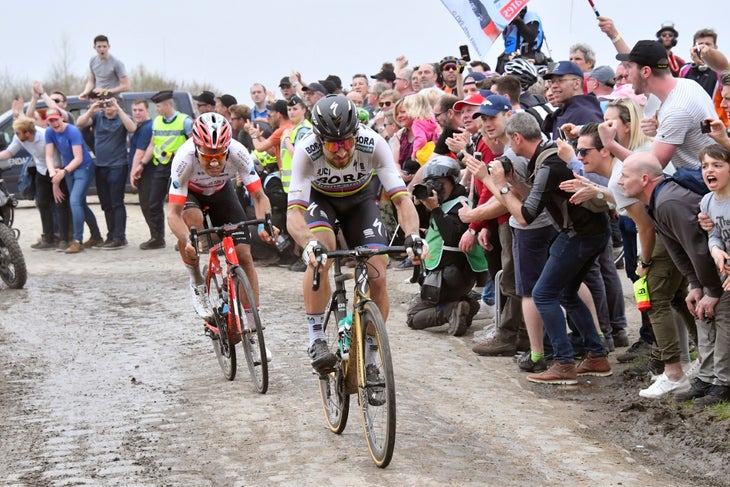 Quick-Step again had the numbers. Why did its strategy fail?
Fred: The blame falls squarely on Terpstra. Gilbert and Stybar did their job to go early and soften the legs. Sagan's attack came when Terpstra should have gone, but perhaps he was waiting for another kilometer to tick off before going. Either way, Terpstra was the next man up and he decided not to go.
Dane: Gilbert attacked nearly 100 kilometers from the finish. That seems a wee bit too far. Stybar burned energy with a move of his own a bit later. If Quick-Step had held onto its cards longer, its riders would have likely been able to keep Sagan in check and then fired off counters in the finale. Would it have been enough? Who knows? Sagan was pretty darn strong out there.
Hoody: You have to wonder if the dominance of Terpstra's early winning attacks at E3 and Flanders put Gilbert and Stybar in defensive/offensive mode. Both are very strong in these classics but had little to show for it. It seemed both wanted to be the "first" Quick-Step to jump and thus have the team support. But the team was in tatters after the Arenberg and it was every man for himself. Gilbert followed the momentum of marking Teunissen's attack, but it was way too early. Stybar seemed to anticipate too soon as well. Terpstra was clearly the strongest by the way he bounded out of the elite chase group to snag third. Had Quick-Step worked in unison, the team would have won. Clearly, for Roubaix, there was no "me" in team.
Spencer: I think they got a little cocky. They've been smashing classics all spring with long-range solo attacks, and Roubaix was just a bridge too far. Philippe Gilbert was a bit too bold to attack in the Arenberg. Maybe he had visions of Flanders 2017 dancing in his head. Or perhaps they all assumed Niki Terpstra was strong enough to control the front group. Either way, it seemed they didn't give rivals like Sagan an adequate measure of respect.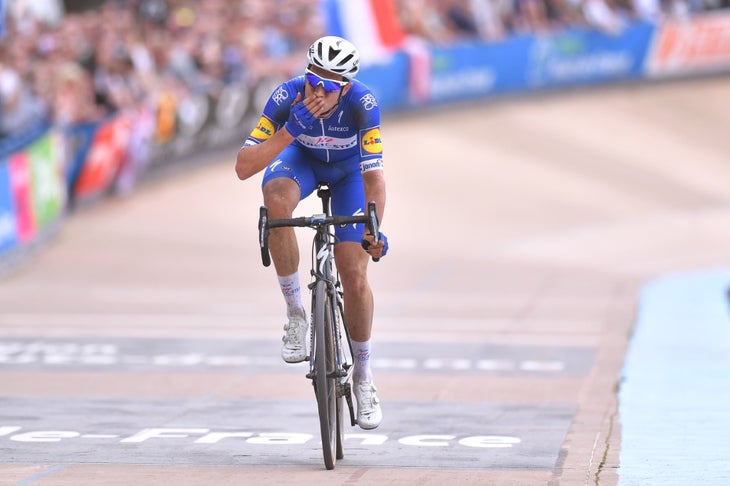 How did Sagan's win reshape the narrative of the 2018 cobbled classics?
Fred: It totally reshapes the narrative from one of Quick-Step dominance to one of Sagan's redemption and silence of his critics. Sure, Quick-Step dominated, but Peter Sagan just won his second career monument after a year of near misses. And he did so in a way that confirms what we've wondered for years (can Sagan win a monument in a long-range breakaway)? No matter what Quick-Step achieves, the team still pales in popularity and importance to Sagan.
Dane: Quick-Step was still the dominant team of the spring. They have a chance to continue to thrive in the Ardennes, where Julian Alaphilippe will be one of the few riders who could take on Alejandro Valverde. However, Sagan definitely flipped a switch on Sunday. Before his ride into Roubaix, the talk of the press room was how flat he's looked this spring. Apparently, sometimes you just have good days and bad days. Fortunately for the world champ, Sunday was one of the good ones. A few years from now people will look back at his 2018 cobbled campaign and see victories in both Gent-Wevelgem and Paris-Roubaix and think, "What a nice spring he had!"
Hoody: It was a fitting exclamation point on what was a cobbled classics season dominated by one team. Quick-Step was near-perfect across the cobbles, and Sagan was the singular rider who could disrupt the narrative. On Sunday, Sagan was lucky to link up with a very strong and motivate Dillier, because had he led alone or had a wheel-sucker, he might have been caught. The cobbles in 2018 were the strongest team vs. the stronger individual. And it's a shame it is now over.
Spencer: I wouldn't say it reshapes the narrative of the 2018 northern classics — it was and will always be the year of the Quick-Step Show. But it does reshape the narrative of Sagan's career. He has attacked to win before, but never from such a long range, and never to win Roubaix, a race that has bedeviled him. This may be just the second chapter in a long book that is the Legend of Peter Sagan.