Scott Mercier: Former Postal rider says Hamilton's charges ring true
On the heels of Tyler Hamilton's admission of drug use while a member of the U.S. Postal Service team, another former USPS rider has come forward, claiming that he was offered synthetic testosterone during his tenure with the squad. Scott Mercier in a 2011 portrait. Photo by Brad Kaminski…
Heading out the door? Read this article on the new Outside+ app available now on iOS devices for members! Download the app.
On the heels of Tyler Hamilton's admission of drug use while a member of the U.S. Postal Service team, another former USPS rider has come forward, claiming that he was offered synthetic testosterone during his tenure with the squad.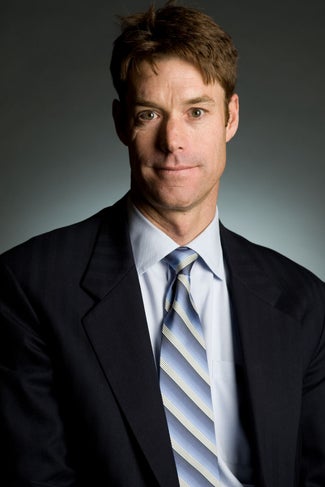 American Scott Mercier rode for the USPS team in 1997, alongside future Tour de France-winning squad members Tyler Hamilton, Viatcheslav Ekimov and George Hincapie. Mercier's time spent with U.S Postal was one season before Lance Armstrong returned from cancer and joined the team, and two years before Johan Bruyneel replaced Jonny Weltz as team director.
Mercier, 43, told VeloNews that a U.S. Postal team doctor offered him synthetic testosterone in May 1997, following the Tour of Romandie and prior to a training block in South Africa.
Mercier said the doctor gave him a bottle of green pills and several vials of clear liquid. He was instructed, if asked by customs agents, to say that they were soluble B vitamins.
"I was called into (the doctor's) hotel room and given a training schedule for a four-week break in racing. He gave me a 10- to 12-day training schedule with around 150 to 220km of riding per day," Mercier said.
"Most days ended with either intervals or motor-pacing. On each day were either dots or stars; the dots represented pills, and the stars represented injections. When I asked him what was in the baggie with green pills and glass vials he replied, 'steroids.' He indicated that they were mild, and told me, 'no racing… for sure you test positive, but you go strong like bull.' The cycle was to end on a Saturday and I was to start racing again the following Saturday."
Mercier packed the drugs with him and said he contemplated using them but ultimately decided against it. He attempted the training program anyhow but found himself unable to recover and instead left the sport and moved to Hawaii. In the years that followed, he said he "assumed that anyone that had stayed on as a professional was using some sort of performance-enhancing drug."
"In the off-season races, or the shoulder season, the big races in America, or anywhere other than Europe, you could compete with some guys, but in Europe you just couldn't," he said. "I'm not sure that I really viewed the doping as cheating; it's just that I could not live with the hypocrisy and lying associated with it."
Another team doctor, Prentice Steffen, claimed in 2001 that he had been fired by the team for his refusal to supply Hamilton and then-teammate Marty Jemison with performance-enhancing drugs. Steffan reported the riders' alleged request to team managers and was fired soon after that. Steffen's charges were outlined in a book written by Sunday Times of London chief sports writer David Walsh and former L'Equipe reporter Pierre Ballester. Steffen's accusations led to a bizarre encounter with Jemison at the 2008 Tour of Utah.
Jemison has steadfastly denied having any such conversation with Steffen, who has since joined the Garmin-Cervélo team, serving as a physician for that program. Weltz, too, has joined Garmin-Cervélo, working with the team since 2007.
Mercier said he never saw any other members of the team inject themselves with performance-enhancing drugs. He said he suspected some of his USPS teammates might have used EPO, though he had no proof. A refrigerator in the team bus contained a black plastic lunch box that remained locked, he said, adding, "I liked to pick it up and shake it to hear what sounded like glass vials clang against one another."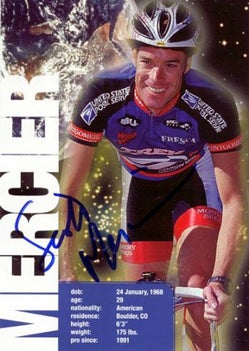 Mercier said he and teammate Darren Baker both turned down performance-enhancing drugs and often discussed the topic, but that, by and large, it was a taboo subject.
"It wasn't really discussed," Mercier said. "You would listen and ask questions, but no one admitted or denied anything. I thought it was a little strange that your own teammates wouldn't discuss it with you, but obviously it was a sensitive subject."
Mercier said he never discussed the use of performance-enhancing drugs with Hamilton, but added that Hamilton's recent confession rings true with what he had observed while on the team.
"The thing with Tyler, he always worked hard, and his progression — it seemed like each year he got a little bit better and better," Mercier said. "There was no doubt in my mind that he was using drugs, but I don't have any proof."
Mercier also said he brought up the subject of doping with Hincapie.
"I asked George about it once over coffee in Girona, but he didn't say anything, one way or another."
Mercier rode for the USA at the 1992 Olympic Games in Barcelona as a member of the 100km team time trial squad, alongside Hincapie, Nathan Sheafor and John Stenner. He rode for Saturn during 1993-95, and after spending the 1997 season with U.S. Postal, he left the sport. He now lives in Grand Junction, Colorado, and works in finance.
"I don't hold any grudges," Mercier said about his time in professional cycling. "I look at what those guys did, and I don't imagine they feel good or proud about it. But they took things away from guys like myself, and Darren Baker. I suppose we weren't 'professional' enough. We weren't into winning at all costs. And the cost to me was my integrity, I wasn't going to give that up."
A first-person account of Mercier's time spent with U.S. Postal Service will appear in the July issue of VeloNews magazine, on newsstands June 1.