Soler leaves hospital four months after accident
Mauricio Soler, the Colombian climber who suffered horrible head injuries in a crash during this summer's Tour de Suisse, finally left a Spanish hospital.
Heading out the door? Read this article on the new Outside+ app available now on iOS devices for members! Download the app.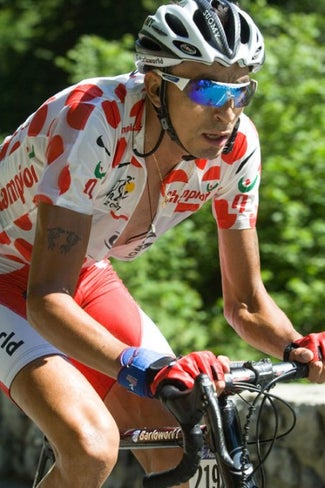 Mauricio Soler, the Colombian climber who suffered horrible head injuries in a crash during this summer's Tour de Suisse, finally left a Spanish hospital.
His Movistar team reported that Soler left the Clinica Universitaria de Navarra on Friday after a long convalescence dating back to his June 19 crash. He returned to his Pamplona home in Spain.
Soler, who spent two weeks in intensive care in a Swiss hospital in the wake of his crash, is not out of the woods yet. He must still undergo extensive rehabilitation work before being cleared by doctors to return to Colombia.
Right now, doctors and team staff are focused on bringing Soler back to full health and have not even considered if he can ever return to competition.
"We have to be patient, only time will tell about that. It would be fantastic to return riding, but now I'm most interested on my own recovery," Soler said in a team release Friday. "I feel improvement every single day, though it's true that some days I seem like stepping back, and that always discourages you. For example, I'm concerned I get tired too soon when walking."
Movistar doctors said it's too early to tell if Soler — who looked to be back in top shape with a stage victory at the Swiss tour following a few years marked by injuries and poor results — can ever race his bike again.
"What we're concerned about now is the personal side, not the sporting one. For him, returning to riding his bike is a motivation, but it's still too soon to know whether it'll be possible or not. That's something nobody can assure," Movistar team doctor Alfredo Zuñiga said.
"For the time being, his progress is still favorable and on the right way, but the rehab has still many months left. The best thing is that all steps are taken forward, and his progression since he came to Pamplona has been surprisingly good."
Soler's recovery has been a slow one. He crashed in the 157km sixth stage from Tobel to Triesenberg when he collided with a fan early in the stage in what witnesses said was a freak accident.
Soler fractured his skull and was air-lifted to a local hospital, where doctors put him in a medically induced coma. Movistar officials later confirmed he suffered severe head trauma, cerebral edema and other fractures. He would eventually stay in intensive care for two weeks after doctors operated on him to alleviate the swelling of the brain.
Soler's wife, Patricia, who has been with him since his accident, described what Soler's life is like on the slow road of recovery:
"Mauricio wakes up early, at 6 am, and from 7 on we get started and I help him putting on his clothes. He's more and more autonomous now and can brush his teeth and shave his face with out any help," she described. "He has breakfast at 9, and soon the therapist comes to take him into a first rehab session on the bed and walking around the hospital's corridors."
Soler says he reads the newspaper and surfs the Web in his spare time between rehab sessions that include speech therapy, gym work and sessions in the swimming pool.
Doctors said if Soler's recovery continues he could be able to return to Colombia in the coming weeks or months.